The Actor Judd Apatow Says His Wife, Leslie Mann, Has 'Such Hilarious Chemistry As a Couple' With
Hollywood power couple Judd Apatow and Leslie Mann are known for many prominent films and TV series. As Apatow is generally behind the camera, he works with Mann, directing her in her interactions with other actors. Discover who he believes she has chemistry with.
How did Judd Apatow and Leslie Mann meet?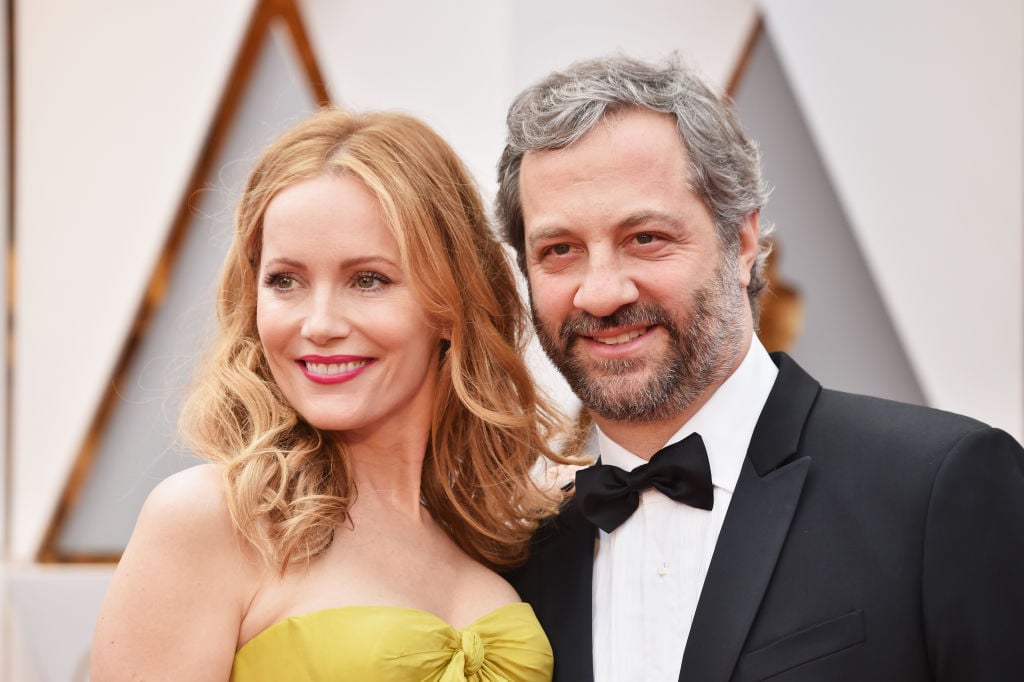 In the '90s, Apatow was just getting his start as a producer, while Mann had only been in a few films and TV shows. They met during Mann's audition for The Cable Guy, which Apatow produced. "Ben Stiller was making The Cable Guy, and Judd was punching it up. He was reading the part of Jim when I went in and auditioned," Mann told Interview Magazine in 2012.
They were married in 1997 and had two children together: Iris and Maude Apatow. The filmmaker has cast both his wife and daughters on numerous projects. Mann had a role in Apatow's cult-hit series Freaks and Geeks before starring in a handful of his films.
Maude and Iris have been in many of these same films, as well as other projects, like Apatow's latest film, The King of Staten Island, in which Maude portrays star Pete Davidson's younger sister.
Mann starred in Apatow's 'This is 40' 
The first Apatow-directed film in which Mann, Maude, and Iris appear is Knocked Up. A few years later, they starred in its spinoff, This Is 40, which focuses on their family instead of Katherine Heigl and Seth Rogen's characters. In it, Mann's Debbie and her husband, Pete (played by Paul Rudd), navigate a rough period in their marriage.
Apatow told Vanity Fair of the genesis of the film: "We were trying to figure out a way to talk about that moment when you turn 40 and you look at your life, and you just have to assess how it's going." He added, "A lot of [the film] was based on things that…we were talking about at the time. About flashpoints of a couple, what drives each other crazy about their behavior."
On her chemistry with leading man Paul Rudd
Watching your wife act opposite another man may be difficult for some, but not Apatow. In fact, he praises the two actors together. "Paul and Leslie always have such hilarious chemistry as a couple. And I would get such a kick out of coming up with scenarios that would make us laugh," he told Vanity Fair.
This supports what Mann said about Apatow in the 2012 story, stating that "He doesn't get jealous, and it's really weird." Despite their chemistry, she says she and Rudd "are like brother and sister," adding, "I think if we had mood lighting and it was a serious sex scene, then it might get awkward. But, it's just so goofy that I don't think he cares."
Apatow calls working with his wife 'the most fun'
Not only does Apatow not get jealous, but he also loves working with his wife in this way. "The most fun [thing] about movies like This Is 40 is working with Leslie," he told Vanity Fair.
"We collaborate on all the scenes and all the ideas. So we do get the chance to sit with each other and come up with comedic takes on these different situations that have driven each other crazy."