Julia Child's Thanksgiving Table Always Had 1 Surprising Store-Bought Snack
Thanks to her book Mastering the Art of French Cooking, many associate Julia Child with elite French cuisine. But during the height of her fame in the 1970s and 80s, Child was the go-to expert for a traditional American Thanksgiving dinner. Child's Thanksgiving table featured a roasted turkey and classic sides. But it also had one surprising store-bought snack.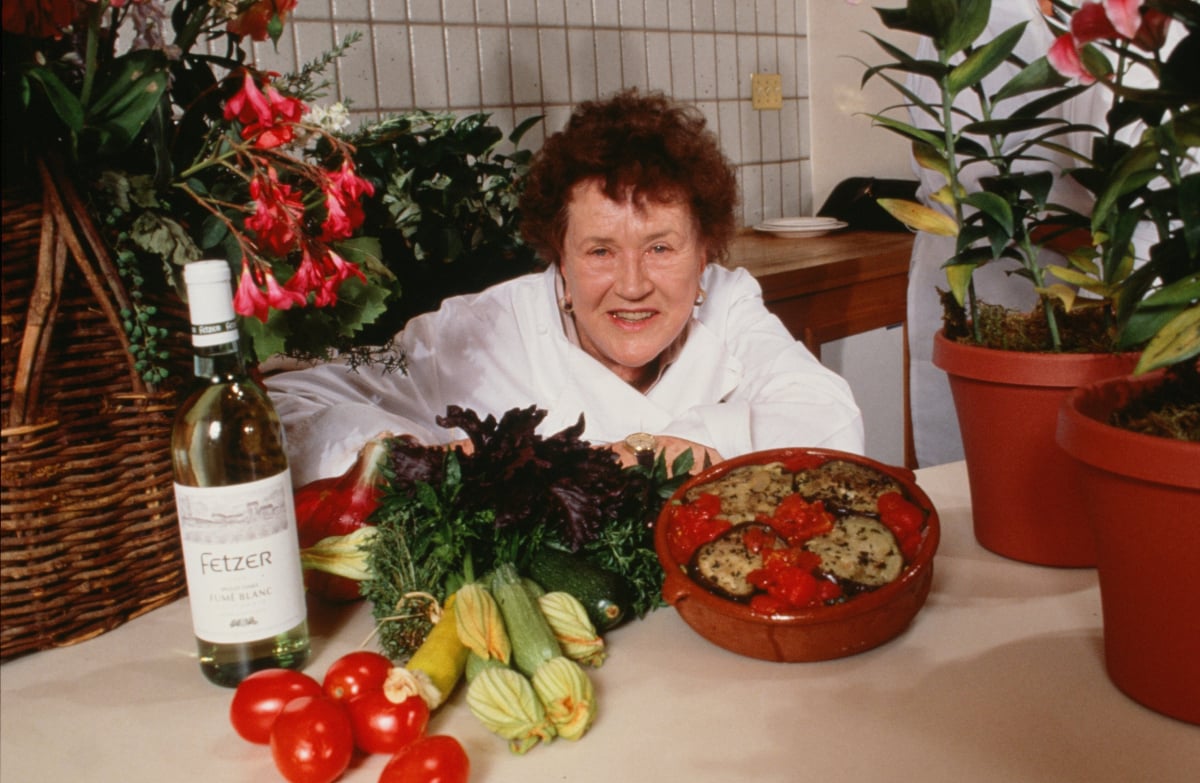 Julia Child happily answered fan phone calls on Thanksgiving
According to The New York Times, Child refused to remove her home phone number from the phonebook and happily answered fan calls on Thanksgiving. Sheryl Julian, the current food editor of The Boston Globe, celebrated Thanksgiving with Child in 1976 and 1977. She remembers the constant phone calls well.
"The phone would ring all day," Julian said. "Every time she hung up, it would ring again, and it would be another total stranger with a turkey problem."
No matter how busy Child was in the kitchen, she would hand off the task and answer the call. Julian says that whatever the caller was telling Child, she told them "not to worry."
"I even heard her tell people that turkey wasn't meant to be served hot. She just wanted them to relax," Julian recalls.
Despite the long and alarmingly detailed French recipes featured in her most famous book, Child was quite approachable and was just as much an expert in American home cooking. Julian says that Child was very relaxed when it came to the food she prepared in her own home.
Julian noted that Child's food was "very good but very simple. The famous chef used "very little seasoning except for salt and pepper.
'The French Chef' embraced American cuisine in the late 1970s
Child's great-nephew Alex Prud'homme helped The French Chef star write her memoir My Life in France just before she died in 2004. He says that when Child and her husband, Paul, lived in France in the 1950s, they didn't cook a traditional American Thanksgiving meal. But that changed when they returned to the United States in 1961.
Thanksgiving at the Child's home in Cambridge, Massachusetts was all-American. Her published recipes from that time included oyster stuffing and pumpkins, adorned with extra butter and cream and frequently spiked with rum or whiskey. The more time she spent in the United States, the more her style transitioned from classically French to American.
RELATED: Julia Child Used Over 700 Pounds of Butter While Filming 1 Show
"I think of the late 1970s as the time that she starts getting away from being 'The French Chef' and embraces her American roots," Prud'homme explained.
Child served her Thanksgiving dinners at a big kitchen table completely surrounded by guests. Before serving the main course, the chef offered guests her favorite "reverse martini" cocktail, vermouth on the rocks with a floater of gin. Surprisingly, she paired the drink with a store-bought snack.
Julia Child's Thanksgiving table always had Goldfish crackers
According to The Kitchn, Child always made a point to share one of her favorite snacks with her Thanksgiving dinner guests. She had a love of Goldfish crackers, and she wasn't afraid to show it. Child reportedly served the crackers as an appetizer at all of her dinner parties, including her Thanksgiving feast.
Child was so well-known for her love of Goldfish that when experts at Harvard hosted a Julia Child symposium in 2012, they served their guests the crackers. The same thing happened at the Smithsonian.
"A meal doesn't have to be like a painting by Raphael, but it should be a serious and beautiful thing, no matter how simple," Julia Child said in 1982. "What nicer way for a family to get together and communicate? Which is what life is all about, really."