Julia Fox Admitted to Being a Huge Kardashian Fan Just Weeks Before Going to Dates With Kanye West
Kanye West and Kim Kardashian West divorced in 2021, and the two of them have been romantically seeing other people.
West recently began going on dates with actor Julia Fox. Interestingly, Fox once admitted to being a huge fan of the Kardashian-Jenner family.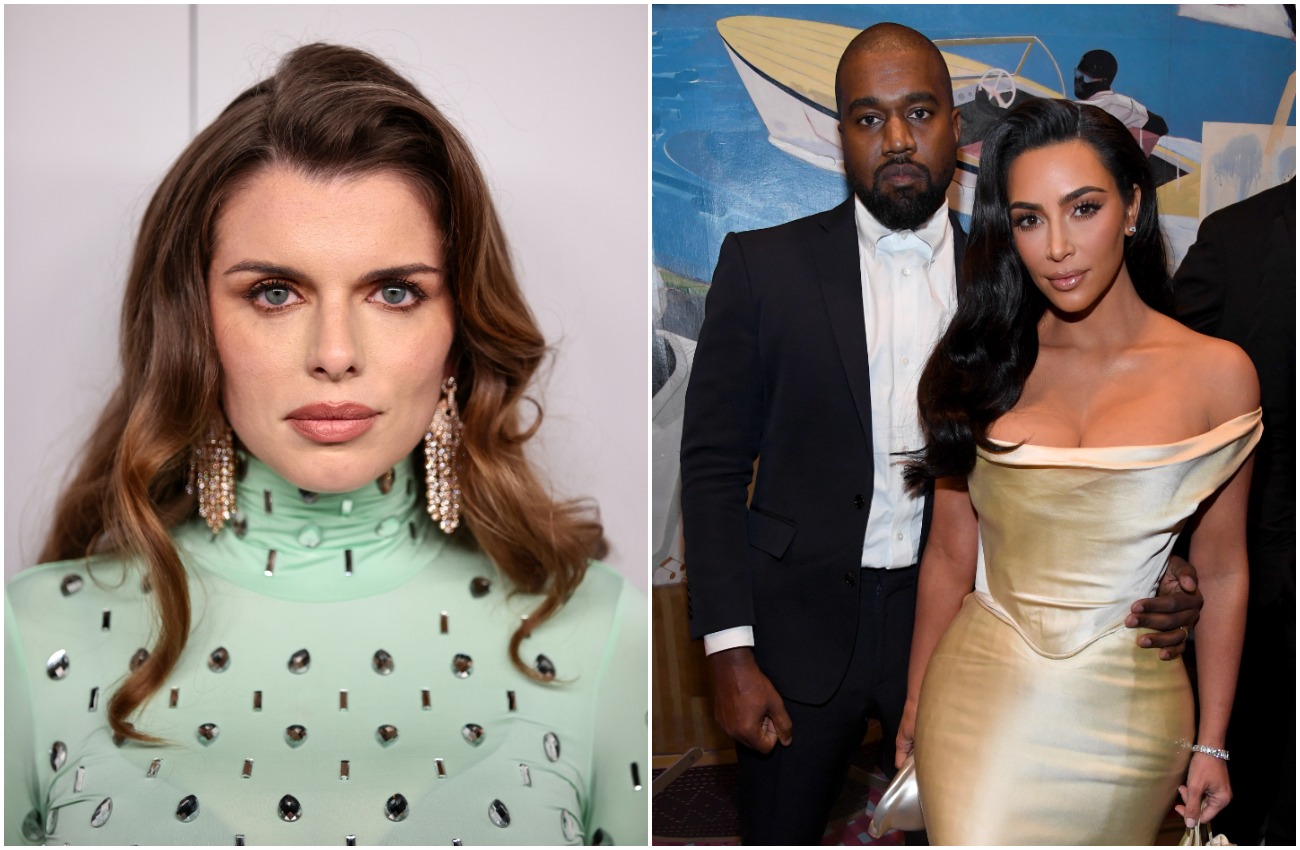 Kanye West and Julia Fox have been going dates
According to Fox's article for Interview Magazine, she first met West on New Year's Eve in Miami. Shortly afterward, the two of them hung out in New York City, where they went to one of her favorite restaurants, Carbone, and saw a play together.
"At the restaurant, Ye directed an entire photo shoot for me while people dined!" she recalled. "The whole restaurant loved it and cheered us on while it was happening."
Fox continued, "After dinner Ye had a surprise for me. I mean, I'm still in shock. Ye had an entire hotel suite full of clothes. It was every girl's dream come true. It felt like a real Cinderella moment. I don't know how he did it, or how he got all of it there in time. But I was so surprised. Like, who does things like this on a second date? Or any date!"
Fox admitted that, while she does not know "where things are headed" for them, their romance is "organic" and she is "loving the ride."
Julia Fox once admitted to being a huge Kardashian fan
Even before meeting West, Fox was already very familiar with West's ex-wife and her famous family.
In December 2021, she shared on her Forbidden Fruits podcast, which she hosts with fellow actor Niki Takesh, that she was a huge Kardashian fan.
"I'm gonna miss Keeping Up," Fox said. "I've been watching Keeping Up since it first came out in, like, 2007 when watching it was embarrassing. [We are] like die-hard, O.G. [fans] … I wanted them to be my family. You feel like you know them."
Fox also showed that she was aware of West's divorce. She said, "Can we talk about the Kim and Kanye divorce? Wait, can we talk about Kim and Pete Davidson, though?"
Additionally, Fox even once modeled for Kardashian West's shapewear brand, SKIM.
Kanye West once said he wanted to reunite with Kim Kardashian West
In November 2021, West appeared on the podcast Drink Champs, where he talked about his divorce from Kardashian West. The rapper raised some eyebrows when it seemed that he did not recognize the divorce as legitimate.
"My kids want they parents to stay together," he said. "I want us to be together. You know, SNL making my wife say 'I divorced him' on TV 'cause they just wanted to get that bar off. I ain't never even seen the papers. We not even divorced … 'cause that ain't no joke to me."
During a Thanksgiving visit to Skid Row, he also publicly said that God will bring Kimye back together.
In late December, West bought a home across the street from where Kardashian West has been living with their children. However, it is not clear if this was a decision both of them agreed on.