Who Is Julia Rae on 'The Bachelor: Listen to Your Heart'?
When The Bachelor Presents: Listen to Your Heart premiered on April 13, fans had trouble keeping up with the new cast lineup. But after her increasingly complicated love triangle with Brandon Mills and Sheridan Reed, viewers quickly learned Julia Rae's name. Now as everyone patiently waits to see the drama unfold, fans are more curious about the 27-year-old. So who is Julia from The Bachelor: Listen to Your Heart? The pop singer's Instagram feed highlights what you need to know.
Who is Julia Rae from 'The Bachelor: Listen to Your Heart' cast?
According to Julia's Bachelor bio on ABC's website, the bachelorette from Wayne, Pennsylvania has always been drawn to music. 
"Julia sang before she could talk," the profile reads. "Her music career began in the theater at age 6. She started recording original songs professionally by age 15."
Meanwhile, during Julia's introduction video from the Listen to Your Heart premiere, the music artist opened up about her cystic fibrosis. 
"I ended up graduating high school a year early to pursue a record contract," Julia said in the clip. "But pretty quickly after I started working with producers, I started getting really sick from my cystic fibrosis. I landed in the hospital with a partially collapsed lung."
Julia explained the medication would have led to permanent hearing loss. However, her life was changed due to recent breakthroughs in medicine.
"Now I'm ready to pursue music professionally and I want to find my person," Julia said. "I'm not afraid to go and get it."
What is Julia Rae's Instagram handle?
You can find Julia on Instagram under the handle @itsjuliarae. The singer-songwriter is vocal about her achievements — both musically and personally. Then following the Listen to Your Heart premiere, Julia thanked fans for their support. 
"Thank you all so much for the love and support, especially when it comes to #cysticfibrosis," Julia wrote. "While I've been a public advocate for years, it's never really easy to talk about my personal battle. (Let alone on national TV!)."
She continued: "But I do it for the little girls struggling to accept their own challenge in life. I do it because I was once that little girl, dreaming big dreams, not knowing if they were possible. Turns out they are. Don't let anyone or any battle you are facing convince you otherwise."
Now Julia is promoting her latest single, "End of Every Lie" and teasing her relationship with Sheridan. In an IGTV, Julia shared the couple's performance of "The Bones" and possibly hinted what happens next after the April 20 episode of Listen to Your Heart. 
"I absolutely loved performing this @marenmorris song with Sheridan on @abcnetwork," Julia wrote on April 21. "I wear my heart on my sleeve and I tried my best to be honest. The thing about listening to your heart is sometimes you have to sort through a lot of different messages."
Julia discusses Sheridan, Brandon, and Savannah on 'The Bachelor: Listen to Your Heart'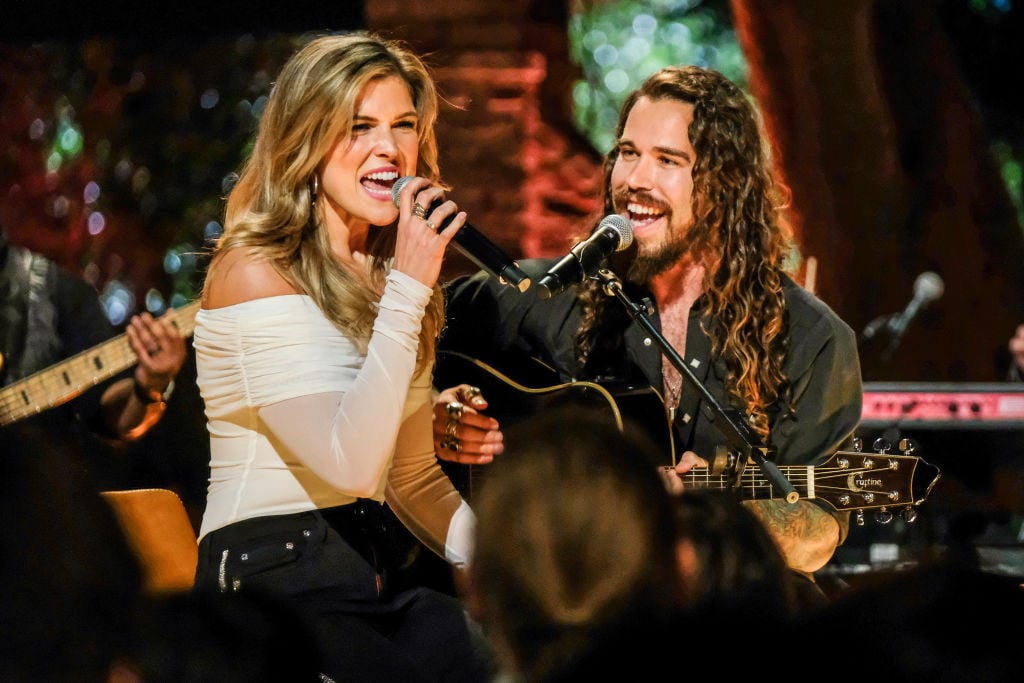 In the second episode of The Bachelor: Listen to Your Heart, things started to get a little messy between Julia, Sheridan, and Brandon. Julia had an instant connection with Brandon on night one. Meanwhile, Sheridan impressed the singer from Pennsylvania with his forwardness. So when things started to get real with Sheridan after their first one-on-one, Julia explained she wanted to keep her options open with Brandon.
Nevertheless, Brandon chose Savannah McKinley in the second elimination ceremony. Then Sheridan swooped in and gave Julia a rose. That said, Brandon pulled Julia aside afterward and told her he wanted to keep exploring their relationship. 
On April 23, The Bachelorette's Kaitlyn Bristowe released an interview with Julia to discuss The Bachelor: Listen to Your Heart on the Off the Vine podcast. Julia shared she has been "taking notes" after watching herself on the ABC reality series. Then when Bristowe asked the singer to expand, Julia admitted she wished she called out Brandon in the second episode.
"Hearing what I want to hear from people and certain things that were said to me," Julia said. "Especially by Brandon, I was like, 'Why did I not call him out on that?'"
Julia also delved deeper into her connection with Sheridan, noting it was "legitimate and real." However, it was different from her relationship with Brandon at the time. And ultimately, she wanted to explore both before making a decision.
But regardless, it seems Julia's love triangle with Sheridan, Brandon, and Savannah will get a lot messier in the next episode of Listen to Your Heart. "The love triangle gets really, really messy," Julia said. "I didn't see eye to eye with Savannah in the house … but that had very little to do with the love triangle. If you put women in the house, you're not going to click with every single one of them. It's going to get crazy."
Even so, Julia doesn't regret any of her actions. "I don't have any regrets about what I said or did on the show," she said. "It was the best I could do at the time with the information I had. I stand by that still. I don't regret anything I said or did."
Now, will fans see more from Julia in Bachelor in Paradise if things don't pan out with Sheridan after Listen to Your Heart? Never say never.
"I wouldn't say no right away," Julia said. "But it's so interesting. I feel like I'm going through such a rollercoaster of emotions that my answer changes … hourly."
Read more: Where Was 'The Bachelor: Listen to Your Heart' Filmed? Fans Already Miss the Original Mansion