Julia Stiles Actually Cried in 1 '10 Things I Hate About You' Scene
Julia Stiles' '10 Things I Hate About You' monologue featured a very real and improvised moment. And that's not the only interesting thing about the film.
The hit movie 10 Things I Hate About You has several highlights that add to its magic. The chemistry between the acclaimed cast makes it. Specifically, that of its two leads, Heath Ledger and Julia Stiles, was through the roof, making the entire movie worth watching. One pivotal moment in the film saw Stiles' character, Kat, breaks down in tears as she recites a poem directed at Ledger's Patrick. Stiles revealed that the tears seen in that particular scene were real.
Julia Stiles cried for real in '10 Things I Hate About You'
More than two decades have passed since a long-haired Ledger burst onto our screens singing on the school bleachers in the cult classic romcom 10 Things I Hate About You. The actor played Patrick, who intially pursues Stiles' character as part of an arrangement. However, he falls for her for real, making things all the more devastating when she finds out about the money.
Kat breaks down when reading the poem, revealing she is still in love with Patrick. Stiles later shared (via MsMojo) that she actually cried during the scene — those tears weren't in the script. The moment showcases how vulnerable the tough character can be and what it meant to her to let her guard down, making it all the more meaningful that Stiles really put herself into it.
Stiles didn't pick a song for the film
An early moment in which Patrick is singing on the bleachers trying to get Kat back makes for one of the best moments in the film. A longstanding rumor suggests that the song sang by Ledger's character 'Can't Take My Eyes Off You' by Frank Valli was Stiles' suggestion — it's even backed up by IMDb.
In an interview with Andy Cohen on Watch What Happens Live with Andy Cohen's After Show, Stiles responded to the allegation. "No, it definitely was not my idea," she said. "I wish. Is it a rumor? I didn't even know. But cool, I'll take credit for it."
Seeing as Stiles put an end to the rumor, could it mean that there was another story behind the song? According to scriptwriter Karen McCullagh, the song was all Ledger's idea. McCullagh revealed that they had several songs in the lineup, with the first one being "I Think I Love You.' The second piece they wanted the actor to sing was 'I Touch Myself,' but Ledger reportedly decided it wasn't romantic enough, so he chose the Valli one.
Heath Ledger taught Stiles how to play drunk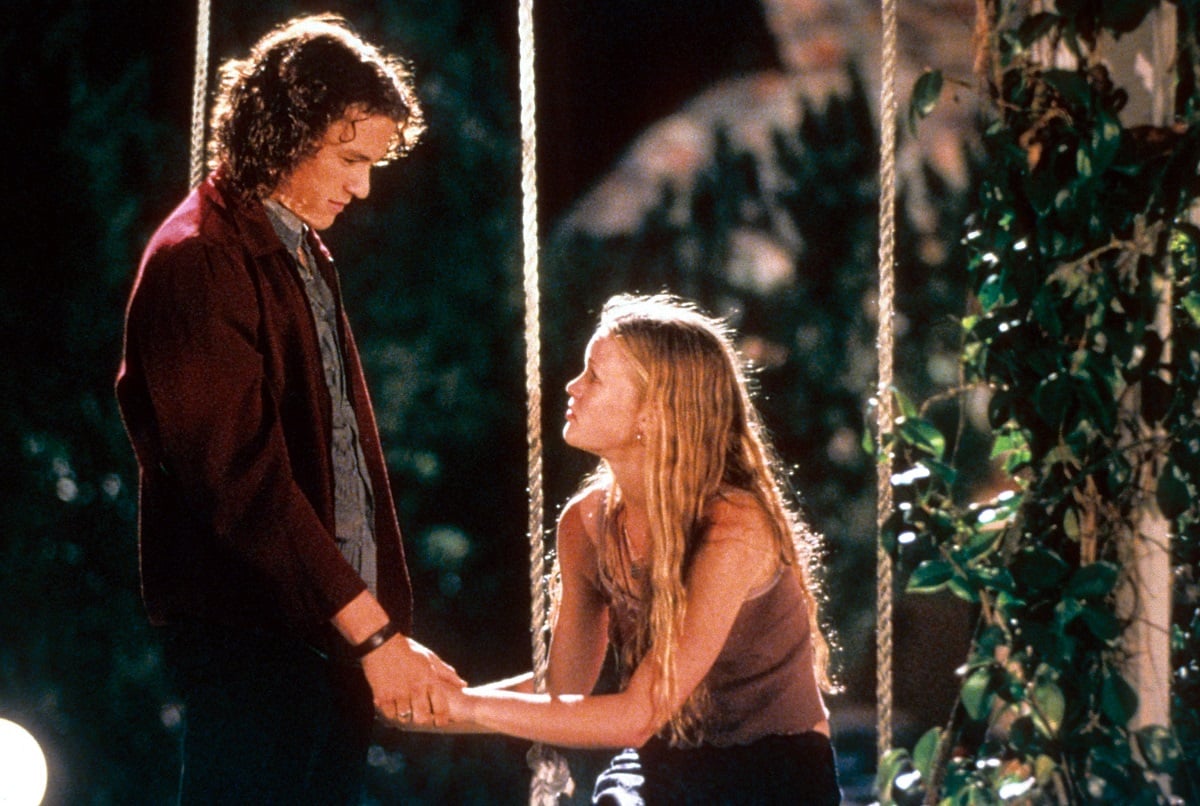 In other exciting moments from the film, Kat drinks a little too much at one party, leading to a sweet exchange between her and Patrick. Stiles' drunk-teen performance in the movie was so convincing it's difficult to imagine that the actor had never been drunk before. 
But according to Today, Stiles was 17 when she played Kat Stratford. Having never had a drunk experience before, she sought advice from Ledger, who was several years old than her. Ledger showed Stiles how to feel, look and play drunk. It seems he was as great a teacher as she was a student from her performance.