Julia Stiles and Heath Ledger in '10 Things I Hate About You' Was Almost an Entirely Different Couple
Julia Stiles and the late Heath Ledger both got their big break by starring in 10 Things I Hate About You. The 1999 movie hit number two at the box office during its opening weekend, behind The Matrix. Viewers still love the romantic comedy over 20 years later. However, would it have been as big of a hit without Stiles and Ledger? The two breakout stars almost didn't get the role.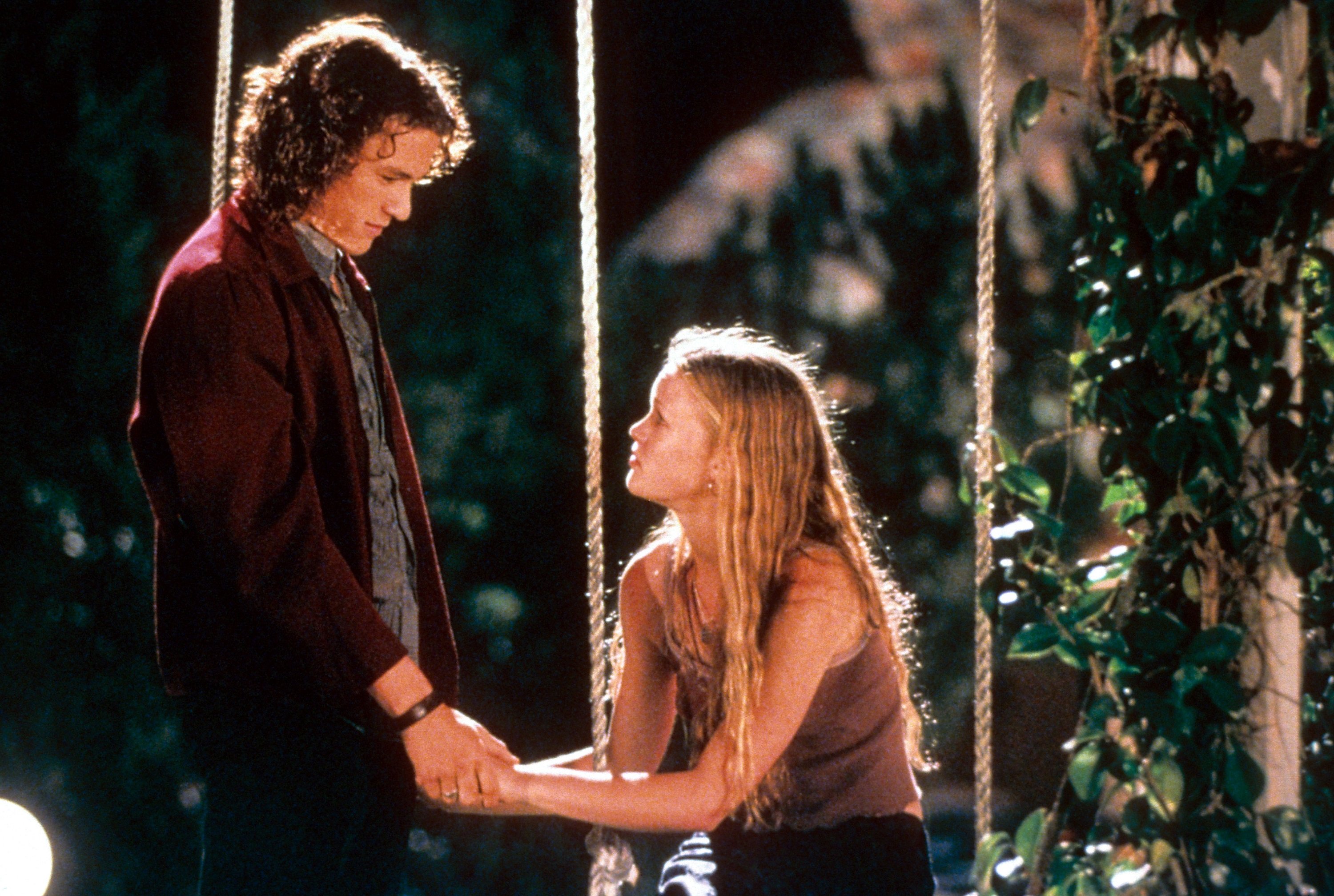 Julia Stiles had a 'great time' filming '10 Things I Hate About You' with Heath Ledger
When 10 Things I Hate About You had its twentieth anniversary, Stiles reflected on her twenty years in the spotlight during an interview with NME. 
"For me, it was such a special moment because it was my big break," Stiles recalled. "I remember, vividly, the scene where I read the poem because it was toward the end of filming. It was such a genuine, unexpected feeling when I break down crying, and that was emblematic of how I felt during the whole experience."
Stiles fondly recalls working on the set with Ledger and the other cast and crew members.
"We were all really present, and it was just so uninhibited," she added. "None of the actors felt jaded or shut down [on the set]. We were all having a great time."
Stiles and Ledger almost missed out on '10 Things I Hate About You'
Stiles and Ledger were both relatively new to Hollywood when they landed their roles in 10 Things I Hate About You. Stiles was in a few films and the TV show, Ghostwriter before she auditioned for the role. Ledger was also in a few movies and 26 episodes of the TV show Sweat. Still, they both were relatively unknown on the acting scene.
Stiles was up against Kate Hudson, Katie Holmes, and Eliza Dushku. Hudson was also relatively new to Hollywood, but Holmes' fame was skyrocketing because of Dawson's Creek. Dushku got her start on Buffy the Vampire Slayer. However, Stiles landed the role of Kat because of her chemistry with Heath Ledger. 
RELATED: Where Are the Stars of '10 Things I Hate About You' Today?
"We screen-tested Josh Hartnett, Eliza Dushku, Heath, and Julia," casting director Marcia Ross told the New York Times. "But Julia and Heath just had the best chemistry together."
Luckily, the directors saw the sparks flying between Stiles and Ledger; or the movie might have been entirely different.
Stiles would consider a reunion sequel to the 1999 film
Although she has no idea what a sequel to 10 Things I Hate About You might involve, Stiles would say "yes," if asked.
"What would a reunion sequel involve?" she asked NME. "I don't even understand how that would work. It might be interesting to see. I would hope that Kat would be a lot happier outside of high school. I would watch it, for sure! I have no problem at all [with it being made]. My question would be 'why?' but I think it would be fun to see how it turns out."
It would be hard to watch a sequel without Ledger, so the film might be best left without a sequel.