Julia Stiles Squashes This '10 Things I Hate About You' Rumor
Julia Stiles' memorable performance in 10 Things I Hate About You was the actresses' first big breakout role. The film, which co-starred Heath Ledger was loosely based on William Shakespeare's Taming of the Shrew.
Both Stiles and Ledger were relative unknowns at the time and found this 1999 film to be a springboard for their careers. Stiles portrays Kat Stratford, a bold and outspoken teenager who cynically seems to think she has love figured out. Kat's younger sister is the complete opposite and isn't allowed to date unless Kat dates someone too.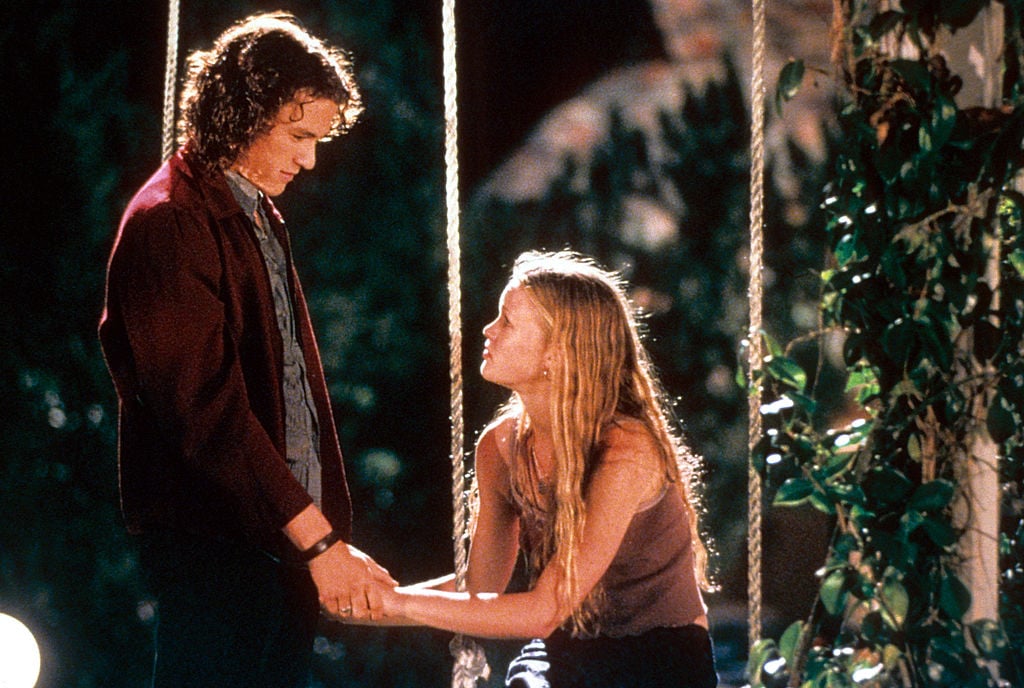 Typical Shakespherian misunderstandings, miscommunications, and hijinks ensue. Ledger, who plays the rough and mysterious Patrick Verona is paid by another teen to date Kat. The two fall for each other, but falling in love is never easy or without pain for Shakesphere. The film offers a modern-day twist to a timeless classic, which means it is infused with updated, light moments. One musical scene is when Patrick serenades Kat to the classic "Can't Take My Eyes Off You" by Frankie Valli. A longstanding rumor has been circulating about how this song made it to the film. Is it true?
Did Stiles suggest the song for the movie?
According to the film's IMDb, Stiles was the one who suggested the song be included in the film. "According to Larisa Oleynik, it was Julia Stiles who suggested Frankie Valli's 'Can't Take My Eyes Off Of You' for Heath Ledger to sing to her on the football field."
When Stiles appeared on Watch What Happens Live with Andy Cohen, a caller asked about the moment during the After Show. The caller wanted to confirm that Stiles suggested that Ledger sing the song and share her favorite memory of the day. Stiles first says, "Yes?" So, host, Andy Cohen wants her to confirm she was behind the song suggestion. "No, it definitely was not my idea," she laughs. "I wish. Is it a rumor? I didn't even know. [But] cool, I'll take credit for it."
So is there another story behind the song? Actually, according to scriptwriter Karen McCullah, it was Ledger who made the suggestion. "The first song we had in the script was, 'I Think I Love You.' Then we decided on 'I Touch Myself,' and I think Heath decided that that wasn't romantic enough, so he chose the Frankie Valli song, which was a much better call," she told The New York Times.
She shared her favorite memory of Ledger from the film
Stiles also loved how energetic Ledger was when he filmed the musical number. "My favorite memory of that day, the whole day he was just phenomenal," she recounts. "Like running up and down those stadium steps, and nobody knew he had this amazing voice. And he went just full out and I got to watch it."
Director Gil Junger told The New York Times he told Ledger to just run, but Ledger went harder than he expected. "I said to Heath, 'Just run around the steps when the guards start to chase you.' Right after the first take, the nurse on set ran up to one of the guards. They were fearful he might have pushed himself almost to a heart attack. Heath was running with such joy that it physically exhausted the guards."