Julianne Hough and Brooks Laich Split: Why Some Fans Believe a Tragedy Led to Their Breakup
Julianne Hough and Brooks Laich are officially going their separate ways.
After spending time apart amid the COVID-19 pandemic, the couple announced in a joint statement that they've decided to end their nearly three-year marriage. While the warning signs were there for months before the pair shared news of their split with the world, some fans think that a recent family tragedy led to the demise of the couple's marriage.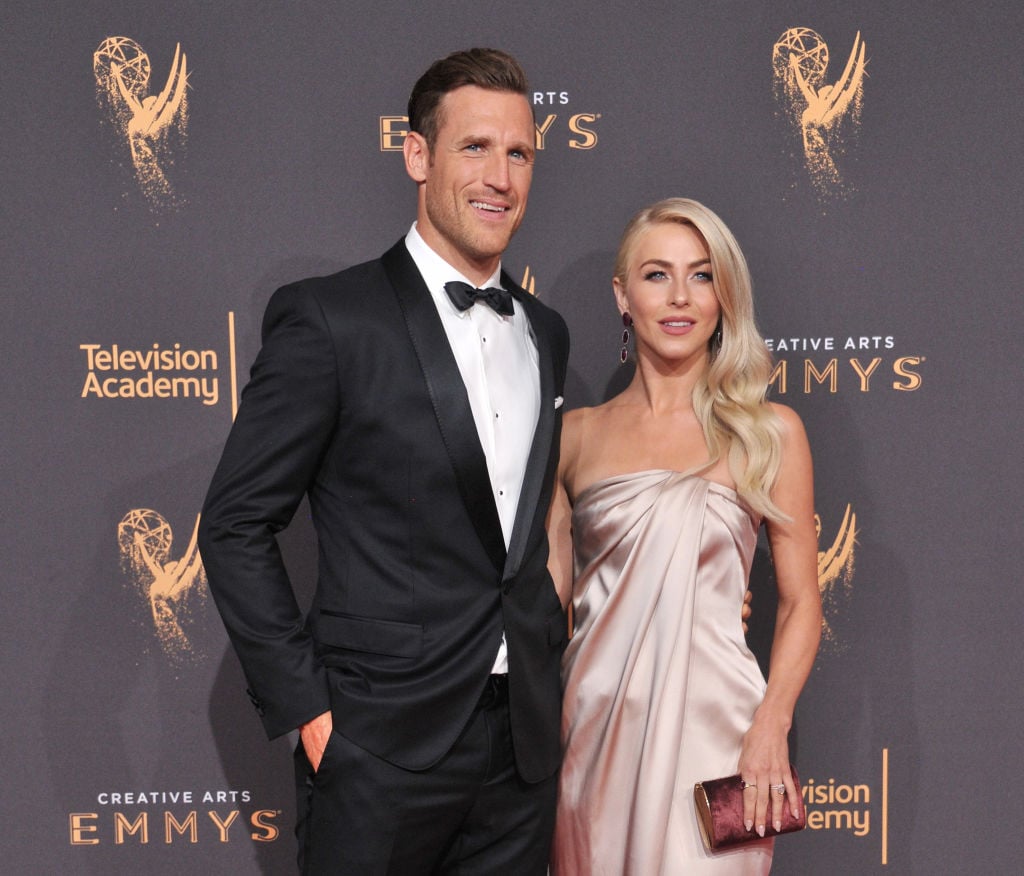 A brief timeline of Julianne Hough and Brooks Laich's relationship
Hough and Laich were first linked in 2013 after The Flash actor, Teddy Sears, hatched up a plan to set the pair up. Though they had no idea who the other was or what they did for a living, the pair instantly hit it off, and it was love at first sight.
A few months later, the Dancing With the Stars regular and the ice hockey player become an official item with Us Weekly confirming the news after the pair were spotted holding hands while enjoying a day at Disneyland together.
After a little more than a year and a half of dating, Laich proposed to Hough in August 2015, and the lovebirds tied the knot two years later during a fairy-tale-inspired outdoor wedding in Lake Coeur d'Alene, Idaho.
RELATED: Julianne Hough and Brooks Laich Are Instagram's Cutest Celebrity Couple
Though it seemed like their relationship was pretty solid, news broke in January 2020 that the couple was "having problems" in their marriage after the former America's Got Talent judge was spotted multiple times without her wedding ring.
However, sources told Us Weekly in March 2020 that Hough and Laich were in a good place and working toward bettering their relationship following their marital issues.
"Brooks and Julianne are totally fine and are working through any issues they previously faced," an insider shared. "At the end of the day, they love each other and they are still together."
Julianne Hough and Brooks Laich break up after nearly three years of marriage
On May 29, Hough and Laich announce that they're separating after nearly three years of marriage in a joint statement.
RELATED: Did Nina Dobrev Go Public With Shaun White to Distract From BFF Julianne Hough's Breakup?
"We have lovingly and carefully taken the time we have needed to arrive at our decision to separate," the pair shared. "We share an abundance of love and respect for one another and will continue to lead with our hearts from that place. We kindly request your compassion and respect for our privacy moving forward."
News of the couple's breakup comes a few weeks after sources confirmed the two had been quarantining separately amid the coronavirus outbreak, with Laich in Idaho and Hough social distancing in Los Angeles.
Fans think the death of Hough's dogs led to her and Laich's split
Though the couple didn't disclose what led to their split in the joint statement, some fans think they know what caused the pair's marriage to go downhill.
While commenting under the actress' emotional October 2019 Instagram post in which she mourns the death of her two Cavalier King Charles spaniels, Lexi and Harley, one follower suggested that the passing of the pooches could have led to the demise of Hough and Laich's relationship.
RELATED: 'America's Got Talent': Julianne Hough Reveals Why She Isn't Returning to the Show
"I truly think the dogs death was the reason behind the end of their relationship. From this day on they stopped posting pictures of each other. And on top of that she never included him in this post either," the user wrote. "I think it was somehow his fault they were out and she couldn't forgive him. Him knowing it was truly an accident sat around and waited for her to recover from it. However I think after 6 months he gave up and now ready to move on hence no ring and him not following her on Instagram anymore."
Someone else then commented that the hockey player's husky might have also been a part of the couple's marital issues.
"My other thought is that maybe their new dog the husky had something to do with it :( I sure hope not but he has that dog in their separation and the way she loves dogs that's sort of strange..and they got that dog while the two were alive still and the husky wasn't a pup so maybe had some issues … I feel weird commenting because I love my dogs so much but it was also put out there publicly for us to know about it," the other person commented. "Maybe part of the healing would be to let us know what happened so we can all prevent something so tragic from also happening like that to our fur babies in the future."
Despite whatever caused the couple's split, it appears as though the former lovers have no hard feelings toward each other. Earlier this week, Hough commented under Laich's series of shirtless photos on Instagram with, "This is awesome haha… also the fact that you just figured out what a thirst trap is…"
So even though they are broken up, it seems like Hough and Laich are still great friends.