Julianne Hough's Husband Brooks Laich Has Been Busy Since NHL Retirement
Brooks Laich spent several years in the NHL as a center for several teams, but he might not be the most recognizable member of his household. Laich's wife is actress, singer, dancer, and public speaker Julianne Hough, who has been in the spotlight since her younger days on Dancing With The Stars.
Now retired from the NHL, Laich is passing his time doing that you might not expect a former hockey player to do. 
Brooks Laich's humble roots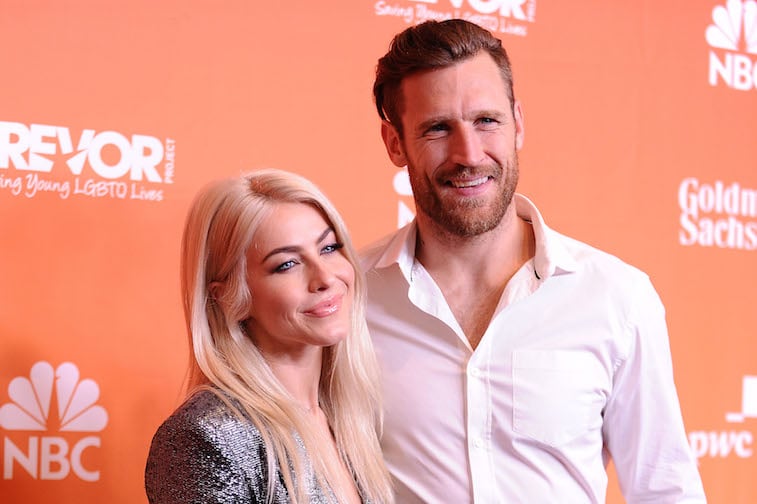 Laich was a relatively unknown prospect coming into the NHL. Born in Wawota, Saskatchewan, Laich developed an early love of hockey that eventually took him to the 2001 NHL Draft, where he was drafted in the sixth round. Falling to the Ottawa Senators, however, Laich did not immediately find the success he desired.
He sat for several more years, playing amateur leagues until his big call up. Then, he got the call from the Senators.
Laich only lasted one game in Ottawa, but it marked the beginning of a long career. By the end of the 2003-04 season, he was a key member of the Washington Capitals, where he'd go on to spend the vast majority of his career.
A relentless force off the bench, Laich made the most out of his place as a role player, giving the Capitals a little bit of everything on a nightly basis. Laich spent 12 years in Washington.
The fall of a career
A 2013 injury changed the entire course of Laich's career. Laich was playing overseas thanks to an NHL lockout when a groin injury took him out. Before this, Laich had a relatively healthy career in the NHL and rarely missed more than a handful of games throughout the season. This injury was different.
Laich spoke about how hard it was to put his career into perspective after this.
"The toughest part is just missing playing games and even missing practice," Laich said (per NBC Washington). "It's the passion in my life to play hockey and that kind of gets taken away from you, it's really tough to take and really frustrating. You try to do your best to get back as quick as you can and sometimes there's things that are out of your control. Sometimes time is your enemy, too. It's been the hardest thing I think I've ever gone through in my hockey career."
The writing was on the wall. Laich suffered a shoulder injury the next year.  While he played several more years in the NHL, but he was never the same.
After leaving Washington for Toronto in the middle of the 2015-16 season, Laich had a brief stint in Los Angeles two years later before hanging up his skates for good. Now, with a wife who is still making rounds across the entertainment industry, Laich has a new way to kill time. 
Life after hockey
Laich has discovered several passions since retiring from the NHL. While he isn't supporting Gough, whom he married in 2017, in her own career, he is hosting a podcast with songster Gavin DeGraw.
This podcast, called How Men Think, gives him and DeGraw a forum to talk about things affecting men in 2019. The podcast sees its hosts speak candidly about everything from marriage to their roles in society. 
Laich also crossed his love of fitness over to the tech world, helping launch Open-Gym. Open-Gym is a workout program put on by Laich and others that is meant to test the body to its core. The website shows that the CrossFit program is proven to work by many experts in the field. Laich takes fitness seriously, as a look at his social media shows.
Brooks has a passion for photography, which he posts on Instagram alongside fitness photos and other slices of his life. While his colleagues at the NHL are awaiting their return to the ice, Brooks appears to be doing just fine in his retirement.