Julianne Moore Has Barely Aged Since Appearing On 'As the World Turns'
Like many actors, Moore cut her teeth on soap operas, specifically As The World Turns. That show stopped turning in 2010, after 54 years on the air.
Julianne Moore has acted for nearly 40 years, and admirers have some questions. First of all, they wonder how she has maintained such a strong career for so many years, and second of all, they want to know how it's possible that she's pushing 60.
Like many actors, Moore cut her teeth on soap operas, specifically As The World Turns. That show stopped turning in 2010, after 54 years on the air, but Moore seems to be caught in the same ageless time warp as Paul Rudd. 
How did Julianne Moore get famous?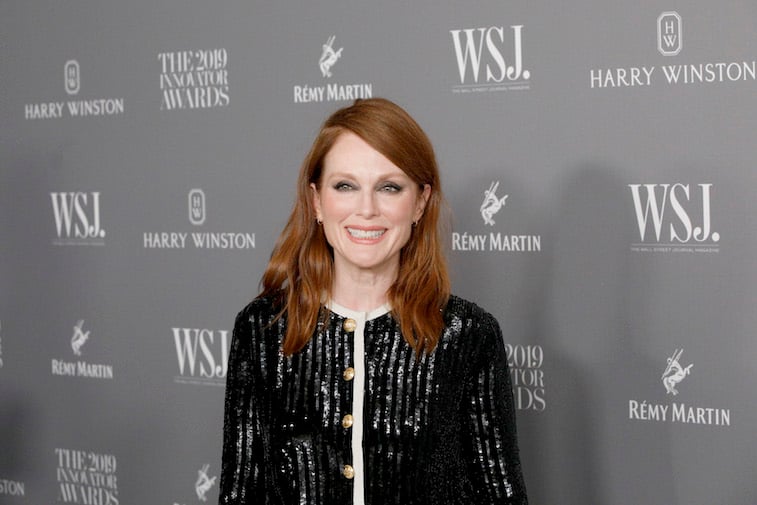 One of Moore's first major gigs was indeed As the World Turns, where she played the dual role of sisters Frannie and Sabrina Hughes. Even then, she was garnering acclaim, winning a Daytime Emmy Award for her efforts. Her time on the show ended in the late 80s, and it wasn't long after that that she transitioned to the big screen 
One of her first prominent film roles came in the hit The Hand that Rocks the Cradle, and she gained more attention with credits as diverse as Body of Evidence with Madonna and The Fugitive with Harrison Ford. Even in smallish roles, her intensity and sexual frankness made her stand out.  Her performance in Robert Altman's sprawling drama Short Cuts revealed just how bold she could be, delivering a monologue while naked from the waist down.
How versatile was Moore? In the same year, 1997, she played a paleontologist in Steven Spielberg's The Lost World, and the maternal porn star Amber Waves in Paul Thomas Anderson's Boogie Nights. "One day that woman is going to win an Oscar," her admirers said.
Julianne Moore has stayed at the peak
And yet, that specific award kept eluding her. She was nominated for Boogie Nights, and The End of the Affair, and like Scarlett Johansson this year, Moore got a double nomination in 2002, for a supporting role in The Hours and a lead role in Far From Heaven. Then she didn't get nominated again until 2015, for the drama Still Alice, where Moore played a woman with early-onset Alzheimer's. The "she's overdue" narrative worked, and she finally won.
"I read an article that said that winning an Oscar could lead to living five years longer. If that's true, I'd really like to thank the Academy, because my husband is younger than me," Moore said in her acceptance speech
Indeed, numerous outlets have commented on how young she looks. A piece on Good Housekeeping that mentions her soap opera days is headlined "Julianne Moore hasn't aged a bit since she was 25." The article is four years old, but if it were written today, it would probably still say the same thing.
Where is Julianne Moore's fountain of youth?
Moore could and indeed has talked about her beauty routine, but she seems to believe, in so many words, that age is only a frame of mind. Women in the entertainment industry, particularly when they hit 30, start to hear the sound of a ticking clock.
Taylor Swift, who just turned 30, talks in her documentary Miss Americana about how women must constantly reinvent themselves to stay relevant. Emma Watson, who turns 30 this year, also turned heads when she talked about being "self-partnered" after a very public dating life. 
Moore will have none of this talk about "women of a certain age." When she made the movie Gloria Bell, She told Harper's Bazaar, "I actually said to someone who used it recently, 'When you say that, it sounds like the age is so horrible you don't want to mention it.' Whereas I just don't think that's true. Gloria is a character in her fifties, so say that – say, 'This is a woman in her fifties.' We all know, especially now when everything is documented, how old everybody is and it doesn't really matter. This idea where you can no longer mention age is archaic, so I'd like to get rid of that."