Julie Andrews Pranked a First Lady With BFF Carol Burnett
Julie Andrews will forever be Mary Poppins and Maria from The Sound of Music, but no one should forget that she has a witty side too.
A staple in television, musical theater, and animated family movies, Andrews once told Ellen DeGeneres she loves all swears words and will easily drop an s-bomb in the right circumstances.
Andrews is also a longtime friend of Carol Burnett, and the two celebrities worked and played together, sometimes finding themselves in the center of hijinks. The actor recently shared a story about when the pair pulled an unintended gag on a first lady.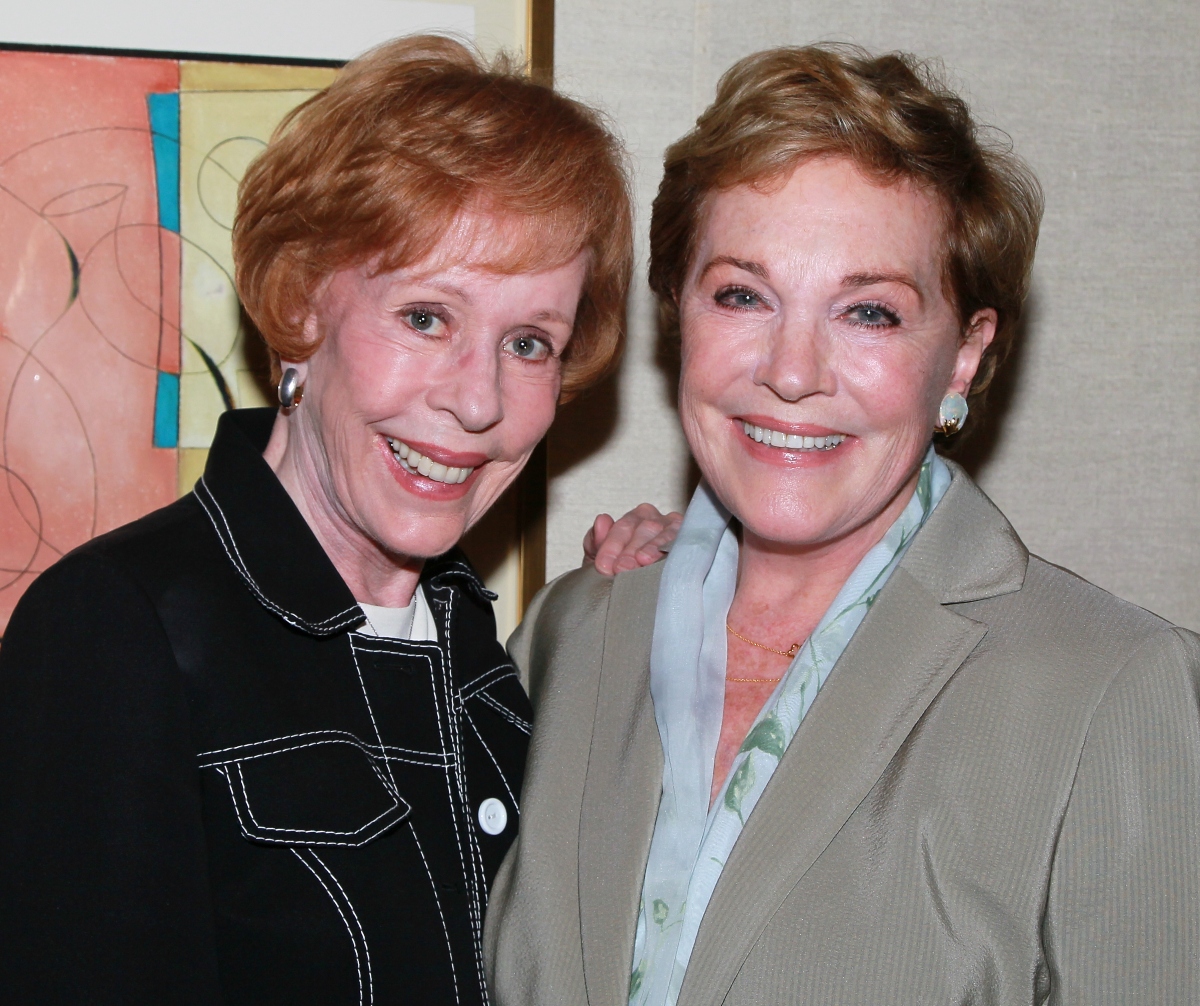 Julie Andrews and Carol Burnett 'kissed' as a prank
Andrews appeared on The Kelly Clarkson Show to talk about her work with Walt Disney, her career, for some fun with her daughter. During her chat with Clarkson, she was asked about a prank she pulled on a first lady with Carol Burnett.
Andrews explained that the full story is too long to tell, but said she and Burnett were at an event waiting for one of their friends to arrive. Time wore on so they decided to meet him at the hotel elevator. It just so happened that the site was packed for a separate occasion: Lyndon B. Johnson's inaugural festivities.
Andrews said the hotel was crowded but at that moment, things were quiet, and she and Burnett positioned themselves on a sofa in front of the elevator. One them proposed they should get silly and pretend to kiss when their buddy Mike stepped out.
"The elevator went 'ping' and we thought it must be Mike, and the doors opened and that elevator was simply packed with secret service men," said Andrews. She said it kept "going on and on" and people other than their friend kept walking out, and the two friends kept doing their silly embrace.
Andrews and Burnett thought they pranked famous first lady
Andrews stated that after a while, a woman got off the elevator. Though she walked down the hall at first, she turned around after recognized the pair. "Carol swears it was Lady Bird Johnson," she said.
"She came back and by this time, Carol was laughing so hard that she went 'round the back of the sofa we were sitting on because we both had tears running down our faces at being so silly."
Andrews added the lady peeked over the sofa and politely asked, "Excuse me, are you Carol Burnett?"
Burnett replied, "Yes, and this is my friend Mary Poppins!"
Andrews and Burnett had a decades-long friendship
Fans may recall that Burnett and Andrews collaborated as performers many times between 1962 and 1990. Their bond extended beyond work, and the duo were friends for 50 years. Burnett was even a godmother to Andrews' child.
Andrews once told Oprah Mag she and Burnett were quite the rascally pair. "Oh my gosh, yes she is such a great chum! And you know, I'm the bad girl when we get together," she said. "She brings out the mischief in me, and she's the quiet one. It's very funny."
Fans can read more about their relationship in Andrews' memoir, Home Work: A Memoir of My Hollywood Years, which was released in 2019.