Jungkook of BTS Did Not Own a Pillow and ARMY Is Confused
Big Hit Entertainment released a new BTS Episode to the BANGTANTV YouTube channel. In the episode, the members of BTS visited the BTS Pop-Up: House of BTS in Seoul. BTS explored the pop-up, tried on merchandise, and then purchased items from the store. After purchasing merchandise, Jungkook made a revelation that surprised BTS fans.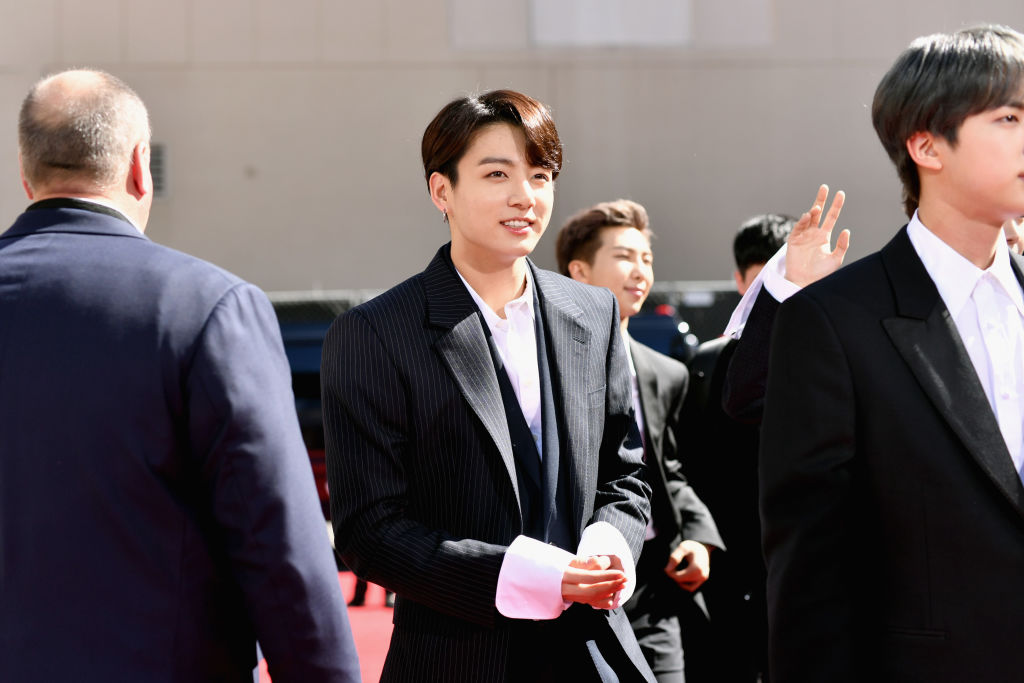 Jungkook bought a pillow from the BTS pop-up
In the BTS Episode, Jungkook bought a pillow from BTS: Pop-Up: House of BTS. The singer revealed that he needed a pillow because he did not own one. Instead, Jungkook used a rolled-up towel as a makeshift pillow. V confirmed that the last time he visited Jungkook's room there was no pillow.
Jungkook's revelation confused BTS fans
ARMY knows the members of BTS are humble. The seven members will compete for gift cards and prizes they can easily afford in Run BTS! and often use the gifts given to them by fans. However, Jungkook's revelation that he did not own a pillow still shocked some BTS fans.
"Us: bts r soo richh they can afford anything Jungkook : i dont have a pillow i use a towel," one fan tweeted.
A fan tweeted, "So ur telling me jungkook, the 22 year old millionaire, bought a pillow from the bts pop up shop because he didn't have a pillow and was sleeping on rolled up towels??"
"JK chose pillow as merch bec he doesnt have pillow at home and he was using only rolled towels and tae said 'last time when I went to Jungkook's room, there wasn't any pillow' JSKSKSKSKS SCREAMING," a fan wrote on Twitter.
ARMY joked about Jungkook's 'broke college student' energy
The fact Jungkook did not own a pillow sparked jokes throughout the BTS fandom. ARMY joked that Jungkook radiates "broke college student" energy because of the way he lives.
"at this point there's no doubt that if jungkook wasn't a multi millionaire, he would just a broke college student who lives only on ramen, who uses a rolled up towel as a pillow, a part college sports team & has his namjoon stan acc," a fan wrote on Twitter.
"I may be broke but at least I owned a pillow first than Jungkook @BTS_twt," a fan joked.
"Jungkook said he bought a pillow at the Pop-up store because he didn't own one and only used a rolled up towel as a pillow…… the way he truly radiates the biggest broke college student energy… who's gonna tell him he's a multi-millionare," a fan tweeted.
Another fan wrote on Twitter, "jungkook, a billionaire uses a rolled up towel as his pillow,,,,, is he trying to experience the life of a college student?"
V also bought household items from the pop-up
Jungkook was not the only BTS member who bought household items from BTS Pop-Up: House of BTS. V bought tableware for the BTS dorm. After his purchase, he explained that their dorm did not have a lot of plates or kitchen utensils.
"TAEHYUNG BOUGHT A KITCHEN UTENSILS FOR THEIR DORM BECAUSE THEY DON'T HAVE MUCH KITCHEN UTENSILS THINGS. ARE YOU KIDDING ME? BTS THE BIGGEST BOYBAND IN THE WORLD HAVE A BLACK CARD, BOUGHT AN EXPENSIVE APARTMENT DOESN'T HAVE KITCHEN THINGS IN THEIR DORM," wrote a Twitter user.
One ARMY theorized that because BTS toured for over a year with the Love Yourself and Love Yourself: Speak Yourself tours, the members did not have time to ever truly furnish their new dorm.
"BTS, millionaires, sleeping on towels and eating off plastic plates ;___; TBF they have been traveling a lot: they only moved into the new dorm before BV3 and then it was like a year of a world tour," a BTS fan speculated on Twitter.