'Jungle Cruise': Emily Blunt Freaked Out Dwayne Johnson During Their First Encounter
Dwayne Johnson is one of the biggest celebrities on the planet. Because of this, he's frequently required to spend a ton of time with people he doesn't know very well, especially when he's promoting his big-budget action flicks. However, even he has moments where people make him uncomfortable.
In fact, Johnson's Jungle Cruise co-star, Emily Blunt, freaked him out a bit when the two first met during a low-key dinner meeting. 
Emily Blunt was nervous about meeting her 'Jungle Cruise' co-star Dwayne Johnson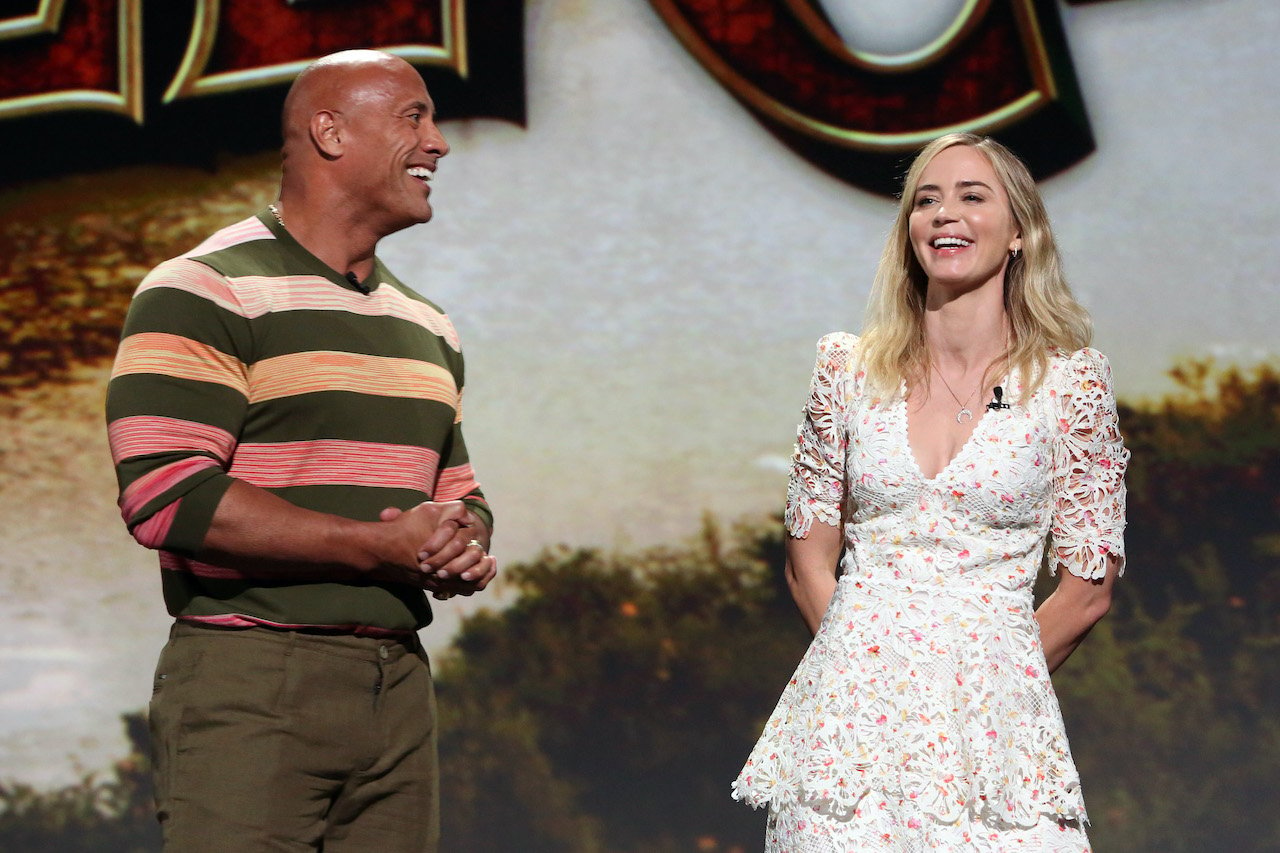 Blunt discussed recalled her first encounter with Johnson during a recent interview with Stephen Colbert, noting that they were introduced during a subtle dinner meeting. 
"Well, we knew we were doing it, and he called [for] a dinner just to see if I was alright," she said. "And [I was] with the producers, and I was sitting there, and I knew he was coming in."
Blunt was understandably nervous in the moments leading up their meeting, as Johnson is a megastar worth hundreds of millions of dollars. 
"I was quite nervous to meet him, I have to say," she admitted. "Because he's sort of — everyone knows a lot about him, and he's on Instagram, all of that. But you kind of don't know a lot about him, at the same time."
She shouted out his name and startled him 
Later in the interview, Blunt acknowledged that she understands how to interact with other famous people due to the fact that her husband is well known, but this didn't help her much during the meeting. 
"I know the rules of meeting a famous person or being with a famous person in a public place," she said. "I'm married to an enormous man who is very visible, and I know the ground rules: keep your trap shut, keep it discreet, and just blend in as much as you can."
Instead of keeping things quiet, Blunt loudly shouted across the restaurant at Johnson, making him very uncomfortable in the process. 
"He walks in, and I heard myself go, 'Hey!'" she recalled. "I didn't know what I was doing, and he literally went, [quietly] 'Hi, how are you.' I mean like, literally whispering, like, 'Shut the f— up.' That was my first…" 
Emily Blunt ghosted Dwayne Johnson when he first reached out to her 
As strange as it was, the initial meeting wasn't the only awkward moment between the Jungle Cruise stars. When Johnson was trying to court Blunt to be in the movie, he sent her a heartfelt video explaining why he wanted her to be in it. 
Unfortunately, she never responded to the message. 
"I must have shot it about five or six times because I had not communicated with Emily yet," Johnson told The Hollywood Reporter. "I had not even met her. And I wanted to let her know via this video just how important she was to this movie and how I only wanted her in this movie. And it was great. And I … I actually never heard again from Emily. Didn't respond at all. Just ghosted me."
In the same interview, Blunt admitted she liked the message, despite her lack of a response. 
"I thought the video was sweet," she said. "Didn't know you were going to be so sensitive." 
Jungle Cruise hits theaters on July 30.