'Jurassic Park': How Much Are the Original Stars Worth Today?
Jurassic Park helped anchor in a new era of summer blockbusters in Hollywood. Made under the direction of a man who helped spearhead the very concept of the summer blockbuster, Steven Spielberg's dinosaur thriller was a massive hit during its day. Its cast, made up of several actors who were then unknown, has gone on to become some of the biggest names in Hollywood. In many cases, they have Jurassic Park to thank for doing so, too. 
Jurassic Park's impact
Blockbuster movies have been around since Hollywood first became a thing. However, the idea of a major tentpole movie filled with massive effects and even bigger budgets is a relatively modern one.
While Jurassic Park was not the first movie to do this, its success helped pave the way for the Marvel movies and others that dominate the summer months during normal times.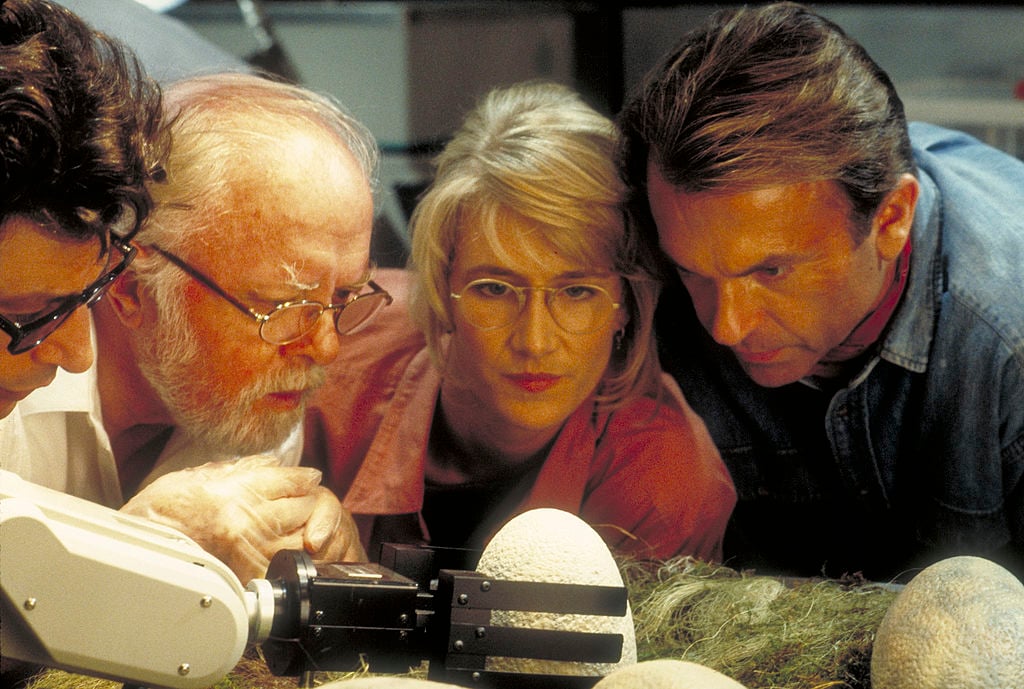 Based on the Michael Crichton novel, the film revolved around a group of scientists, visitors, and amusement park workers testing out a dinosaur theme park before it opened. When sabotage makes the whole plan go awry, the amusement park becomes a death ride. The dinosaurs get out of their cages and begin attacking anyone they see. 
The film was a massive, historic success. With a fifth movie in the works and several other video games, toys, and other pieces of memorabilia dominating the market, few films have the impact that Jurassic Park has on pop culture. While Jurassic Park's salaries are hard to find, several of the film's biggest stars have gone on to more successful careers since then. 
Steven Spielberg – $3.7 billion
Becoming synonymous with one's craft pays off. While Spielberg still makes movies on a consistent basis, he's as much a mogul of the film industry as he is a director. Spielberg is one of Hollywood's greatest success stories with more than 100 production credits to his name and no sign of slowing down at 73. While he is no longer involved with the franchise as director, his production credit still makes him a lot of money. 
Sam Neill – $18 million
While Neill continues appearing in high-profile films nearly thirty years after Jurassic Park, he rarely gets the caliber of starring roles that Spielberg gave him with the original movie. Regardless, Neill has become a household name for movie fans thanks largely to his role in the film. He is set to return to the franchise with the third chapter in the Jurassic World story. 
Laura Dern – $20 million
Hollywood royalty by way of her famous parents, Dern already appeared in several critical hits before she took on her role in Jurassic Park. Since then, she has become one of Hollywood's most sought-after actresses. From television roles to Oscar-nominated film roles, Dern maintains a secure spot as one of Tinseltown's most acclaimed actresses. She is returning to the franchise in the upcoming film. 
Samuel L Jackson – $250 million
Despite being in his 70s, Samuel L Jackson is still one of Hollywood's hardest-working actors. Making millions for his starring roles and banking on consistent work in the Marvel universe, Jackson is one of Hollywood's most recognizable names. While he had several prominent roles before Jurassic Park, the film helped launch him into the category of mega-star that he still occupies today. The only character casualty on this list, Jackson hasn't returned to the franchise since the first film.
Jeff Goldblum – $40 million
Arguably the biggest star of the first film when it came out, Goldblum went on to headline Jurassic Park's sequel and appeared in the second chapter of the Jurassic World saga. Thanks to an appearance in Thor: Ragnarok, Goldblum is still a draw for modern audiences. When he isn't appearing on screen, however, Goldblum can be seen behind a piano. He released an album in 2019 and will return alongside Dern and Neill in Jurassic World: Dominion.