'Jurassic World Dominion' Legacy Cast Welcomed Jeff Goldblum With a 'Royal Greeting'
The legacy cast gave Jeff Goldblum the welcome that he deserves when he arrived to film 'Jurassic World Dominion'
The main cast from Jurassic Park returns in Jurassic World Dominion. This includes Jeff Goldblum Sam Neill, and Laura Dern. This is the first time since the original movie that the three actors have been reunited as these characters. To celebrate, the legacy cast of Jurassic Park gave Jeff Goldblum a "royal greeting" when he arrived for Jurassic World Dominion.
Jeff Goldblum reunites with the original cast of 'Jurassic Park'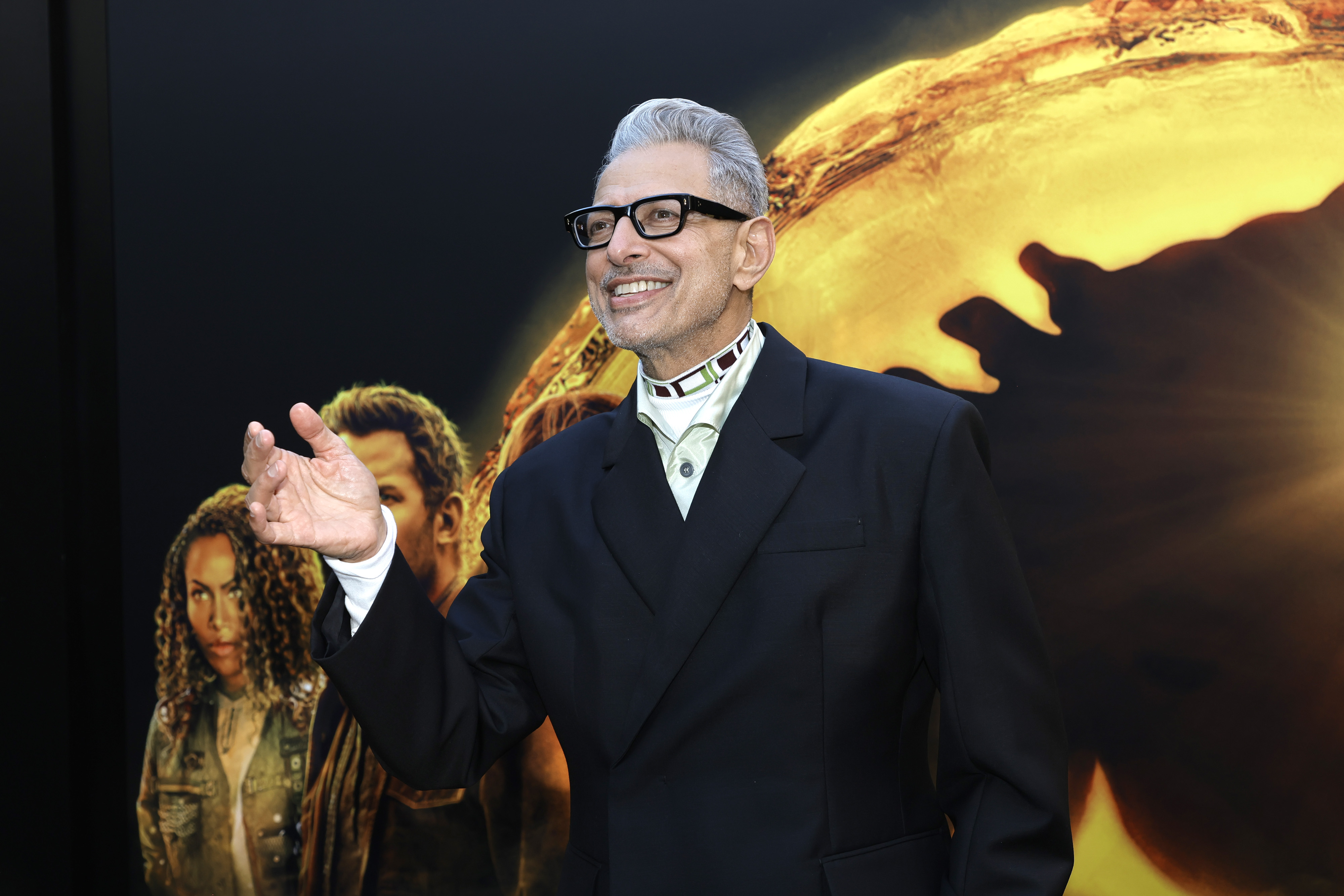 In Jurassic Park, Goldblum plays Dr. Ian Malcolm, a mathemetician who specializes in a subject called "chaos theory." Malcolm is recruited by John Hammond (Richard Attenborough) to take a look at his new dinosaur park. While on the island, he meets Dr. Alan Grant (Neill) and Dr. Ellie Sattler (Dern). Malcolm is the most skeptical of the three and it turns out it was for good reason. 
Goldblum reprised the role of Ian Malcolm in The Lost World: Jurassic Park and Jurassic World: Fallen Kingdom. Neill and Dern both reprised their roles in Jurassic Park 3. Jurassic World Dominion is the first time the three have returned in the same movie and they will be joining the new cast members that include Chris Pratt and Bryce Dallas Howard. 
Jeff Goldblum received a 'royal greeting' by the legacy cast when he arrived for 'Jurassic World Dominion'
Goldblum recently spoke with Variety about his return to the Jurassic franchise. During the interview, it was mentioned that Jurassic Park director Steven Spielberg and Jurassic World Dominion director became emotional when they saw the original cast reunited. Goldblum says the feeling was mutual. 
"It made me emotional too," Goldblum says. "I was wildly anticipating our getting together on the set, I couldn't believe that we were going to do this. I kept working on my part and then there we were, in England, all huddled up in this hotel living together like a family and we bonded more closely than ever."
Goldblum also shares the story of what it was like when he first arrived in London and saw the original cast members. 
"But when I first saw them, they stationed themselves as a delightful little surprise on this balcony as I pulled up with Emilie and the kids," Goldblum explains. "They gave me a kind of royal greeting, and then we all embraced and started to yackety smackety about 30 years ago. Then on many occasions [while filming] we huddled up and said, 'Let's help each other with this assignment, and see if we can do the most interesting thing possible.' We were all excited about the opportunity, but every chance we got we would check back in with each other."
Will the cast ever return for another 'Jurassic' movie?
Jurassic World Dominion debuted this weekend, allowing audiences to go see the original cast together once again. However, since this is labeled as the finale of the Jurassic Park franchise, this will most likely be the last time we see these three actors as these characters. Still, the way the movie ends gives a good send-off to Neill, Dern, and Goldblum in this franchise. 
Jurassic World Dominion is now in theaters.