Jussie Smollett Reveals Why He Did Not Want to Do Interview With Robin Roberts Amid Racial/Homophobic Attack Fallout
The Jussie Smollett alleged hate crime hoax came to an end after a three-year ordeal. Smollett was found guilty of filing a false police report after he claimed he'd been attacked for being Black and gay. With the exception of one sitdown interview with Robin Roberts following the attack, Smollett didn't do any press. Now, he's revealing why he was never on board to do the interview.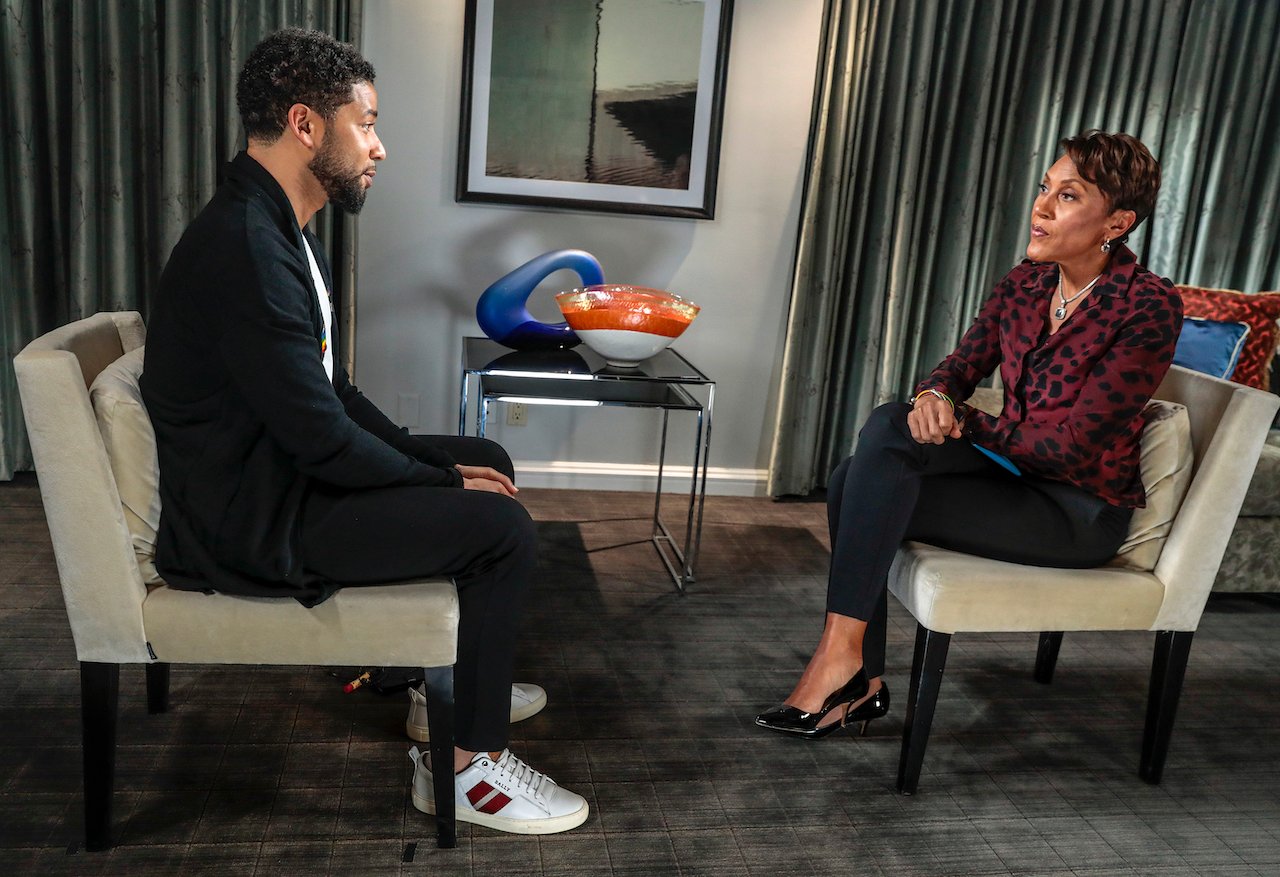 Jussie Smollett says he was angry during the interview and embarrassed to share his story
Smollett recently did his first public interview since the hoax trial with Sway in the Morning. During the interview, the Empire alum admitted that he did not want to sit down with Roberts. He explained:
I love and respect Robin Roberts but I did not want to do that interview. That interview was for my character. I hadn't watched the interview at all until we were on trial and I had to watch it because they were trying to use the interview as evidence of lies. I watched it and I was mortified and I cringed because every single word that I said in that interview was the truth but there was a certain level of performative nature that came with it because I didn't want to be there. And I was so angry and offended that I had to go on national television and explain something that happened to me. It was so political…I found myself dealing with my own internalized homophobia as an openly gay Black man who leads with his Blackness and I'm embarrassed and a little bit ashamed to say that and I wanted to represent all of us that had been assaulted based on who were are for the people that didn't have the platform that I had…but I also didn't want to be associated with people that had been attacked…I felt like I just became a fag—t that just got his a— beat, or at least I felt like that's what people saw me as.
Smollett says he no longer feels that way. He also says he wishes he would have spoken up sooner regarding certain things before they played out in the media for the public to come up with their own interpretations.
Robin Roberts revealed she didn't believe Jussie Smollett during the interview
The interview received much scrutiny. Think pieces regarding Smollett's behaviors and analysis of his body language and more were ripped apart. It only fueled more skepticism. Later, Roberts shared her own disbelief when looking back at the controversial interview.
After the interview, Roberts spoke to an audience at the How I Get It Done event in New York and said she felt like the interview was a "no-win situation" for her because of the identities she and Smollett share as Black LGBTQ+ individuals.
"I'm a Black gay woman; he's a Black gay man," Roberts said. "He's saying that there's a hate crime, so if I'm too hard, then my LGBT community is going to say, 'You don't believe a brother.' If I'm too light on him, it's like, 'Oh, because you are in the community, you're giving him a pass.'" Furthermore, she revealed she was hesitant to do the interview from the start.
Roberts revealed she saw "red flags" in Smollett's version of events during their interview. "All I wanted was to get the truth, to give the truth.
Jussie Smollett is angry with some people who turned their backs on him
Smollett maintains his innocence and admits the process was lonely, especially after being isolated from people he thought were close friends. He told Sway, "I hold the people that went out there and said s—t, I hold them to something. And not the people that don't know me, but the people that do know me, f—k out of here, y'all know better than that. And y'all did that, it was some PR bulls—t and you know who you are and I will not name names, and I love everybody. But I don't like everybody."
RELATED: Terrence Howard Is Suing FOX For Money He Says He's Owed From 'Empire'