'Justice League': Zack Snyder Says Ben Affleck Is the Reason His Re-Cut Will Be R-Rated 'For Sure'
Zack Snyder's cut of Justice League is coming in 2021, but he says the film is far from family-friendly. The director recently shared a piece of information that "nobody knows" about the movie. And it has to do with Ben Affleck's R-rated mouth.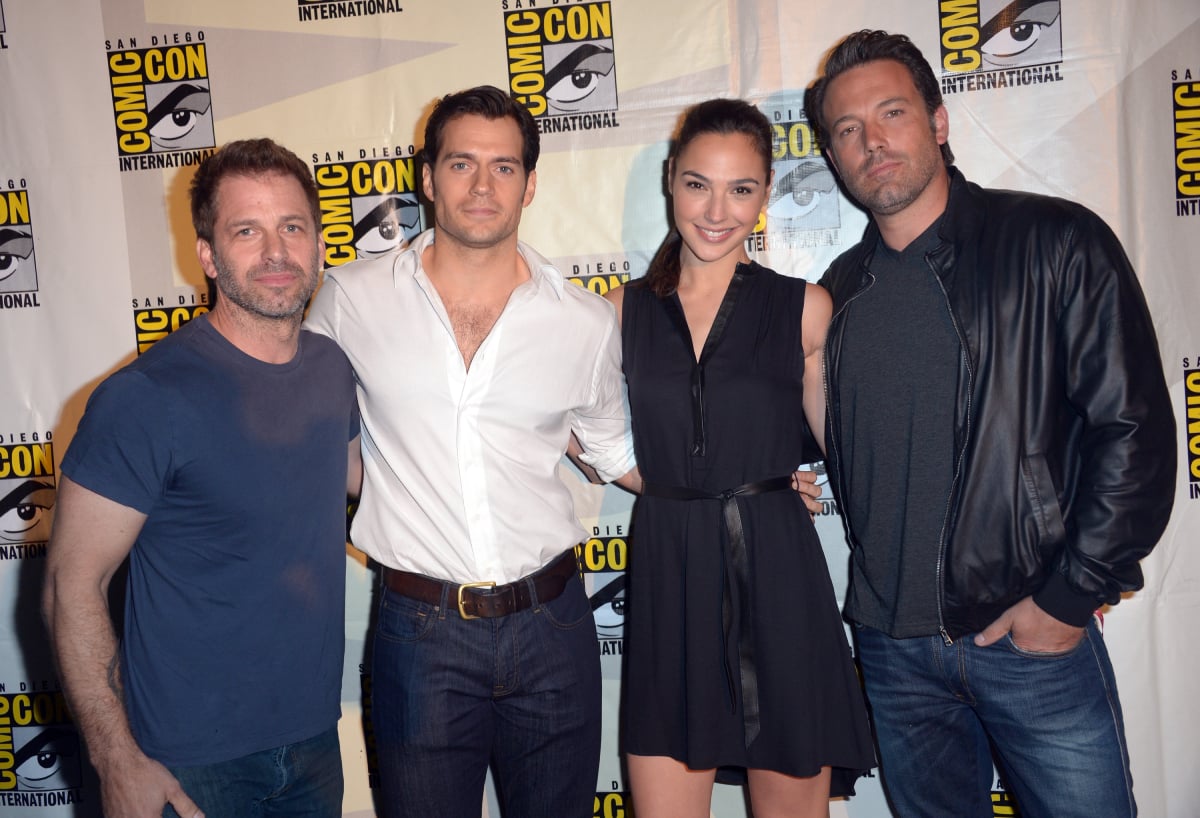 Will Zack Snyder's 'Justice League' get a theatrical release?
Earlier this year, Warner Bros. revealed that Snyder's Justice League cut would be coming to HBO Max in 2021. They also revealed that they would release the film in four one-hour installments as a limited series.
In addition to Snyder feverishly re-cutting the film in the editing booth, he also brought in Affleck and Ray Fisher for reshoots. There will reportedly be about four minutes of new footage in the Snyder cut.  And the expectation is that the film will hit Warner Bros. new streaming service by the summer.
But, could the studio also be planning to release the four-hour film in theaters? Snyder recently told Entertainment Weekly that they are talking about making that happen.
"I'm a huge fan and a big supporter of the cinematic experience, and we're already talking about Justice League playing theatrically at the same time it's coming to HBO Max," Snyder says. "So weirdly, it's the reverse [of the trend]."
Warner Bros. made a controversial decision about the movies on their 2021 slate
Last month, Warner Bros. announced that they would eliminate the theatrical window in 2021 and release their entire slate of films on HBO Max the same day they hit theaters. This move has created controversy.
Filmmakers Christopher Nolan and Judd Apatow have been vocal critics of the move. The Tenet director said he was in "disbelief" when hearing the news, especially because they didn't tell anyone in advance. Snyder says it feels like a "pretty bold move" that wasn't "100 percent thought out."
"I feel like there's a lot of people panicking during COVID. I hope that, in the end, that's what this was — some sort of knee-jerk to COVID and not some sort of greater move to disrupt the theatrical experience," Snyder said.
The director noted that he thought they were getting very close to the "ideal theatrical window." Before the pandemic, the industry's theatrical window was approximately 90 days. Snyder explained that there was still marketing material out there from the theatrical release, so people hadn't forgotten about the movie by the time it came out on DVD or streaming.
"I thought we were starting to hone in on that sweet spot, but this kind of throws a monkey wrench in the works," Snyder said.
Zack Snyder believes his 'Justice League' cut will 'for sure' be R-rated
No matter if it gets a theatrical release or not, Snyder says he's pretty sure his Justice League cut will get an R-rating.
"Here's one piece of information nobody knows: The movie is insane and so epic and is probably rated R — that's one thing I think will happen, that it will be an R-rated version, for sure," Snyder says. "We haven't heard from the MPAA, but that's my gut."
Snyder explained that the new footage of Affleck as Batman features the actor dropping an F-bomb. Other details that Snyder believes makes his cut R-rated is that "Steppenwolf is pretty much just hacking people in half." And, Cyborg is not happy about his life and "tends to speak his mind."
"So [the rating would be due to] violence and profanity, probably both," Snyder noted.
Snyder's cut of Justice League will hit HBO Max (and maybe theaters) in 2021 after a massive fan lobbying campaign successfully convinced Warner Bros. to "Release the Snyder Cut."