Justin Bieber and Hailey Bieber Had an Awkward Encounter With Shawn Mendes and Camila Cabello at the Met Gala
The 2021 Met Gala was a star-studded, eventful night. But one of the most interesting interactions happened away from the crowd.
Vogue captured an uncomfortable run-in between Shawn Mendes, Camila Cabello, and Hailey and Justin Bieber. Here's the history of these two couples and what made their interaction so awkward.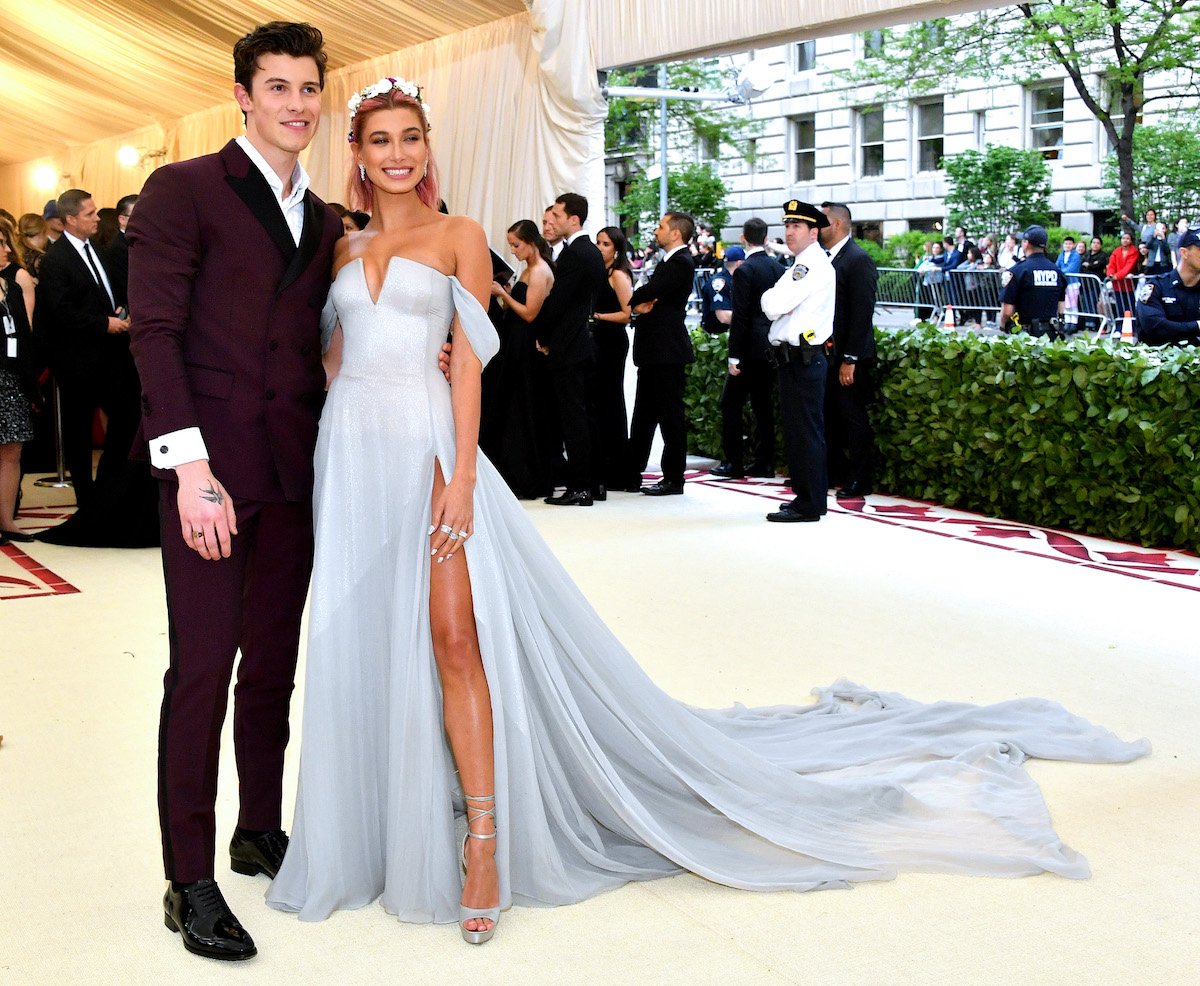 Shawn Mendes went to the Met Gala with Hailey Bieber in 2018
In 2018, Shawn Mendes and Hailey Bieber, who was Hailey Baldwin at the time, attended the Met Gala together. Although they never publicly labeled their relationship, they were spending a lot of time together and appeared to have a romantic connection. 
Just a month after attending the Met Gala with Mendes, Hailey Baldwin reconciled with Justin Bieber. Bieber had just broken up with Selena Gomez, his on-and-off girlfriend for years, again. Bieber and Baldwin married mere months later. Shawn Mendes and Camila Cabello confirmed their relationship in 2019. 
In his 2020 documentary Shawn Mendes: In Wonder, Mendes said that all his songs are about Cabello. "My song comes on the radio or something, and I'm like, 'Everything's about you. They're all, they have always been about you,'" he said in the documentary, describing a conversation he had with Cabello. "She goes, 'What do you mean?' Like, 'They're all about you. Like every song I've ever wrote.'" But the timeline of his relationship with Baldwin has some fans questioning the veracity of this statement. 
Shawn Mendes and Justin Bieber also have history
Not only did Mendes date Hailey Bieber back when she was Hailey Baldwin, but he also has a storied past with Justin Bieber.
"Who's Shawn Mendes?" Justin famously said when asked about his fellow musician during an interview. The two stars have drawn lots of comparisons throughout their careers. After all, they are both young, good-looking Canadian musicians… and they both dated Hailey Baldwin. 
It's unclear whether Bieber was intentionally throwing shade or if he genuinely didn't know who Mendes was (although especially considering their many comparisons, the latter is unlikely).
But we do know that Bieber is a sass-master when it comes to his romantic rivals based on his comments about The Weeknd. While Bieber's ex Selena Gomez was dating The Weeknd (yet another Canadian singer),  TMZ asked him about The Weeknd's music. "Hell no, I can't listen to a Weeknd song. That s—'s wack," Justin quipped. 
Since Bieber's comment claiming not to know Mendes, the two musicians have collaborated on the song "Monster" and its accompanying music video. They created the hit in 2020, two years after Justin and Hailey Bieber married. So, it seems like the two stars squashed any beef they might have had.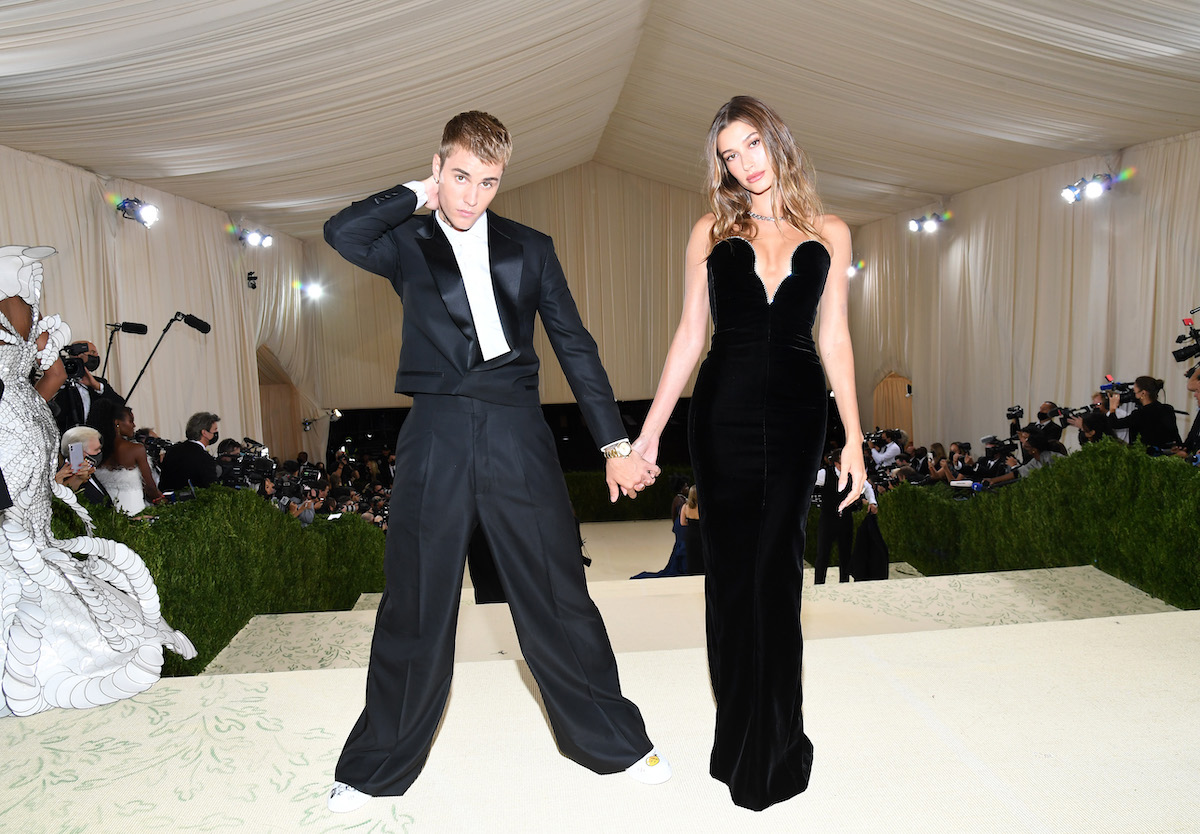 The two couples ran into each other at the 2021 Met Gala
The four celebrities engaged in brief, stilted conversation at the Met Gala. 
To her credit, Cabello greeted the Beibers enthusiastically. If we didn't know any better, we might think that she had no idea of her partner's history with the couple. Mendes, for his part, lightly hugged and barely looked at his ex Hailey, focusing instead on Justin Bieber. 
Bieber was quick to acknowledge Mendes' flesh-baring outfit. "You went with the no-shirt vibes. I like it."
The entire interaction lasted no more than a few seconds, but it felt like a cringe-worthy eternity to us, so we can only imagine how it felt to the four of them. 
After the Biebers departed, Mendes and Cabello looked each other in the eyes and exchanged a quick kiss. 
'Vogue' filmed the awkward moment between Shawn Mendes, Camila Cabello, and Hailey and Justin Bieber
Shawn Mendes and Camila Cabello filmed a "Getting Ready With" video for Vogue that immortalized their awkward meeting with the Biebers.
Before showing the couple's chat with Justin and Hailey Bieber, the video followed Mendes and Cabello as they prepared for one of fashion's biggest nights of the year. 
In the opening shots, Mendes cleared the energy in the room by burning Palo Santo, a process he referred to as "witch things." He assured viewers that "it's necessary, guys."
The video also showed Mendes having his fingernails painted only to intentionally chip them as part of his look. Mendes wore a black leather jacket with pants and suspenders, opting to go shirtless, as Justin Bieber noted. 
Cabello wore a royal purple matching set consisting of a crop top and a voluminous skirt adorned with sequins and feathers.