Justin Bieber or Ed Sheeran: Which Musician Has the Higher Net Worth?
Which of these talented musicians is worth more?
Justin Bieber and Ed Sheeran have been friends for several years, and both of them have seen unbelievable fame. The two worked together on the song "Love Yourself" in 2015, and they recently linked up for their newest hit, "I Don't Care." With so much success in both careers, it makes us wonder: Which of these two heartthrob musicians has the higher net worth?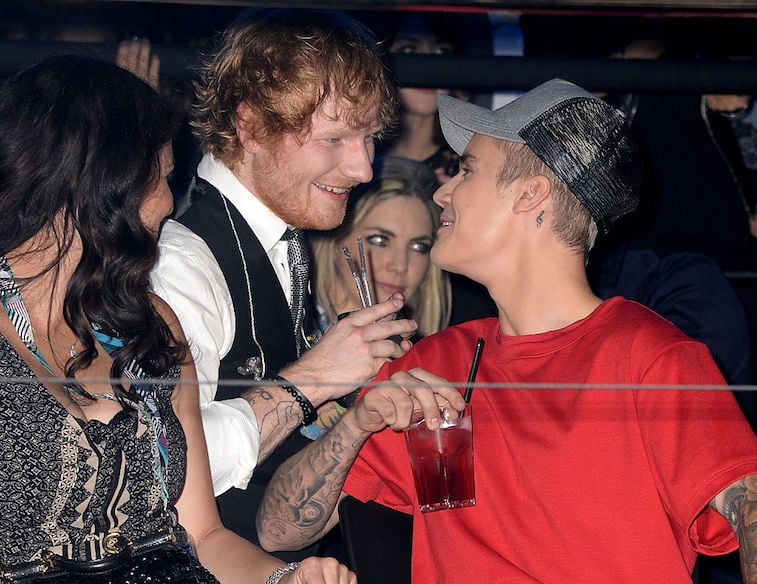 Justin Bieber stepped onto the music scene when he was only 13
Bieber's music career jump started at a very young age. When he was only a child, Bieber used to sing in public in his hometown of Stratford, Ontario, and his mother recorded several videos of her son and posted them on YouTube. They caught the attention of Scooter Braun, a music manager who invited Bieber down to Atlanta. Producers liked what they saw, and artist Usher took the then-13-year-old under his wing. His first single, "One Time," resonated well with fans, and hits such as "Baby" and "Somebody to Love" quickly made him a teenage millionaire.
Today, the pop star is worth an estimated $265 million
Bieber has come a long way since he first rose to fame, but it hasn't been without its hurdles. In 2015, Bieber came out with hits such as "Sorry" and "Where Are U Now," which gained him a whole new group of fans. Now, not only was he adored by preteens, but he was popular among college-aged student and young adults as well. The fame proved to be a lot for the singer to handle, though, and he ended up canceling the remaining dates of his tour in 2017 to focus on his mental health. In May 2019, he partnered with Ed Sheeran to release his first song since he was featured on DJ Khaled's "No Brainer" the previous year. The song, "I Don't Care," broke the Spotify record for streams in one day and has put Bieber back on top. Today, he's worth an estimated $265 million.
Ed Sheeran captivates people with his songwriting and charm
Ed Sheeran has always been the quiet guy. Where Bieber got in trouble for acting out, Sheeran always flew under the radar whenever possible. The two are similar in their talent and fan base but appear to have very different personalities. Sheeran has a passion for songwriting, and he was the majority of the brains behind Bieber's hit "Love Yourself," which was originally written for Sheeran's album, Divide. (The song didn't make the cut, so Bieber picked it up.) Sheeran has a charm about him that makes him one of the dreamiest musicians of today's time, and he doesn't need a supermodel vibe to grow that heartthrob reputation. (He's often seen wearing something as simple as a t-shirt, jeans, and thick-rimmed eye glasses.)
Today, Sheeran is worth an estimated $210 million   
Sheeran has moved audiences with his countless singles that give everyone the feels. "Thinking Out Loud," "Photograph," and "Perfect" are just a few of Sheeran's more heartfelt hits, but he writes fun songs, such as "Galway Girl" and "Shape of You," which resonate well with fans, too. This newest bop with Bieber is yet another side to Sheeran's musical ability and unique sound. Sheeran's net worth is estimated right around $210 million, putting him pretty closely behind Bieber. Both men appear to have long, promising careers ahead of them.
Check out The Cheat Sheet on Facebook!