The Real Reason Justin Bieber and Hailey Baldwin Waited so Long to Have a Wedding
Justin Bieber and his wife, Hailey Baldwin, certainly went all out for their wedding on September 30, 2019. The wedding, which featured custom attire from brands like Off-White, reportedly cost a whopping $1.3 million. $300,000 alone was spent on floral arrangements of chamomiles and white roses. The event also featured a star-studded guest list. For days, people were not only talking about Baldwin's wedding dress, but also the skin-tight gold dress, worn by Kylie Jenner.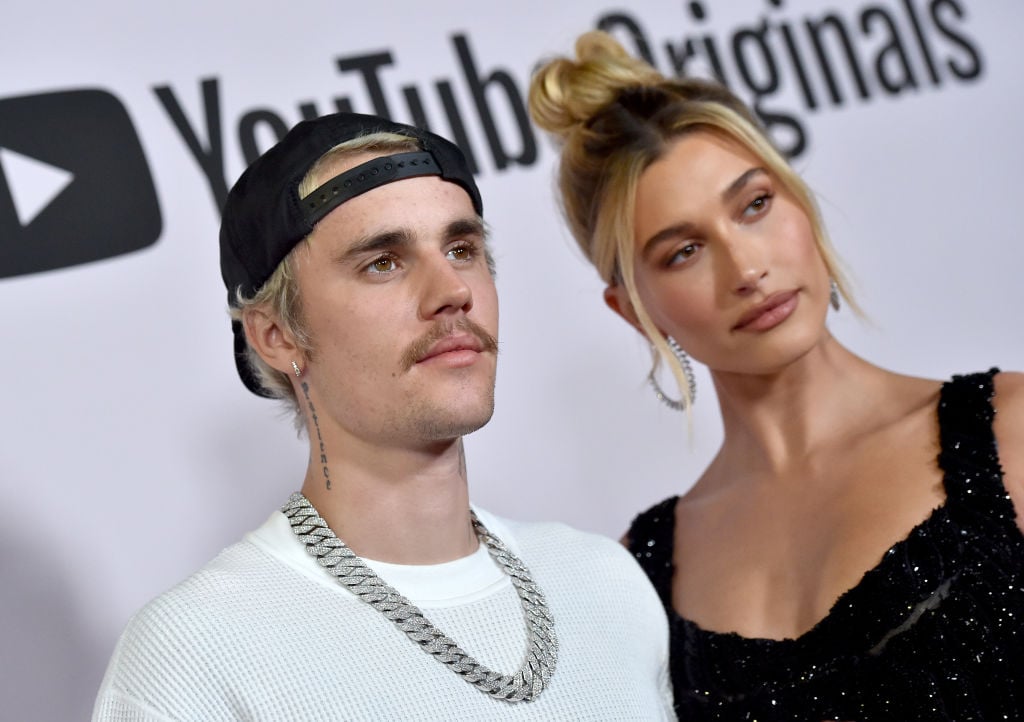 Though the Biebers had their wedding in September of 2019, they actually got married a whole year before the festive occasion. Bieber and Baldwin tied the knot on September 13, 2018. When the pair got married privately, so soon after they got engaged, many critics and fans began speculating on why that was the case. Some felt that they were in a rush to live together. Others speculated that rushing into a marriage meant that they wouldn't last as a couple. But, the husband and wife seemed happier than ever when they finally decided to have their wedding. But why did they take so long to have a public ceremony and reception?
Why Hailey Baldwin and Justin Bieber held off on having a wedding
In a recent interview with Elle, Baldwin opened up about her first year of marriage with Bieber. Though the couple has stated that they are very happy with one another, navigating life as newlyweds wasn't exactly smooth sailing. As they didn't live together until after they tied the knot, they were still trying to figure out what their life together would look like. "When we first got married, we were just figuring out our life together. I felt like putting a wedding in the middle of all of that would be really hectic and stressful," the 23-year-old model revealed.
Bieber's Lyme disease was the focus
Another fact that went into holding off on the wedding was the fact that Bieber was battling both Lyme disease and chronic mono at the time. Though Bieber now has a diagnosis and treatment plan, during their first year of marriage, the diseases went undiagnosed. With symptoms like fatigue, chronic pain, and skin irritation, planning a wedding just didn't seem like the top priority. "He was really sick. He has Lyme disease, and he was dealing with a bunch of medical stuff. We didn't have a diagnosis," Baldwin began about her husband.
The model continued on to share that experiencing the media's negativity at the same time Bieber was suffering made the experience even harder. "And it was hard because everybody from the outside was being super mean and judgmental, saying he looked like he was on drugs, saying how unhealthy he looked, when in truth, he was not healthy and we didn't know why. t was months of me being a new wife trying to help him figure out what was wrong and what was going on. Now he's perfectly healthy. But going through that and then trying to be like, 'So where does our wedding fit into this?' didn't feel like the vibe at all," Baldwin confessed.
Clearly Beiber and Baldwin chose to prioritize the important things in their first year as a married couple. And while they didn't have a wedding right away, they did it at a time that was most convenient for them. It might have been a year later, but it seems that they both consider it to be the wedding of their dreams.