Justin Bieber's Chrome Wrapped Car Is Like Driving a Giant Mirror
Justin Bieber has quite the collection of cars, as you would expect. The most unique car in this collection is decked out with chrome.
Justin Bieber likes to do things differently and in his own voice. It's part of the reason for his blockbuster success as a singer and songwriter. But his drive for differentiating himself transcends far beyond his music. His style and even the expensive cars he drives all have unique customization.
One of his rarest gems in the garage, Bieber had wrapped entirely in chrome. Driving this exotic ride around the city, as you can imagine, can be blinding to oncoming traffic as it resembles a giant mirror on wheels.
Justin Bieber's fame started early
What began as a young boy on a YouTube video quickly transitioned to incredible fame and stardom for Justin Bieber. He almost immediately landed a record deal with Usher and began cranking out Top 40 hits.
In fact, he was the first solo artist to land four singles on the charts before even launching a debut album, according to Biography.com. His 2009 effort, My World, went platinum on a global scale.
He's had some unsavory headlines, as he matured through the tough teenage years. But he made enough comebacks to keep his fan base engaged and his revenue streams flowing. As of this year, reports say he's worth $265 million, due to his album sales, endorsements, tours, and his YouTube series.
A few of the exotic cars in his celebrity collection
On par with being different, Justin Bieber charts his own path in terms of expensive cars in his collection. He bought his first Lamborghini Aventador when he turned 18. But soon he recognized exotic cars are a dime a dozen in his social circles, so customizing became a necessity.
He has an Audi R8 with a bizarre leopard print wrap job. He even has a Cadillac CTS V coupe that is tricked out to resemble a Batmobile. And if blacked-out body kits and tints on a Batman-style Cadillac weren't enough, Bieber had to be sure to also own the matching motorbike, too.
The rare car Justin Bieber had wrapped in chrome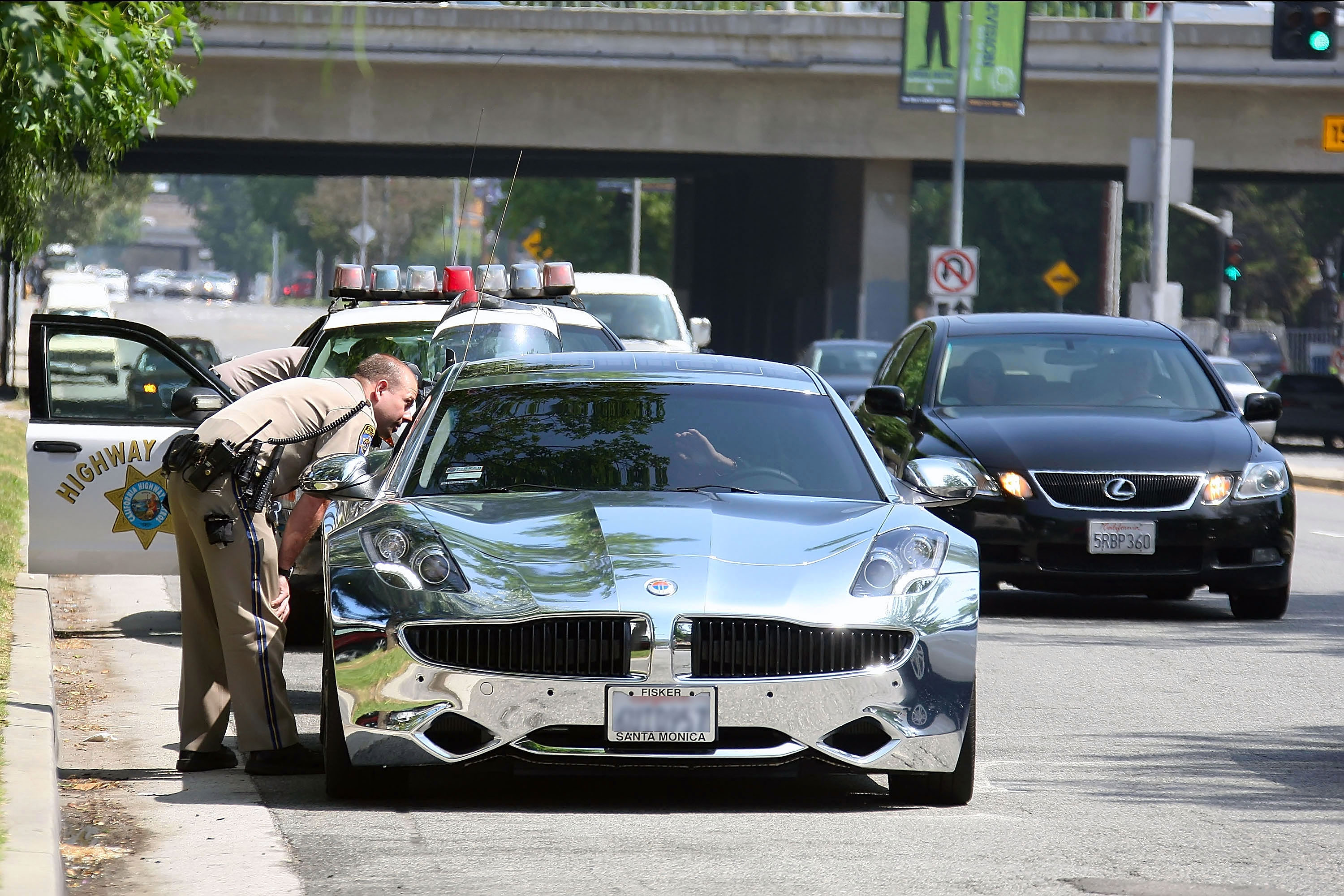 One of the unique high-end vehicles in Justin Bieber's garage of multi-million dollar cars is the Fisker Karma. This small automaker brand specializes in electric vehicle technology, matched with a completely unprecedented luxury car design.
Not entirely in production for the masses yet, Fisker Karma did produce a few vehicles whose owners include the environmentally-conscious Leonardo DiCaprio, and you guessed it, Justin Bieber. 
He got his $100,000 Fisker Karma as a birthday gift on the Ellen DeGeneres Show when he turned 18, according to Jalopnik. But having an uncommon luxury car isn't good enough.
Bieber spent an estimated extra $10,000 and had his Fisker Karma wrapped entirely in chrome. It looks like a giant mirror, and one can only imagine what kind of glare other drivers might experience around it.
Celebrities are all about differentiating with customization
From Paris Hilton's blush pink Bentley Continental GT to Chris Brown's color-changing Lamborghini, it's clear, celebs want their sweet rides to stand out from the others. Many of these cars are rare to the rest of us, and a chance to own or even afford a stock model would be life-changing.
But in Hollywood and within the social circles of the wealthy elite, having stock anything is just a waste of money. Kanye West, Beyoncé, and Kim Kardashian West all have custom extras on their favorite rides.
No one has confirmed why Justin Bieber opted for a complete chrome wrap on his Fisker Karma. But it certainly looks like a sleek and sporty mirror on wheels. And maybe that's just it. Bieber has a way to check his hair everywhere he goes.