Justin Timberlake and Ryan Gosling Have a Special Bond That Started in Childhood
Justin Timberlake and Ryan Gosling are two very famous and successful celebrities. Timberlake is a Grammy-winning artist who has released many hit singles. Meanwhile, Gosling is a Golden Globe-winning actor who has appeared in several popular movies.
These days, most people usually would not associate them with each other, but the truth is that Timberlake and Gosling have a unique history together that goes way back. They also used to be very close when they were younger. Read on below to learn more about how these two stars became friends and whether or not they are still buddies today.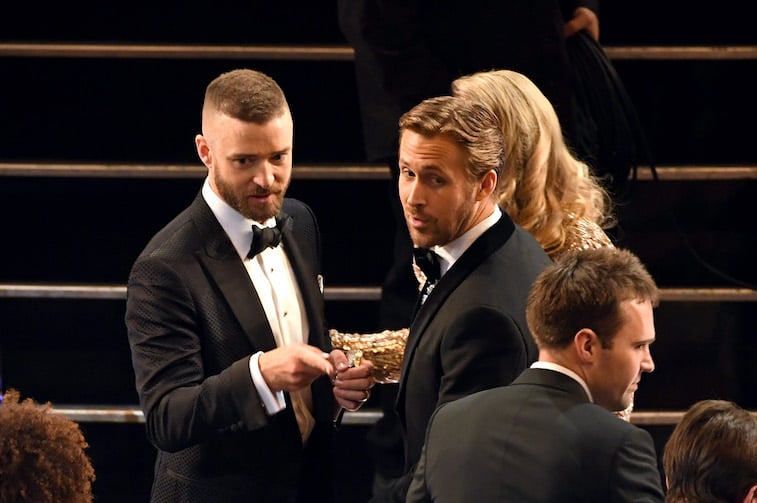 Justin Timberlake and Ryan Gosling were both on 'The Mickey Mouse Club'
Timberlake and Gosling first met in the 1990s on The Mickey Mouse Club revival. They were two members of the show's ensemble cast that included other would-be celebrities like Christina Aguilera and Britney Spears.
Both Timberlake and Gosling joined the show during the last two seasons, and they appeared as Mouseketeers from 1993 to 1994.
Justin Timberlake and Ryan Gosling used to live together
Timberlake and Gosling became close on the set of The Mickey Mouse Club, and they actually lived together as well.
In 2011, Timberlake shared with Ellen DeGeneres that Gosling stayed with Timberlake and his family because Gosling's mother had to go back to Canada for work.
"His mother had to keep her job in Canada the second year that we were on the television show, so my mom was his guardian for like six months," Timberlake explained. "We were probably a little closer that the rest of the kids that were on the show just because we had to share a bathroom."
Justin Timberlake and Ryan Gosling hung out together a lot
Timberlake and Gosling were like brothers, and when they were not working, the two boys pulled some crazy stunts with each other on the set.
"We thought we were so cool," Timberlake shared. "Looking back on them, they weren't as bad as I thought they were at the time. We stole a golf cart. And we were like, 'Yeah, man. We're stealing a golf cart!'"
In Timberlake's 2018 book, Hindsight & All the Things I Can't See In Front of Me, he said that he and Gosling had fun together at Disney's theme parks as well.
"We had employee cards that gave us access to the theme parks for free," Timberlake wrote. "Ryan and I once stole a golf cart and drove it to the employee entrance for the Tower Of Terror. We went on that ride 12 times in a row."
Are Timberlake and Gosling still close?
It's clear that Timberlake and Gosling had a lot of fun moments together in the 1990s, but these days, the two of them have gone their separate ways. All the signs point to the fact that they are not as close anymore.
When Ellen DeGeneres asked Timberlake in 2011 if he still talked to Gosling, Timberlake said that because of Gosling's busy schedule, "it's hard to keep up with him."
In 2013, Gosling also commented on his relationship with Timberlake. Instead of blaming it on busy schedules, Gosling simply stated that he and Timberlake do not talk to each other that much anymore. The actor said: "I see him around but it's like anything where you're friends with somebody in elementary school or something. How many friends do you still have from elementary school?"
Fast forward to 2017 and Timberlake also no longer seemed to be shy about saying that he and Gosling have grown apart. He told The Hollywood Reporter in an interview: "We aren't the closest of friends, for whatever reason."