Justin Timberlake and SZA Drop New Song for 'Trolls World Tour'
Since last summer, DreamWorks has been promoting the sequel to 2016's Trolls, its animated feature based on Hasbro's doll line. The first film cashed in on nostalgia for the toys but also proved to be a musical hit among audiences who loved the story and the upbeat, pop/EDM soundtrack.
Not only did Justin Timberlake star in the film as Branch, but he co-wrote and sang the Grammy-winning song, "Can't Stop the Feeling!" for the soundtrack. This time, he's back for Trolls World Tour, collaborating with R&B songstress SZA on the track "The Other Side."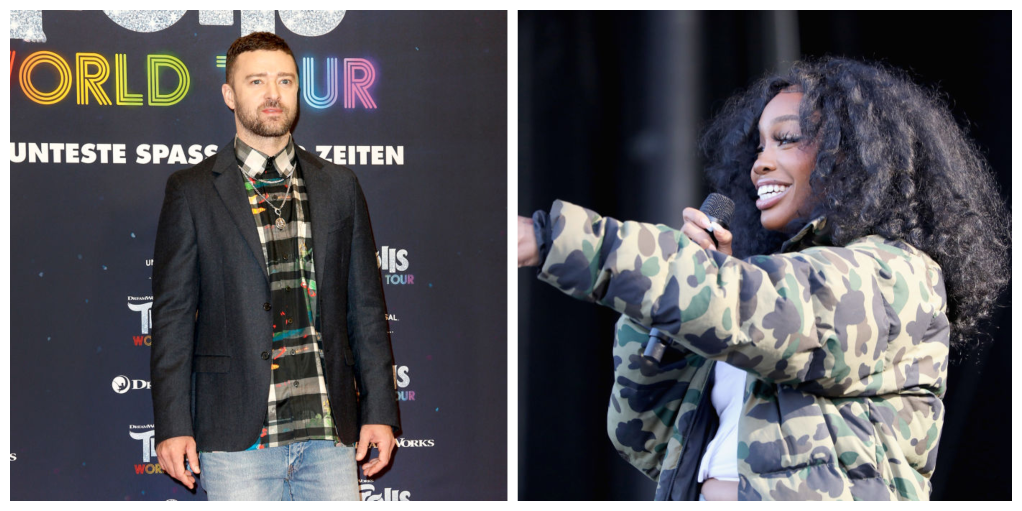 New 'Trolls' song from Justin Timberlake and SZA just dropped
It's only been a couple of hours since the "The Other Side" hit YouTube and music streaming platforms, but fans are already loving it. Some are comparing its sound to Timberlake's "Rock Your Body" and want it to blow up on the radio.
With lyrics like "You wanna run it back/ But you can't turn the time / You start to feel like you're losing your shine/ But the grass ain't always greener on the other side," the tune's uplifting theme is about not giving up and appreciating who you are and what you have to offer.
Clearly, this bop is perfect for the Trolls sequel and it's getting fans hyped for the movie and all the artists on the soundtrack. Peep it.
What the 'Trolls' sequel is about
There is one main mission in Trolls 2, and that's to save the music. Anna Kendrick and Timberlake will reprise their roles as Poppy and Branch in Trolls World Tour and will be joined by Kelly Clarkson, Mary J. Blige, J Balvin, George Clinton, Anderson  .Paak, Ozzy Osbourne, and Rachel Bloom.
According to DreamWorks' description of the film, fans will be taken on a musical journey like no other:
"In an adventure that will take them well beyond what they've known before, Poppy (Kendrick) and Branch (Timberlake) discover that they are but one of six different Troll tribes scattered over six different lands and devoted to six different kinds of music: Funk, Country, Techno, Classical, Pop and Rock. Their world is about to get a lot bigger and a whole lot louder.

A member of hard-rock royalty, Queen Barb (Rachel Bloom), aided by her father King Thrash (Ozzy Osbourne), wants to destroy all other kinds of music to let rock reign supreme.

With the fate of the world at stake, Poppy and Branch, along with their friends — Biggie (James Corden), Chenille (Caroline Hjelt), Satin (Aino Jawo), Cooper (Ron Funches) and Guy Diamond (Kunal Nayyar) — set out to visit all the other lands to unify the Trolls in harmony against Barb, who's looking to upstage them all."
Fans will also be introduced to troll tribes who rock out in hip-hop, smooth jazz, and reggaeton. Look out for Kenan Thompson's baby troll character, Tiny Diamond too. The film is due in theaters on April 17.
Other stars on the 'Trolls World Tour' soundtrack
In case you missed it, the soundtrack for the first Trolls movie went platinum thanks to its star-studded lineup of singles that made people want to sing, dance, and make viral videos. This time around, the World Tour collection features a variety of musical heavy hitters on the list.
According to Variety, the soundtrack will be available on March 13 and will include songs from George Clinton and Parliament Funkadelic, Mary J. Blige, Rachel Bloom, Dierks Bentley, Sam Rockwell, Anderson .Paak, Timberlake, Kelly Clarkson, Anthony Ramos, and more.