Justin Timberlake Wrote 'Cry Me a River' in 2 Hours After He and Britney Spears Broke Up
Britney Spears called the music video for "Cry Me A River" by Justin Timberlake "a desperate attempt" at making a "controversial video."
In his 2018 autobiography, Hindsight, Justin Timberlake talked about his pop hit "Cry Me A River," the breakup song widely believed to be about his split with fellow pop star Britney Spears in 2002. In fact, there was a Spears look-alike in the music video.
The "Can't Stop the Feeling!" singer revealed in his book he wrote the song in just two hours. Find out exactly what Timberlake said about writing "Cry Me a River," and learn how Spears felt after she saw the "controversial" music video. 
Justin Timberlake was 'pissed off' when he wrote 'Cry Me a River'
"Cry Me a River" debuted on Justified, Timberlake's first solo album after his boy band days in 'NSYNC.
Here's what Timberlake said about the song released in November 2002: 
"I've been scorned. I've been pissed off. The feelings I had were so strong I had to write it," he wrote in the book. "I translated my feelings into a form where people could listen and hopefully relate to it. People heard me and they understood it because we've all been there."
Supposedly, the young pop stars broke up because Spears cheated on Timberlake with choreographer, Wade Robson, and tried to conceal what she'd done. A year after the breakup, Timberlake told Rolling Stone in 2003 he'd been cheated on not once but three times and said he didn't have much hope for his dating life, according to Fame10.
In a 2003 interview with Barbara Walters, Timberlake recalled a conversation he and Spears had when they broke up, noting that he made a promise to his ex-girlfriend. "I promised her that I wouldn't say specifically why we broke up," Timberlake told Walters, according to Bustle. 
Did he break his promise to Spears? It's hard to say. He may not have explicitly said why they broke up, but he connected many of the dots for the public with his "Cry Me a River" music video.
Britney Spears claimed Justin Timberlake wanted a 'controversial video' to boost record sales
When Rolling Stone interviewed Spears, she recounted how Timberlake told her about his music video for "Cry Me a River." 
"He called me up and asked me if it was OK," she said. "I can't believe I'm telling you this right now. But who cares. He called me up and wanted to supposedly get back together or whatever, but behind it was, 'And by the way, you're in a video that's coming out.' That kind of got slipped in. 'Don't worry about it. It's not a big deal,' [he said]." 
Spears told her ex to release the video, even though she didn't know the subject matter, which she later regretted.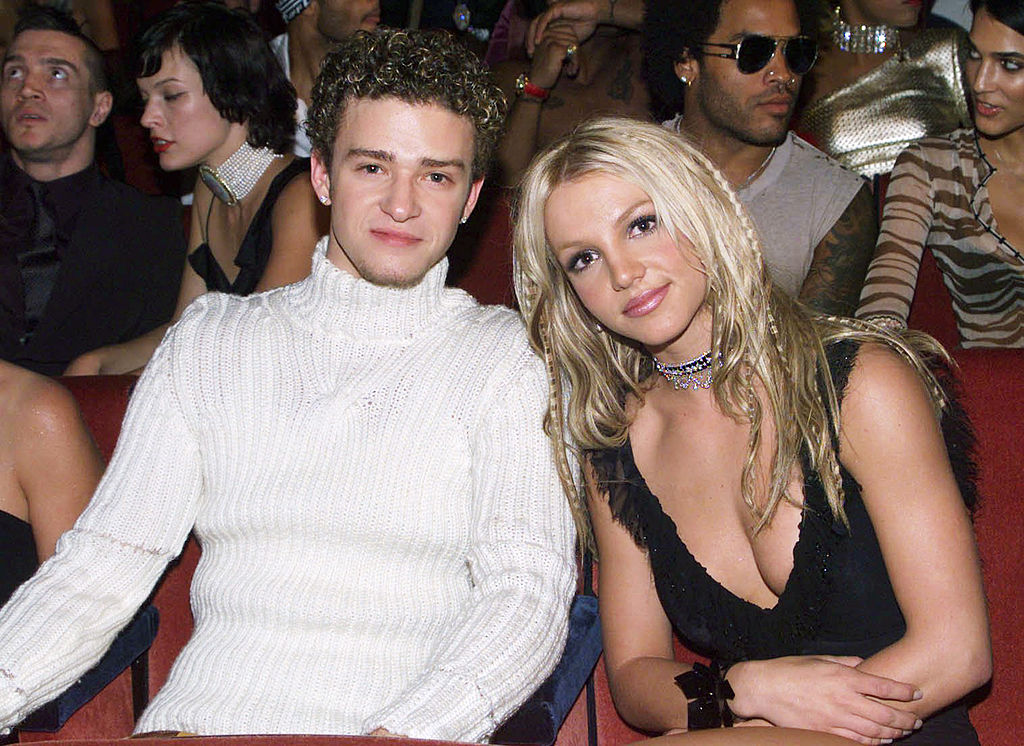 "I hadn't seen it. Then, it came out, and I said, 'I should've freakin' said no to this s**t!' I was so like, 'Whoa. What is going on right now?'" she recalled. 
Then, she described what happened when she asked Timberlake about the explosive music video. 
"And I said, 'Why did you do this?' He goes, 'Well, I got a controversial video.' And I was like, 'You did. Yay for you.' So he got what he wanted," she said. "I think it looks like such a desperate attempt, personally. But that was a great way to sell the record. He's smart."
Today, Timberlake continues to be a successful recording artist and is married to 7th Heaven actress, Jessica Biel. They have a son together named Silas Randall Timberlake. 
As for Spears, she went through some rough patches (she got married and divorced twice, among other things) but came out on the other side stronger than yesterday (get it?). 
She continued to release new music, became the star of her own Las Vegas residency, and appeared as a judge on The X Factor.
Spears and her ex-husband Kevin Federline had two children together — Sean and Jayden — whom Spears features on her Instagram. She's now dating Sam Asghari, a 25-year-old model and physical trainer.