Justin Timberlake Refused to Apologize to Janet Jackson 5 Years Ago
Justin Timberlake just apologized to Janet Jackson, nearly 20 years after an incident at the Super Bowl left her blacklisted from the music industry. For more than 40 years, Jackson has been a legend in the industry, showcasing her talents on her iconic albums like Control and Rhythm Nation 1814 as well as her acting chops on shows like Good Times and Will & Grace, and movies like For Colored Girls and Why Did I Get Married?
However, following the 2004 incident, Jackson's career hit a major snag that Timberlake had a major hand in. Though he's now apologizing, the NSYNC alum refused to offer any remorse just five years ago.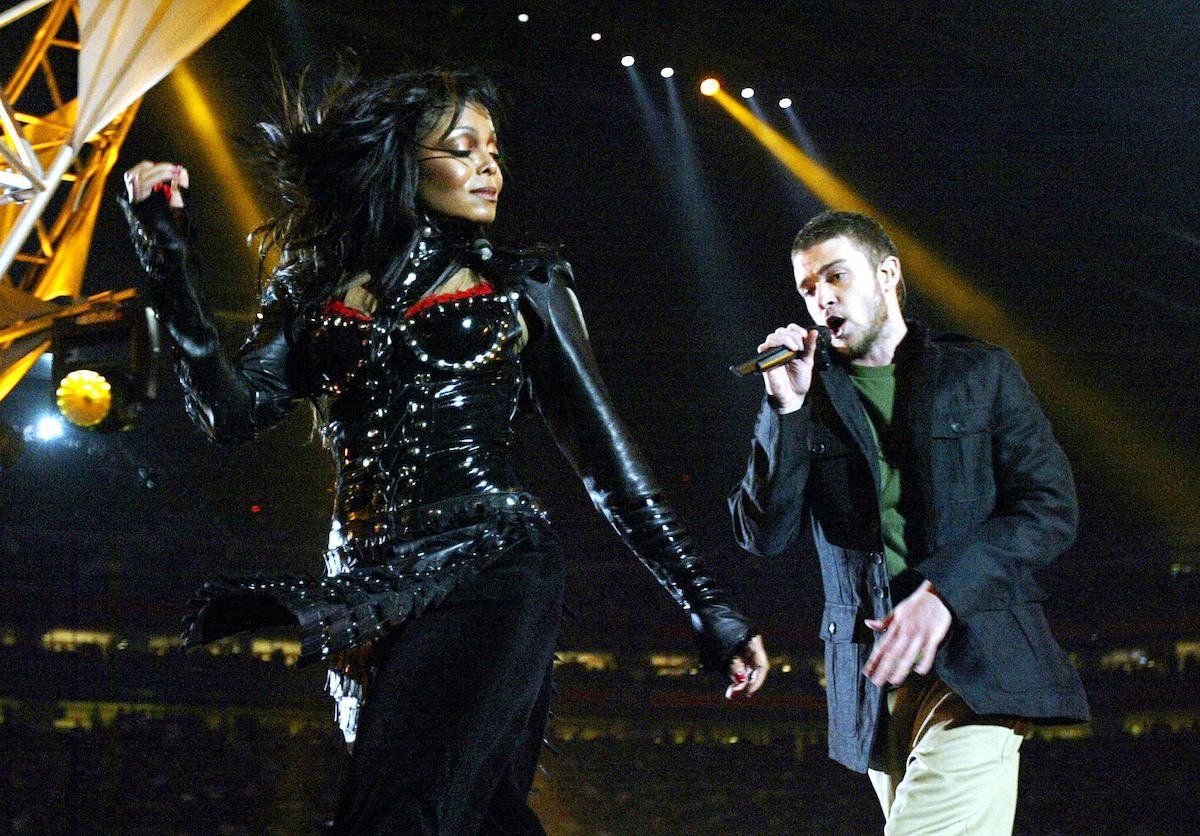 What did Justin Timberlake do to Janet Jackson?
Since both Jackson and Timberlake are huge stars, and Timberlake spoke openly about being influenced by the "That's The Way Love Goes" singer and her brother, Michael Jackson, it seemed natural that they would become friends. Therefore, when they paired up to perform at the Super Bowl Halftime Show in 2004, fans were delighted.
All was going well until the end of their performance of Timberlake's "Rock Ur Body." Timberlake ripped Jackson's top, exposing her breast to millions of viewers. The Velvet Rope singer was visibly shaken and stunned, and the press when wild. Though it was a wardrobe malfunction, Jackson was banned from the Grammys that year, and her album, Damita Jo, became one lowest performing of her career. The then-CEO of Viacom claimed that "Janet Jackson engineered" the incident. 
For his part, Timberlake threw all of the blame on Jackson and went on to have a thriving career, while she rebuilt hers. "He was to take and rip the piece that he did, but more came off than was supposed to… it was a very embarrassing moment," Jackson explained on The Oprah Winfrey Show in 2006.
Justin Timberlake finally apologized to Janet Jackson after 17 years
Now, after a scathing examination of his behavior toward his ex-girlfriend, Britney Spears, in the new documentary, Framing Britney Spears, Timberlake is offering an apology to both the pop-star and the R&B legend.
"I am deeply sorry for the times in my life where my actions contributed to the problem, where I spoke out of turn, or did not speak up for what was right," Timberlake wrote in an Instagram statement. "I understand that I fell short in these moments and in many others and benefited from a system that condones misogyny and racism. I specifically want to apologize to Britney Spears and Janet Jackson both individually because I care for and respect these women and I know I failed."
Justin Timberlake refused to apologize to Janet Jackson 5 years ago
Many of Jackson and Spears' fans are calling Timberlake's newfound remorse inauthentic. In 2016, journalist Ernest Owens called Timberlake out for appropriating and profiting off of Black culture and Black music. Owens also urged the singer to apologize to Jackson.
In a since-deleted tweet, Timberlake responded to Owens very rudely saying, "Oh, you sweet soul. The more you realize that we are the same, the more we can have a conversation. Bye."
After deleting the tweet, Timberlake played the victim, tweeting that he was misunderstood. "I feel misunderstood," he wrote. " I responded to a specific tweet that wasn't meant to be a general response. I shouldn't have responded anyway…"