Kacey Musgraves Brings Gilded Glamor to the 2022 Met Gala
Kacey Musgraves is the artist behind Star-Crossed and Golden Hour, recently stunning on the Met Gala red carpet in a black dress from Prada. Here's what we know about her "Gilded Glamor" look and her past Met Gala appearances.
The 2022 Met Gala theme is 'Gilded Glamor'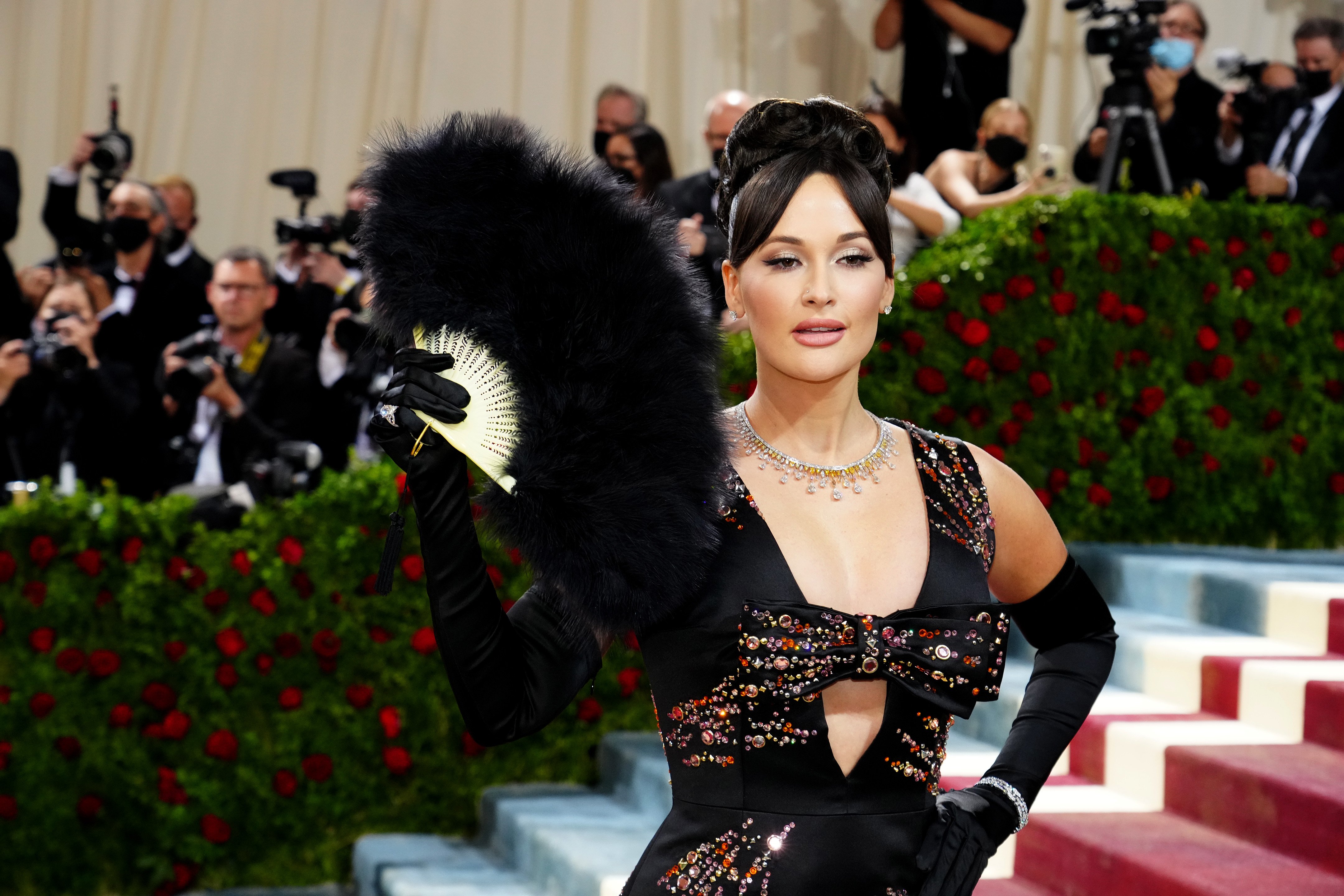 The 2022 Met Gala's category is "Gilded Glamor." This is the second part of the overarching Met Gala theme — In America: An Anthology of Fashion, discussing "who gets to be American" in fashion.
Some celebrities put their unique spin on the "Gilded Glamor" theme, including Olivia Rodrigo, who attended in a purple dress coinciding with her Sour era. Kylie Jenner dressed in a wedding dress, complete with a veil and a backward baseball cap. 
Kacey Musgraves wore Prada for the 2022 Met Gala
The Grammy Award-winning country artist Musgraves was also in attendance at this fashion event. Musgraves appeared at the 2022 Met Gala in a black Prada dress, complete with a bow, stone embellishments, and cut-out selected by Erica Cloud.
Musgraves completed the look with a black feather fan. Celebrity makeup artist Moani Lee completed the look, doing the "Simple Times" artist's makeup for the event. 
"To me, The Gilded Age/Gilded Glamor was all about opulence, and I find that the richer the skin, the more luxurious the beauty look," Moani said in a statement, according to E! News. "I'm a big fan of gorgeous skin all around, so I was thrilled to have the chance to really play that up." 
As a proud Texan and one of the artists behind the soundtrack for Elvis' upcoming biopic, Musgraves posed alongside Catherine Martin, Alton Mason, Kelvin Harrison Jr., Olivia DeJonge, Austin Butler, Priscilla Presley, Jerry Schilling, and Baz Luhrmann.
Other celebrities at the 2022 Met Gala include Blake Lively, Megan thee Stallion, Billie Eilish, and Khloé Kardashian. 
Kacey Musgraves dressed as Barbie for one Met Gala 
With the 2019 theme being "Camp: Notes on Fashion," some took this fashion event in unexpected directions. Complete with blonde hair and a bright pink outfit, Musgraves attended the 2019 Met Gala as Barbie. She even rolled up to the event in a pink convertible — a favorite accessory of the Mattel toy. 
"Texas is full of camp," Musgraves said during an interview with Access. "Camp can mean a bunch of different things to different people, but I have a big heart for it, and so I was very happy at this year's theme and, of course, with Moschino and Jeremy wanting to make me the life-size Met Barbie."
For the 2021 Met Gala theme, In America: A Lexicon of Fashion, Musgraves went with an "Equestrian Chic" look created by Ralph Lauren. The singer described Lauren as one of America's best-known designers. 
Musgraves' fashion moments extend to her music videos and 2021's Star-Crossed: The Film, available on Paramount Plus.