Kaia Gerber Taped Her 'American Horror Stories' Audition With Mom Cindy Crawford: 'A Little Bit Uncomfortable'
Kaia Gerber opened up about how she landed her 'American Horror Stories' role, which began with an awkward audition alongside her mom, Cindy Crawford.
American Horror Stories brought plenty of new faces to the American Horror Story franchise, including model Kaia Gerber. As a longtime fan of Ryan Murphy, Gerber couldn't wait to dive into his American Horror Story spinoff show, and later, American Horror Story Season 10. But first, she had to get through a slightly awkward audition alongside her mom, Cindy Crawford. Here's what Gerber said about her audition experience.
[Spoiler alert: The following story contains some minor spoilers for American Horror Stories Episodes 1 and 2 and American Horror Story Season 10 Episode 7.]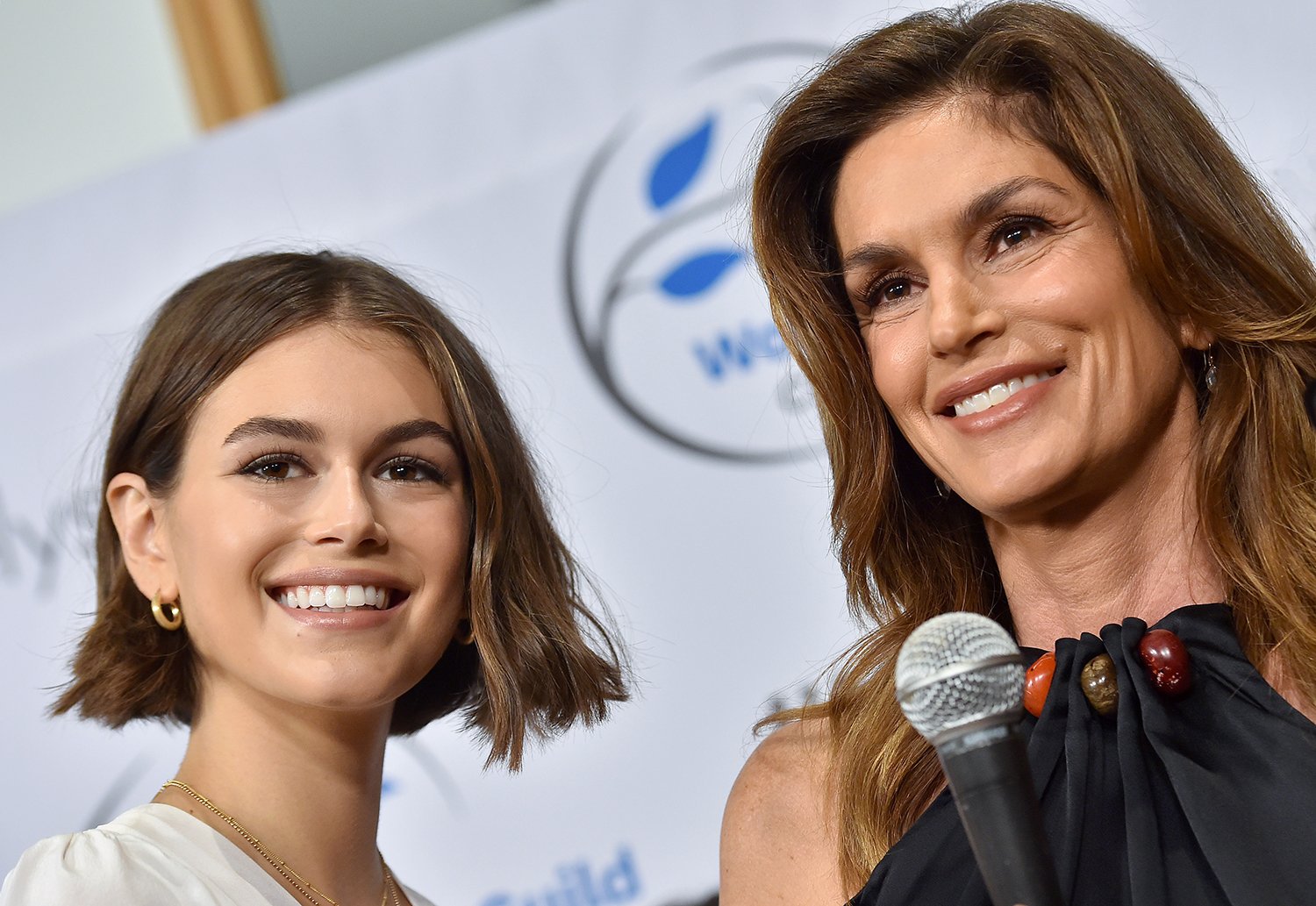 Kaia Gerber stars in 'American Horror Stories' and 'American Horror Story' Season 10
Gerber appears in the first two episodes of American Horror Stories, "Rubber (Wo)man Part 1" and "Part 2." The story follows a teen named Scarlett (played by Sierra Mccormick), who moves into the infamous Murder House with her dads. She finds the Rubber Man suit, which gives Scarlett dark and murderous urges. She soon meets and falls in love with Ruby (Gerber), a violent ghost trapped in Murder House. Together, they wreak havoc on the home's many spirits.
The model also appears in American Horror Story Season 10, called "Double Feature." Gerber plays Kendall, a college student and Luddite. During a night out, Kendall convinces her three best friends — Cal (Nico Greetham), Jamie (Rachel Hilson), and Troy (Isaac Cole Powell) — to go on a technology-free camping trip with her in the desert. However, their fun trip is soon interrupted by a mysterious light that somehow impregnates all four of them.
Speaking to Entertainment Tonight, Gerber explained that she felt Ruby and Kendall were very different characters but interesting in their own ways.
"It was a really good transition to go from quite a dark and sometimes mean, for her own reasons, character to a more lighthearted and fun character like Kendall," the actor said. "[Kendall] is very smart and very passionate. And I like that she is the kind of girl who runs toward the scary thing." 
Kaia Gerber says she auditioned for 'American Horror Stories' with her mom, Cindy Crawford
Before Gerber landed her American Horror Stories role, she had a memorable audition experience. As she explained to ET, taping her audition at home meant she didn't have a proper scene partner to run lines with. So, she enlisted the help of her mother. The scene involved a moment between Scarlett and Ruby, so having her mother playing the role of her girlfriend felt awkward for Gerber.
"It was, as you can imagine, a little bit uncomfortable to do with my mom. But she was a trooper and helped me a lot," Gerber said.
Later, when her parents watched American Horror Story Season 10, Gerber had to warn them about her brief but intimate scene with Kendall's college professor.
"They knew what they were being subjected to. And especially my dad, I was like, 'Hey, for two seconds, you might want to close your eyes,'" she added. "But they were troopers about it." 
Still, having support from her parents meant the world to Gerber.
"It was fun to see their live reaction to it. I'm still like the kind of kid that when something happens, I look up to my parents to be like, 'Did you like it?'" she said.
The model has long been a huge fan of Ryan Murphy's work
Gerber also told ET about her love for American Horror Story. She's followed Murphy's work for years, and she's idolized American Horror Story alum Sarah Paulson.
"Half of my life I've spent religiously watching American Horror Story. I've seen every season, and I know how all the different storylines connect," she said. "And so, when I joined the world, there was part of me that was really nervous because so many people that I look up to are solidified in this world. And someone who was really wonderful was Sarah Paulson, who I felt from the time that it was announced that I was going to be in it really supported me."
American Horror Story airs new episodes on Wednesdays at 10 p.m. on FX.