Kailyn Lowry Gets Into a Twitter Fight with Jenelle Evans and Her Ex — What Happened?
If you weren't online on Nov. 28, you might've missed Kailyn Lowry and Jenelle Evans' fight on social media. The Teen Mom 2 stars got into a full-fledged argument on Twitter, and it got pretty ugly.
There was shade, name-calling, and more — all because of a comment Lowry posted on the platform first.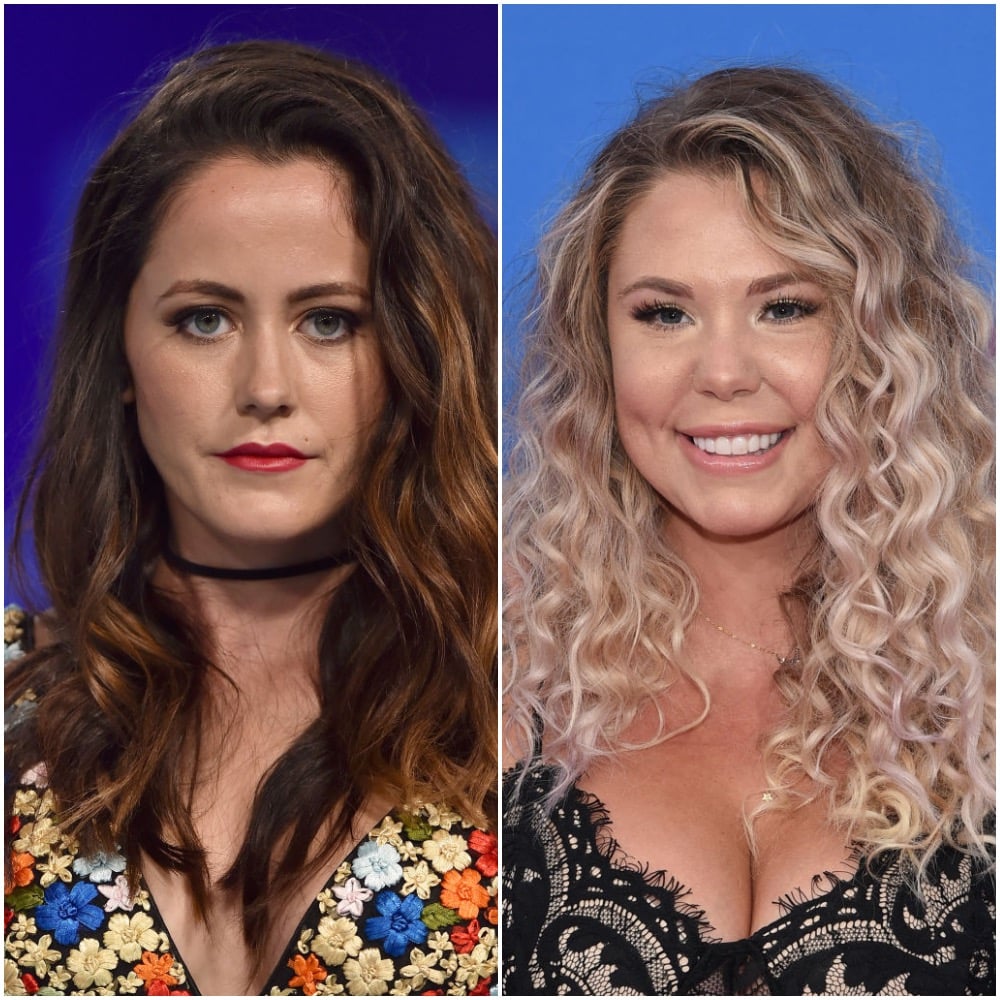 How did the argument start?
It kicked off after Lowry responded to a tweet from Evans' first husband, Courtland Rogers, whom she was married to from 2012 to 2013. Rogers wrote in the now-deleted message that he wanted to divorce his current wife, Lindsey.
"Before you do this, think about why," Lowry replied. "Then ask yourself if it can be worked thru… don't give up bc it's 'easier' to move on to the 'next best thing'… you will eventually struggle in the next relationship so cherish what you have courtland! Love is a commitment. Even when it's hard!!!"
"I know I'm being a hypocrite but it's only bc I've been thru it," Lowry, who divorced Javi Marroquin in 2016 after two years of marriage, continued.
While Rogers appreciated her message, Evans' ex-fiancé, Nathan Griffith, suggested that Lowry wasn't being as sincere as she seemed. In a follow-up tweet, he accused the reality star of egging on drama.
"Kail really?! Why get involved with an ex that obviously gets under [Jenelle's] skin? You don't want the drama but then you egg on the drama," Griffith wrote. "I know Jenelle has done some sh*tty things but do you honestly have to keep it going? Not trying to be a d*ck just speaking truth."
Rogers and Evans have always had a rocky relationship. They faced serious problems almost immediately after they got married, including several legal matters. On one occasion in 2013, Evans accused Rogers of assaulting her.
Jenelle Evans hops in
Evans replied to Griffith's tweet, writing, "Anything for attention." She and Griffith were engaged in 2015 and share a son, Kaiser.
Lowry shot back at Griffith, saying, "This has absolutely nothing to do with Jenelle… what are you talking about?"
After that, Rogers and Griffith started arguing.
"Bro please ..u had no business dipping into me and kail's conversation," Rogers tweeted. "Who are u to EVERRRRRRR GIVE ADVICE ANYWAYS? I AM NOT TRYING TO FIGHT BRO I JUST THINK MAYBE U HAVE MORE TO WORRY ABOUT IN UR OWN LIFE THAN TO TRY AND FIND WORRY IN MINE. ANYWAYS …. WELP SEE YA LATER."
Griffith replied, "Never made any negative connotations. If that's the way you justify this 'innocent' reach out for help, I'll pray for you. please for the love of it, educate yourself before speaking as if you're a person incapable of critical thinking or thinking everyone else is dumb besides u."
The drama appeared to end there — well, at least, for now.
Seeing Griffith stick up for Evans may come as a shock, all things considered. Earlier in 2019, Evans temporarily lost custody of Kaiser after her now-estranged husband David Eason shot and killed their dog, Nugget.
But it appears that they're in a better place now that Evans has filed for divorce from Eason. In November, Griffith wrote on Twitter that he was "so appreciative to finally have a healthy relationship" with his ex. In response, Evans thanked him for "being there for Kaiser and helping out lately."