Kaley Cuoco Definitely Doesn't Miss This One Thing From 'The Big Bang Theory'
Kaley's Cuoco's new project is a very different experience from what her fans are used to. Most people came to know and love Cuoco as Penny from The Big Bang Theory, but now it's time for her to move on.
The way she chose to do that may shock some fans. She's the voice behind DC comic's new animated show: Harley Quinn. What may be even more shocking is her favorite thing about playing the new character — it's definitely not something Penny would say. Here are all the details about Cuoco's new show and why it's so different from The Big Bang Theory.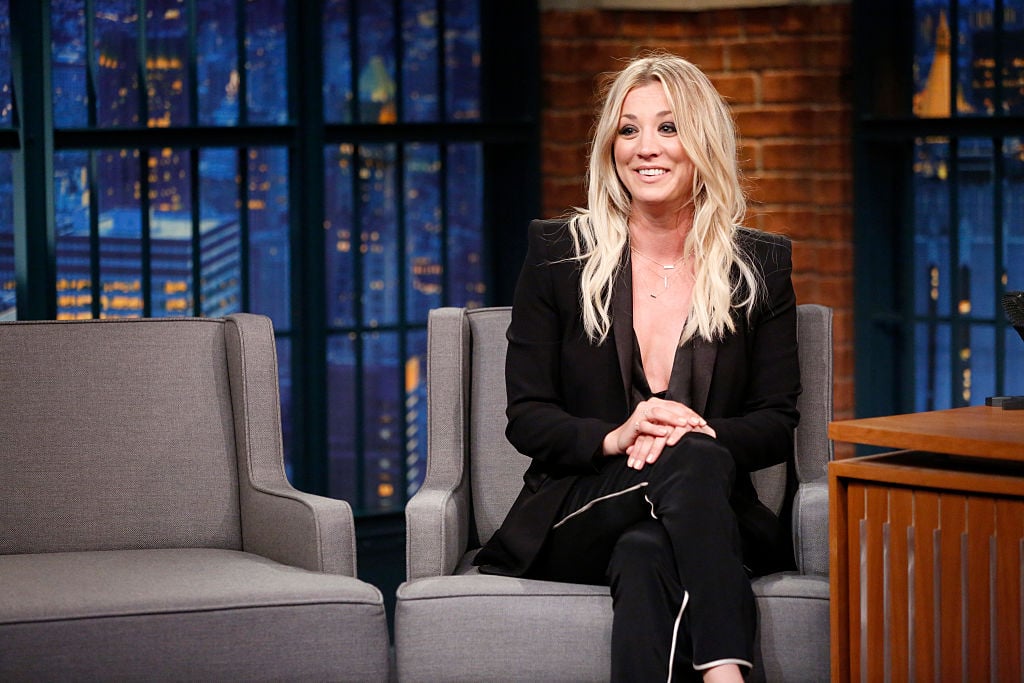 Kaley Cuoco's version of 'Harley Quinn' isn't for kids
After twelve seasons on the network-run, prime-time slotted, The Big Bang Theory, where everything much is acceptable for all audiences, there's one thing about her new show that Cuoco is ecstatic about. The character of Harley Quinn makes liberal use of F-bombs.
"I f**king love it," Cuoco said while speaking to reporters at the 2019 Television Critics Association press conference. "It has been so much fun, because like Lake, I have a little bit of a potty mouth myself. And it's been great to be able to just scream and cuss and fight and be the bada** that Harley Quinn is."
And the word hasn't just remained as part of her character, Cuoco also joked that Quinn's use of foul language was seeping into her real life. "I'm like, 'Oh my God, you need to calm down. You're not Harley Quinn when you're out getting coffee. Just calm down.'"
Cuoco's new version of Harley Quinn is an animated series, but don't expect this to be a show you can enjoy with your kids. In addition to the naughty language, there may be adult themes and violence as well. Cuoco herself called the show "a tad R-rated" while promoting the new trailer on Instagram.
But she loves the character, especially with her nasty words. As reported by Hollywood.com, while discussing the show with Entertainment Tonight, Cuoco said there's "nothing better" than voicing raunchy villains and "promoting major female empowerment."
Kaley Cuoco discusses her search for the perfect version of 'Harley Quinn'
Although Penny, Cuoco's character on The Big Bang Theory, and Harley Quinn are very different characters, Cuoco has had no problems with the transition.
"I was still shooting Big Bang when [Warner Bros. chief executive] Peter [Roth] called me, so it was all happening at the same time," she said as reported by People. Filming of The Big Bang Theory only ended last May, so this is a fairly recent situation for Cuoco. But it was an opportunity that she couldn't pass up, especially since it meant she'd get to act as a producer, which is still a new thing for Cuoco.
"It felt like the right move," she continued, "and it's just been a blast, to be honest. And another opportunity for me to mark my producing skills- that's the new path that I wanted to take. So that was the start of that."
Harley Quinn is one of those characters who has been a part of multiple storylines in the DC Comic universe, and everyone seems to have their own take on her. She has been portrayed in countless ways throughout the years, but according to Cuoco, Margot Robbie's 2016 version in the movie Suicide Squad is what really captured her attention and made her want to take part in the character. "That's when I got really obsessed with Harley Quinn," Cuoco said.
Kaley Cuoco struggled to find the right voice for 'Harley Quinn'
Even though she loved the character, playing Harley Quinn did take some work on Cuoco's part, and she had some issues that worried her. For one, Quinn's distinctive East-coast-city accent wasn't something that came naturally to Cuoco. She worried that people would recognize her voice as Penny right away and it would throw the whole experience off for rue Quinn fans.
But in the end, Cuoco decided it was best to do Quinn her way than to try to be something she's not. "It's going to be my voice on crack," they finally decided about the character. "I think we've accomplished the Kaley Cuoco voice on crack," she said.