Kaley Cuoco's Sister Sent Her the Same Text Message Every Morning During Her 2nd Divorce
With support from her sister as well as her co-star Zosia Mamet, Kaley Cuoco was able to make it through a very stressful time.
Kaley Cuoco may be a star as both an actor and producer, but it turns out she's as human as the rest of us. Her career launched her to the next level with her Emmy-nominated role in The Flight Attendant. But the 36-year-old also faced a divorce that left her in need of some good advice.
With support from her sister as well as her co-star Zosia Mamet, Cuoco was able to make it through a very stressful time to maintain her busy acting career and her sanity.  
Kaley Cuoco announced her divorce just before filming the second season of 'The Flight Attendant'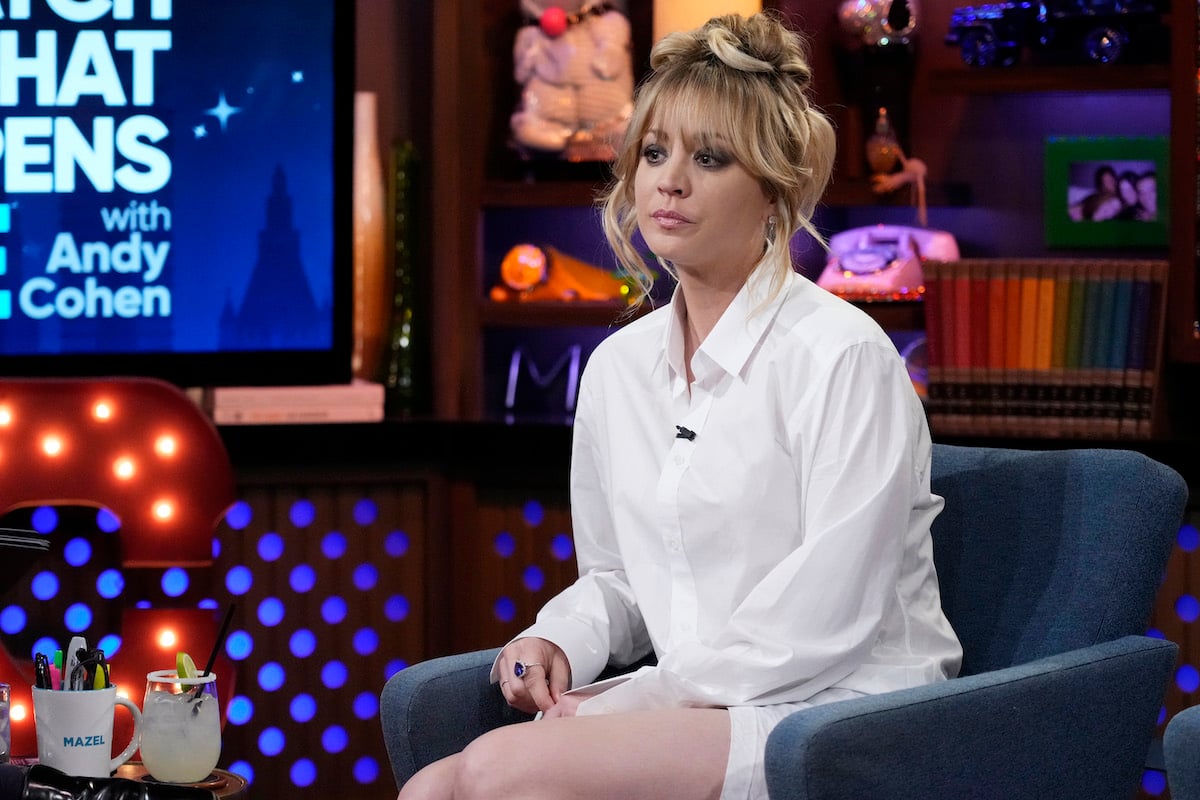 Just before filming season two of The Flight Attendant began filming last September, Cuoco made a big announcement. As reported by Glamour, the former Big Bang Theory star and equestrian Karl Cook went their separate ways. Cuoco explained that there was "no anger or animosity" with Cook. But they officially filed for divorce and clearly had no desire to drag out the relationship.
Although Cuoco hasn't provided too many details about the split, she did admit she and Cook were now on different paths despite mutual love and respect. Cuoco even said she expects they will remain close. She added, "He's too special. He's too good. And I don't want to lose him completely."
The couple got married in June of 2018 and recently celebrated their third anniversary before the divorce announcement. Per Cosmopolitan, Cook is the son of multi-billionaire Scott D. Cook, who founded tax software company Intuit in the '80s.  
Immediately after filing for divorce, Cuoco began seven months of filming for the HBO Max original series. While Cuoco is still interested in the idea of a relationship, she's also emphatic about a legal partnership. "I will never get married again," she said after the dust settled on her second marriage. Cuoco was previously married to pro tennis player Ryan Sweeting.
Kaley Cuoco relied on her sister and co-star Zosia Mamet
Although her second divorce was low-key, Cuoco still had inner turmoil as she began to heal. She experienced this while dealing with the high-pressure production of The Flight Attendant. Cuoco admits not every piece of advice was helpful.
When asked about generic tips, Cuoco acknowledged some advice wouldn't have been appreciated. "'You got this' would have annoyed me," she admitted to Glamour, speaking of unhelpful advice that is too boilerplate to make an impact. Meanwhile, a major source of support was her sister, Briana, who is also a veteran TV actor. Briana would text her every morning: "Everything was going to be OK."
While Cuoco didn't always believe this at first, she accepted the wisdom. The 36-year-old said, "Oh, my God, she's right, it's going to be OK." Briana has appeared alongside her older sister in The Big Bang Theory and The Flight Attendant. She is currently filming HBO Max pilot Dead Boy Detectives, per IMDb.
Another irreplaceable pillar of support was Cuoco's co-star Zosia Mamet. Best known for her starring role in HBO's Girls, Mamet was regularly at Cuoco's side while filming. Cuoco said Mamet "would get me out of bed, get me dressed, and put me in the car" on days Cuoco didn't think she could get up.
"Zosia was with me every day, and I don't know what would've happened to me if she wasn't, truthfully," she stated.
The stress gave Cuoco a rash while filming 'The Flight Attendant'
Although support from friends and family kept her going, Cuoco's body still took a toll due to the stress. She ended up developing a rash from leg to stomach that lasted for seven months. "I discovered through therapy and through my doctors that it was completely emotional." And yet Cuoco had to press on as both the star and executive producer of The Flight Attendant.
After initially thinking Reese Witherspoon beat her to the rights to the Chris Bohjalian novel, The Flight Attendant ended up being one of the first major projects for Cuoco's production company, Yes, Norman Productions. Outside of producing, Cuoco also filmed two movies in 2021: action-comedy The Man from Toronto with Woody Harrelson and rom-com Meet Cute with Pete Davidson.
When asked about entering the rumor mill that tends to surround Davidson, Cuoco was more than ready. "I knew it was going to happen," Cuoco said, shooting down whispers that she and Davidson were an item. "We really became very good friends, and he is truly one of the nicest people in the world."  
Though she's interested in a potential third season of The Flight Attendant, Cuoco's production team is already on to the next project, reports Variety. Cuoco hopes to produce and potentially star in a limited series about Doris Day, the iconic actor and singer from Hollywood's golden age.