Kandi Burruss Reunites With Xscape For Another Bravo Reality Series
The Real Housewives of Atlanta star Kandi Burruss is the queen of spinoffs. Bravo has recently announced that she has been greenlit for another show featuring her alongside her group members Xscape. The show marks the group's second reality series with the network. Burruss currently has two additional shows on Bravo.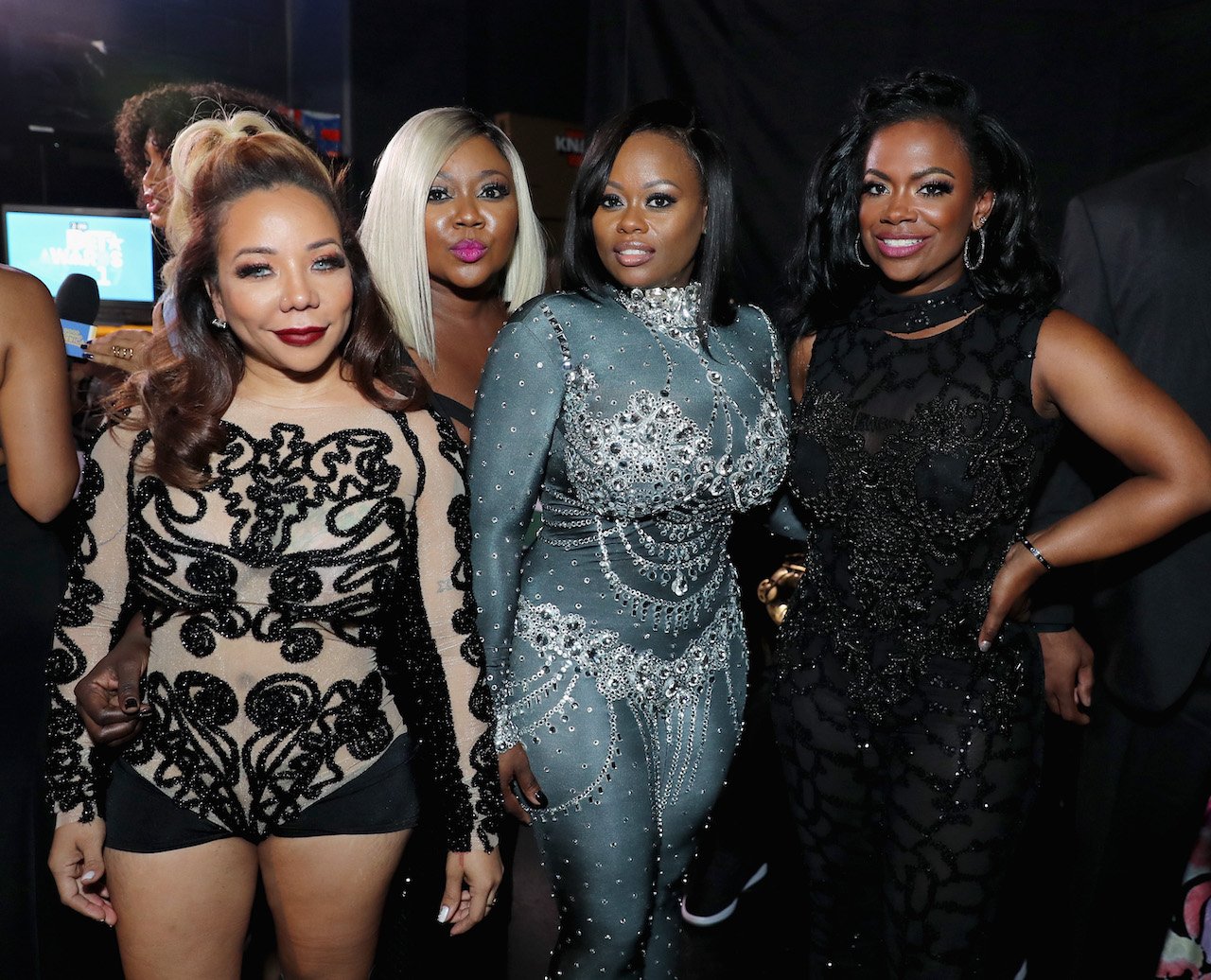 Xscape's previous reality series aired in four parts
The group's new show on Bravo will not be their first. In 2017, a four-part docuseries named after their hit single Just Kickin' It chronicled the group's reunion for the first time in nearly 20 years with all four members. 
Burruss was estranged from sisters LaTocha and Tamika Scott due to a falling out while filming their third and final album. The Chi star and the Scotts tried sorting through their unresolved drama, which Burruss said she'd have to resolve before considering a reunion tour.
Just Kickin' It also chronicled the group's road to performing at the Essence Music Festival. In the end, they came to the decision to finally give fans a reunion tour and eventually performed to sold-out crowds in the U.S.
The new reality series will chronicle Xscape and SWV
Fans have been wanting another show from the group since their initial series concluded. There were also rumors that a biopic was in the works, but it's been put on hold. In the meantime, Bravo has announced that a new reality series will feature the members of both Xscape and SWV. The idea was birthed from their successful Verzuz battle. 
"Following their epic Verzuz performance, the ladies of Xscape and SWV reunite once again to prepare for a show that promises to reignite their music careers," the logline notes, per TV Line. "There is much at stake for these powerhouse women as they navigate different stages in their lives, both personally and professionally. From celebrating the power of collaboration and sisterhood to pushing to overcome obstacles, there is no shortage of wonder, watching two of the most iconic female R&B groups of the '90s come together for this multi-part limited series."
Kandi Burruss previously said she was trying to fit in another Xscape tour with her busy schedule
Prior to the network confirming the new show, Burruss spoke with Popculture.com about fans' requests to tour again with her group members. Due to her hectic schedule of filming RHOA, The Chi, running her Atlanta restaurants, clothing, and cosmetic lines, record label, and adult toy line – it seemed nearly impossible to fit in a tour.
"I would do a tour with them, for sure, depending on if the opportunity came up," she explained. "I mean, there actually have been some promoters who have reached out to say they want to do a tour. I think the problem for me is that I tape most of the year because I'm on multiple shows. I am definitely here for doing shows with them…But I just haven't had a chance to agree to a tour…I guess we'll figure it out. But it's just like something about when we are together on stage, it's magic."