Kansas City Chiefs Star, Patrick Mahomes' Favorite Sneakers Remain Rare and Difficult To Get
Patrick Mahomes might be a Super Bowl champion. Perhaps, by the end of Feb. 7, he'll be a two-time champion at the age of 25. Mahomes is more than a football star, though; he is also a dedicated sneaker collector. Mahomes and his fiancé, Brittany Matthews, settled into Kansas City and purchased a home in 2019. The first order of business was renovating the house, including a completely new sneaker closet for Mahomes. The room houses nearly 200 pairs of kicks, but Mahomes has a favorite pair.
How many pairs of sneakers does Patrick Mahomes own?
Mahomes is an avid sneaker collector and has been for years. During an interview with Bleacher Report, Mahomes admitted to owning about 180 pairs of shoes. That number might seem huge, but it's actually reduced. Mahomes said he purged a bunch of pairs when he became a homeowner.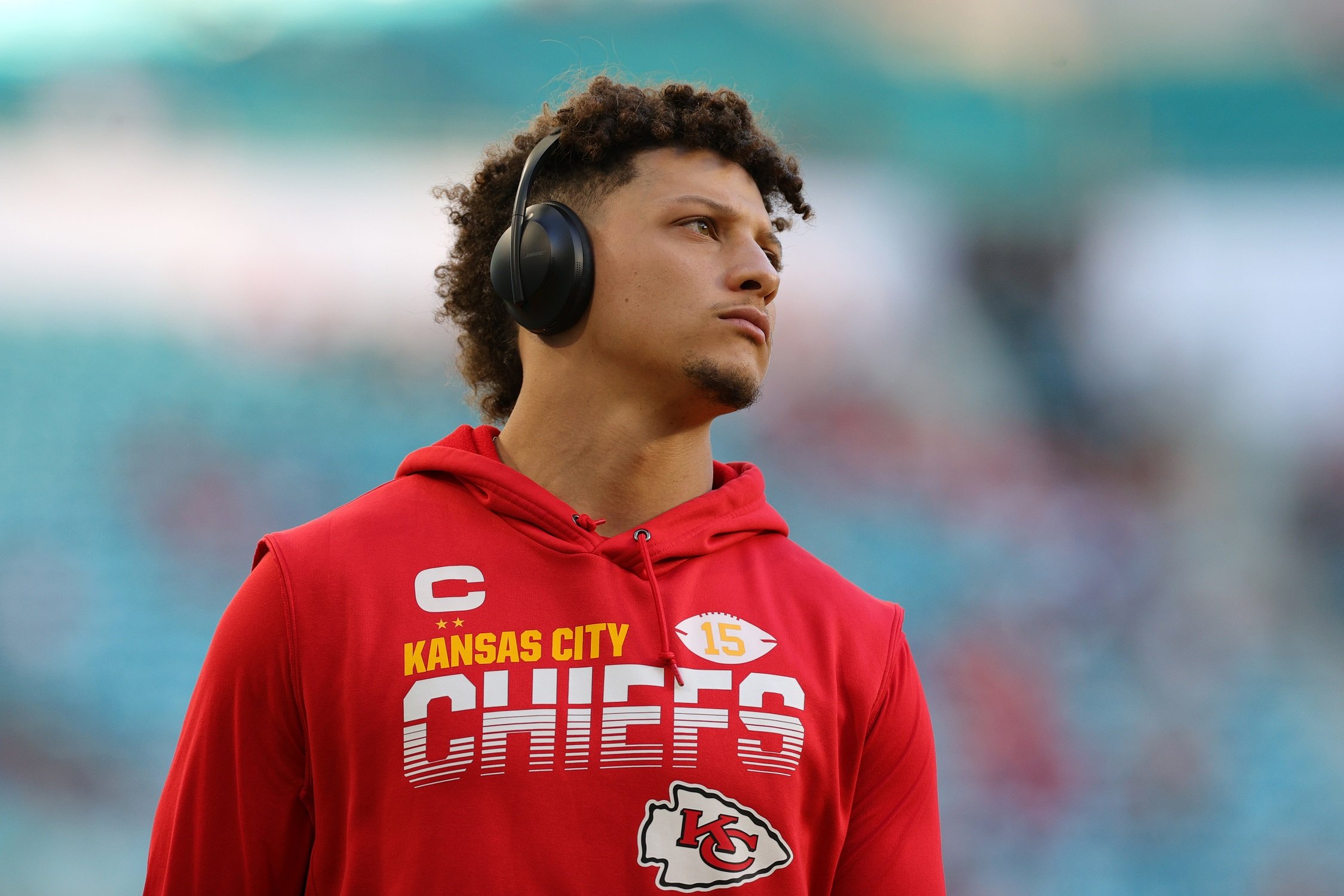 Mahomes gave fans a tour of his shoe closet, and from the looks of it, he has a preference for Adidas shoes. Mahomes owns several pairs of Yeezys, the Adidas collaboration with Kanye West. He also revealed that he is a huge fan of Pharrell Williams' partnership with the brand. Mahomes owns lower profile sneakers, too. He pulled a pair of Adidas Deerupt sneakers from the shelves to show fans. He noted they were a pair from his very first collaboration with the company.
Patrick Mahomes' favorite pair of sneakers are a rare pair of Yeezys
During his sneaker closet tour, Mahomes was excited to show off his favorite pair of kicks. The Triple Black Yeezy Boost 750s are still his favorite kicks. The boot style sneaker is highly sought after. After much hype, it sold out in minutes when it was released in 2015. Initially retailing for $350, the futuristic sneaker sells on aftermarket sites for more than $1000. Only about 5,000 pairs are believed to have been made for public sale.
Mahomes didn't mention when or how he got his hands on the kicks. When they were released, way back in 2015, he was a college student. In 2015, Mahomes began his career as the starting quarterback for Texas Tech, passing for more than 4,000 yards during the season. It was also the last year he played on the school's baseball team.
Mahomes just dropped another collaboration with Adidas
It was a busy 2020 for Mahomes, and 2021 is shaping up to be similar. Not only did he take his team to the Super Bowl again, but he got engaged and announced that he and Matthews would become first-time parents. In between all that, Mahomes had some time to put in the work on a sneaker collaboration with Adidas. His second Ultraboost collaboration released on Jan. 22, just two days before he led his team to another AFC championship win.
The Patrick Mahomes x Ultraboost DNA collaboration features a black sole and upper with gold accents. It has a definite football feel to it, without being overtly linked to the NFL team that Mahomes has called home since being drafted in 2017.