Kanye West Could Have Serious Celebrity Competition in the 2024 Election
Kanye West is constantly making headlines for his music or marriage to Kim Kardashian. And also for his ever-changing persona and off-the-wall statements, many of which leave onlookers wondering… is he kidding?
In Nov. 2019 word was spreading that he was considering legally changing his name to Christian Genius Billionaire Kanye West, after his religious and musical reawakening. He's also garnered a lot of media attention for his relationship with Trump and his tendency to sport the infamous "MAGA" hat of the president's supporters.
Given his background, it's no wonder people aren't sure if he's serious about running for president this next go-around. But, if he does, there may be another celebrity that gives him a run for his money.
Kanye West has been talking about running for president for a while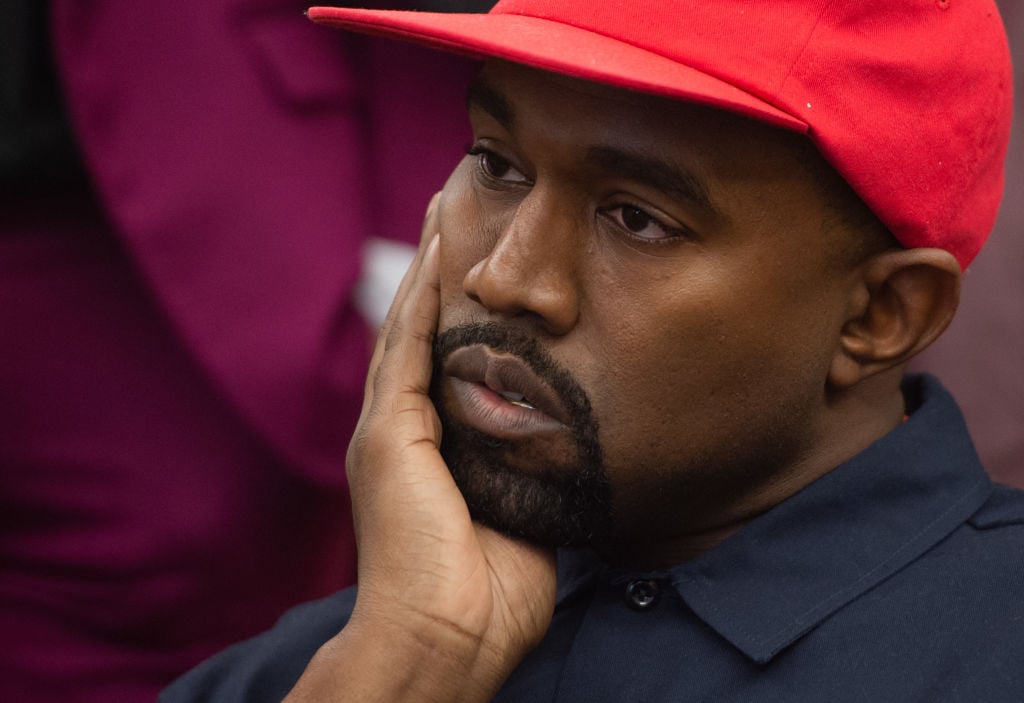 West began talking about running for the 2020 presidential election years before it was underway. Speaking to Vanity Fair in 2015, the rapper said: "I didn't approach that because I thought it would be fun… No, the exact opposite. I sit in clubs and I'm like, wow, I've got five years before I go and run for office and I've got a lot of research to do, I've got a lot of growing up to do."
The jury is still out as to whether he did that research and growing up, but he has been growing his apparel business with big plans to make it eco-friendly. Future plans include growing cotton and hemp on his own property in Cody, Wyoming, and hiring local workers to make it all possible.
In a live interview, he commented: "When I run for president in 2024, we're gonna definitely…"
Laughter ensued from the crowd, prompting him to interrupt himself saying: "No, what y'all laughing at?"
The laughter surged once again but quickly ceased as West stared dead at the crowd and waited. He then repeated himself as if the whole incident had never happened: "When I run for president in 2024, we would've created so many jobs that I'm not gonna run I'm gonna walk."
A baffling statement, but not off-brand for this unpredictable star.
Akon is a strong contender for the 2024 presidential election
Not only is another celebrity throwing his hat in the ring for the 2024 election, but another rapper, no less. And although Akon may have gotten his start as a rapper, these days he's an active philanthropist with multiple projects running in Africa, and specifically in Senegal. He's even created his own cryptocurrency, AKOIN, to help empower citizens all over the African continent to have stable currency apart from every-changing governments.
Akon's flirt with running for the presidency has almost echoed West's but on the flip side of the coin in terms of political ideation. He is not a fan of Trump and is vocal about the unrest and fear he feels the current president incites. When speaking of running for the 2020 presidency Akon told Variety: "I'm running for the presidency if I do it. My target is the bully."
Now, with a possible 2024 run on the horizon, Akon is ready and has some impressive experience. When asked what makes him right for the job he replied: "I think if you're going to run for office, you are serving. And I think that's a little bit different from a job. I've kind of experienced everything that a U.S citizen can experience – being an entrepreneur, understanding growth and building companies. I can also say the same thing from a business level and then from a political standpoint. I've been, literally, advising presidents from everywhere. I mean, like over 15, you know, countries in Africa – all throughout the world."
An impressive resume, to be certain, but if the last presidential election taught us anything, it's that experience doesn't always mean a sure win.
What does Akon think about Kanye West's run for president?
Akon is gracious about West's run, and defends him against assertions that he is "crazy." He said on the matter "Well, I don't think it would be a competition. I actually need him to run, I want him to run. Because it's like this, Kanye's not crazy. He just been awakened."
Not one to give West too much credit, however, he added: "Now, whether or not you think he's fit is another thing. That's why you got me as another choice."
If their track records are any indication, it really is no contest, Akon is far more qualified, and many fans agree. One fan tweeted in 2018, "I refuse to entertain the fact that kanye would run for president. But Akon? I'm game to go to the polls for that."
Another fan tweeted in 2019, "Honestly I Really Can See @Akon Running For President 2024 But Not @kanyewest (Even Tho I Love Kanye)."
Whether either of them actually follows through and runs for president in 2024 remains to be seen, but let's just hope we all make it through the 2020 election in one piece first.