Kanye West Doesn't Want to Be an Influencer to His Fans
It could be Kanye West's outspoken political views or always controversial music which makes the rapper-turned-sneaker-designer a household name. Perhaps it's his marriage into one of the most widely recognizable families in America or the fact that his beautiful wife, Kim Kardashian, is the queen of social media. Either way, West's fans are following his every move with rapt attention. Critics wonder as West leads his private Sunday worship concerts if the rapper isn't trying to become a religious leader. However, West insists he wants fans to follow their spirit and not him.
Kanye West's multifaceted career has taken him to the top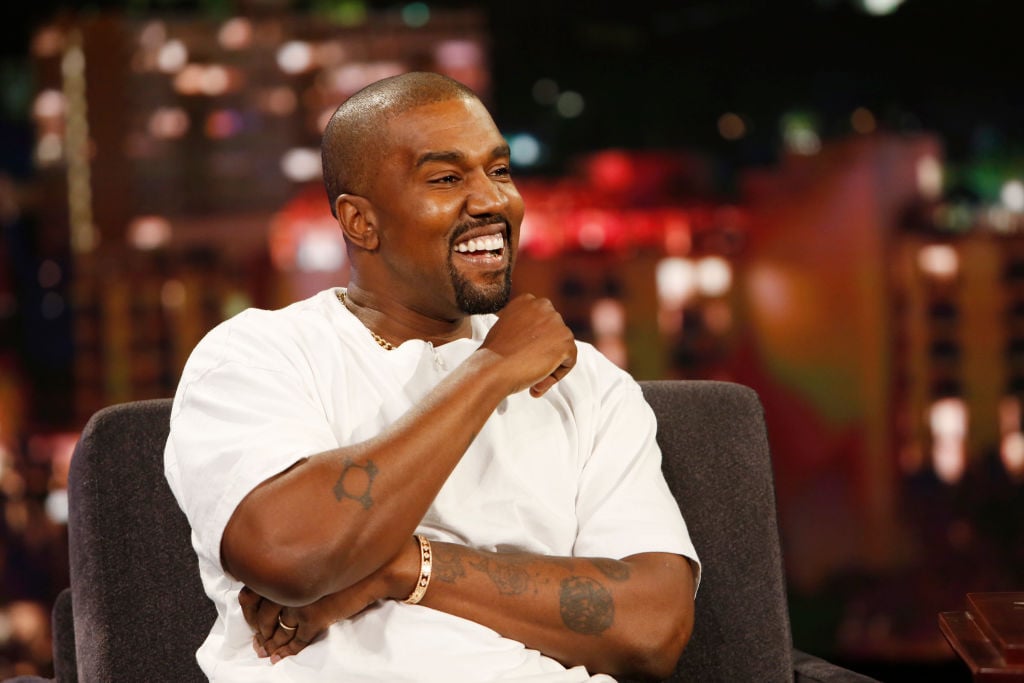 West is most widely known as a musician and songwriter, but thanks to some influence from his wife, he can now add fashion mogul to the list. In fact, his collection of real estate combined with the success of his fashion line, Yeezy, has officially pushed him over the billionaire mark. According to Forbes, Kanye has officially made the list of celebrity billionaires for the first time.
West currently poses on the cover of the May edition of GQ
West's cover shoot for May's edition of GQ shows him posing on his land in Wyoming; the big sky looms behind him. But his personality won't be muted by the size of the landscape behind him. The superstar's persona shines through in his eclectic wardrobe and, maybe more notably in the shadows of the matte black tank he stands atop.
It's the tank that really draws our attention. It's a symbol of the rapper's power and star status, for sure. But, what does it tell us about West's plans for the future? The tank leads many to believe he sees himself as a leader to be followed in an almost militaristic fashion.
For the intensive GQ interview, Will Welch spent three months traveling to three different countries to talk to West about his music and his faith. The rapper insists his faith in God is not about gaining followers, but about allowing his fans to learn about Christ and follow their own heart.
He doesn't see himself as a leader, he is simply an individual
At West's large ranch in Wyoming, he plans to create an atmosphere of spiritual learning while also taking his clothing line's production business there. Despite being the inspirational leader for his now-iconic Sunday Services, he makes it clear that he doesn't want people to blindly follow him. He's setting the stage for people to follow his example.
According to his lengthy interview in GQ, that's what he means when he says he is "creating a new paradigm for human living". He wants to lead by example.
West explains: "You get into a position and you become influential, and that becomes more of your goal rather than following your spirit and your anointing." He doesn't want his goal to ever be just being influential. He wants to remain true to himself, following his spirit. He makes it clear he wants his fans to do the same.
"So look, I'm not telling anybody who they should vote on, what they should wear, where they should live," he continues, "I'm doing me. If you just so happen to catch a photograph of me doing me, that's what I was doing! I'm not doing nobody else in the photograph."
His fame and position bring him a lot of criticism
West's "lead by example" ideology seems to come as a defense against his haters. He's been getting quite a bit of push back on his new-found Christian claims. Christians, especially, have been questioning Kanye's sincerity regarding his claims to be "born again" and look back on his past to see how his current ideals match up with his previous behavior.
Many claim that he is simply using his faith as an attention-seeking publicity stunt, much like when he posed as Jesus in 2006 for Rolling Stone's cover image.
Columnist Tobi Oredein of Premier Christianity argues that there is one major flaw in Kanye's Sunday Services, her "major issue with Kanye's Sunday Services is that they appear to be exclusive clubs for the rich and famous." It's an invite-only worship service, and it is not what was intended by a church gathering. Oredein points out what everyone is thinking: This is just another of West's publicity stunts.