Kanye West Left Kim Kardashian With Bags After the Steamy Elevator Kiss & Fans Are Tickled
Kanye West and his wife, Kim Kardashian West, better known as Kimye, have certainly been getting a lot of press over the past few days. The couple, who have been married for six years, are one of the most famous couples in all of Hollywood. Between West's status a rapper, the fame the Kardashian has cultivated from her hit reality TV show, Keeping Up with the Kardashians, and their combined net worth, fans are fully obsessed with them. In fact, because of their celebrity, the parents of four receive press for doing everyday things. Of course, this past weekend was no exception.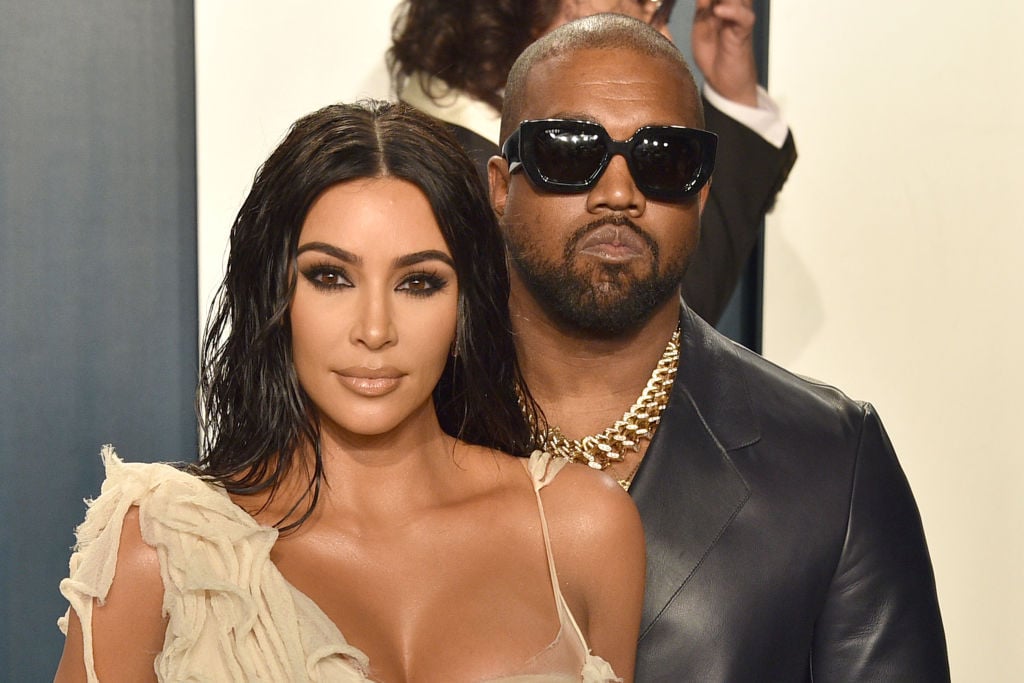 Did Kanye West reject Kim Kardashian West on the Kiss Cam
On February 14, 2020, Kardashian and West attended the 2020 NBA All-Star Celebrity Game. As it was Valentine's Day, it was no surprise that they ended up on the Kiss Cam. And while Kardashian was all for sharing a quick kiss, West seemed to be either opposed or oblivious. Fans were quick to notice that West left Kardashian hanging with puckered lips. After a few seconds, the KKW Beauty owner leaned over and planted a simple kiss on her husband's cheek. Of course, Twitter found the moment awkward and cringe-worthy and proceeded to poke fun at the couple.
Kardashian posted a steamy video to her Instagram story
It's quite possible that the jokes managed to reach Kardashian's ear because, just a short while later, she posted a video of her and West sharing a steamy kiss in an elevator to her Instagram story. The video shows an elevator descending while Kardashian and West are in full embrace. When the elevator finally reaches its destination, the couple breaks apart and West emerges from the elevator smiling. Kardashian, on the other hand, tries to grab her shopping bags. The video cuts off right before elevator doors close, leaving Kardashian inside.
Naturally, fans had a lot to say about West leaving Kardashian with the bags and going about his merry way. They felt that he should have helped her and had various responses to his decision not to. Most people were highly amused by the situation, while others were a bit disappointed. Others felt that West was just in a fog after sharing such a steamy kiss and leaving Kardashian with the bags was nothing more than a lapse of judgment. A few people even felt justified why West didn't grab the bags. They felt that if they were Kardashian's purchases, she should be responsible for getting them.
Fans react to West leaving his wife with the bags
"The way she grabbed her own bags is sending me, 😂😂😂" one person wrote, basking in their own amusement. "😂😂😂😂 He's been leaving her hanging a lot lately," another person said, likely referencing the Kiss Cam moment. "Lol….Kanye had zero Fu*ks…He was like Dem your bags u can take them and with a smile on his face 😭😭😭" another person chimed in. "Those bags obviously ain't even weigh a pound so why y'all stressing it?" another Instagram user questioned. "How you get embarrassed twice in one week whewwww," another person added.
Was the elevator kiss just a publicity stunt
Though people had various reactions to the elevator kiss, a large portion of people seemed to believe that it was not genuine. They felt it was nothing more than a public response to the people who were saying that West didn't want to kiss his wife at the basketball game. "Literally ALWAYS for a photo or video. They always look so forced like it's all for the camera. No thanks," one person wrote. "Nah… she just wanted to make up from him not kissing her at that game,' another person chimed in. "She said, here food god, record us ok lol but then she forgot the rest of the video would be of her left hanging with all them bags, 💼 😝😂😂😂" a fan wrote. As the video was cut off, we can't say what happened next. Maybe West actually went back and helped his wife after all. But, we wouldn't be surprised if he didn't.