Kanye West Really Let an Elevator Close on Kim Kardashian Post-Makeout
Kim Kardashian and Kanye West have a truly fascinating relationship. When two of the world's most egotistic individuals began dating, many thought it was nothing more than a publicity stunt.
Others pointed to Kardashian's previous famously short-lived relationships as an omen that it wouldn't last. But the pair — dubbed Kimye by fans —proved the critics wrong. 
Now, though, some of those critics are taken a recent moment caught on camera as evidence that they were right all along. West walked away from an elevator leaving Kardashian to carry all the bags and make her way through the closing door. Is this a sign that the pair aren't as crazy about one another as they claim?
Kim Kardashian and Kanye West have a supportive marriage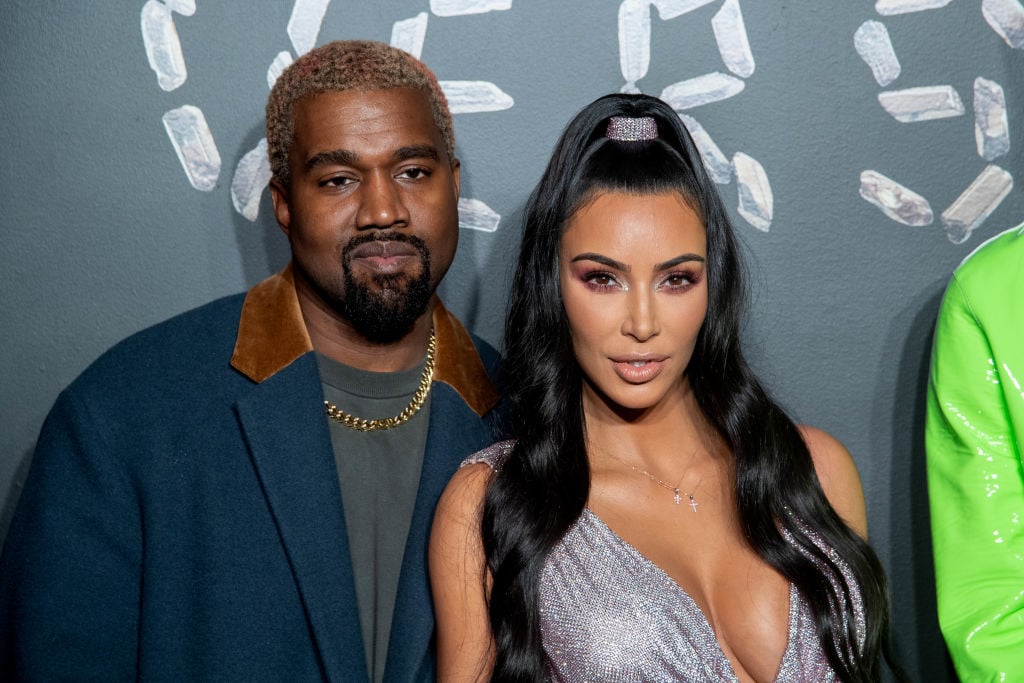 Despite the rumors about their relationship being a publicity stunt, the pair have weathered many storms together and seem to be genuinely supportive of one another. Kardashian stood by West's side when he had a very public mental health crisis. West, meanwhile, rushed off to be with his wife when she was robbed at gunpoint.
On top of these high-profile moments of intensity, the pair seem to have built a life together that works well for them. They have four children together, and they have found a way to make their time work so that each can pursue their passions.
Whether that means moving to Wyoming so West can fulfill his fantasies or budgeting their time so that Kardashian can pursue a career in law, they find a way to make it all work. 
Kanye West left Kim Kardashian in an elevator
Recently, the pair were caught on camera in an elevator. First, the video shows a sweet moment of public affection. As the elevator descends, Kardashian is leaning into West with her hand on his chest as the two kiss. The camera captures it all through the glass doors.
As the doors open, however, Kardashian breaks the kiss and backs up. West then steps out of the elevator, leaving Kardashian behind to pick up the bags as the elevator door starts to close. Fans and critics alike were quick to jump on the video as evidence that West is selfish and uncaring to his wife or even that the entire relationship is a sham.
Fan reactions have been mixed
Many fans have used the video as evidence of their long-held belief that Kardashian and West are merely faking their relationship for publicity. "Cause it wasn't PDA…it was publicity" a user named miss_erikarenee wrote on Instagram. Another user, georgia_ishaman shared a similar sentiment: "Literally ALWAYS for a photo or video. They always look so forced like it's all for the camera. No thanks."
Others simply made light of the situation. "If those her clothes then those her bags," user sonjaaaaaa_ wrote with a laugh. Still others pointed out that it was only two bags. It's not as if West left Kardashian struggling to carry something she couldn't handle.
Still, others took the situation to be much more serious. They pointed to West's actions as a sign of disrespect and even went so far as to say that he doesn't "deserve" his wife. 
One Twitter user named Giovanni Teran took the opportunity to parody the incident in a video of his own. In it, he mimics West's suave grin as he steps off the elevator. In the background, a woman struggles to pick up several bags off the elevator floor, and he turns around as if forgetting something, ostensibly going to help her.
Instead, he takes a duffle bag off his own shoulder and adds it to her overwhelming pile to carry. Finally, he exits the elevator as the door closes on the woman and the mess. 
While this may be a comedic moment that has left the internet abuzz with commentary and jokes, there's no real evidence that the situation is a window into anything other than two people getting off an elevator.