Twitter Declares That 'Kanye West Is Over' After His Unedited Phone Call With Taylor Swift Leaks
Just when we think we've finally reached the end of the infamous Kanye West and Taylor Swift feud, another piece of vital information surfaces. In Swift's recent Netflix documentary, Miss Americana, we got to see the VMA interruption from an entirely new perspective. At the time of the unfortunate incident, Swift believed that she was the one being booed not West. But, of course, a lot has happened between the two since that faithful day in 2009.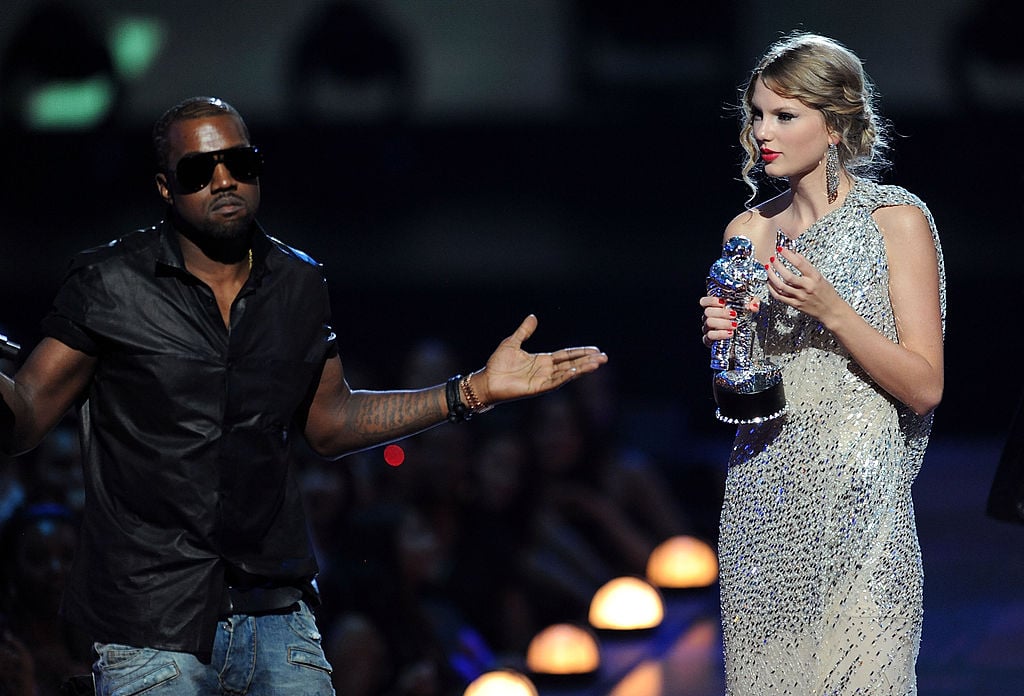 A quick recap of The Taylor Swift and Kanye West feud
Back in 2016, West reignited the feud when he released his song "Famous" and referenced the "You Belong With Me" singer. "For all my Southside ni**as that know me best. I feel like me and Taylor might still have sex
Why? I made that bi*ch famous (God da*n) I made that b*tch famous," the song boasts. This lyric clearly hurt Swift's feelings and she referenced it during her Grammy's speech soon thereafter.
Kim Kardashian West gets involved
But, things got interesting when West claimed that he had gotten Swift's permission to use said lyrics."I called Taylor and had an hour-long convo with her about the line and she thought it was funny and gave her blessings," West shared. Fans weren't sure who to believe until West's wife, Kim Kardashian West, released a video of the phone conversation where it appeared that Swift did actually give permission to West. The 39-year-old reality star also implied that Swift was a snake when releasing the footage.
Immediately, thousands of people began rallying behind West. They seized the opportunity to paint the Red singer as a liar. She even began trending on Twitter with #TaylorSwiftIsOverPary. Swift immediately tried to take control of the situation. She released a statement saying that she never heard the final lyrics of the song, and never once did West say that he was going to refer to her a bi*ch.
Swift shared her side of the story on Instagram
"Where is the video of Kanye telling me he was going to call me 'that b-tch' in his song? It doesn't exist because it never happened. You don't get to control someone's emotional response to being called 'that b*tch' in front of the entire world. Of course I wanted to like the song. I wanted to believe Kanye when he told me that I would love the song. I wanted us to have a friendly relationship. He promised to play the song for me, but he never did," Swift began about West in a since-deleted Instagram post.
Swift concluded the statement by saying that she no longer wanted to be a part of the conversation."Being falsely painted as a liar when I was never given the full story or played any part of the song is character assassination. I would very much like to be excluded from this narrative, one that I have never been asked to be a part of, since 2009," the "All Too Well" singer wrote, referencing the infamous VMA incident.
An unedited video of the conversation has leaked
Unfortunately for Swift, the damage was already done. Despite her clarification about West, she received countless amounts of hate and was called a snake and a liar for weeks on end. Things got so bad that the pop star felt the need to drop off of the grid and isolate herself from the public eye for an entire year. But now, four years later, it seems that Swift is getting the vindication she deserves.
On March 20, 2020, a video leaked of the unedited call between Swift and West. In this new version, it's clear that Swift is apprehensive about the lyrics that West has come up with about her. "Is it going to be mean?" she asks before West promises that it's not. She also says that she needs to think about it and hear the song before she can give her blessing. Furthermore, the lyrics that West shared with Swift were not the exact ones that ended up on the song.
Twitter declares that #KanyeWestIsOver
With this new information, it appears that Swift was telling the truth the entire time. Both West and Swift are currently trending on Twitter under the following hashtags: #KanyeWestIsOverParty, #KanyeIsOverParty, and #TaylorToldTheTruth. People are also outraged at the amount of hate Swift received at the time and are making their feelings known.
"Proof that Kanye West and Kim not only mortified Taylor in the most cruel, vile, and horrifying way but they lied to the whole world to make THEM look better and to benefit THEM. selfishness at its fuc*ing finest I guess #KanyeWestIsOverParty," one person tweeted. "Taylor Swift was canceled & attacked for this, to the point it affected her mentally and made her think she had to disappear from the spotlight. So sad she received that treatment when she was telling the truth the entire time. #KanyeWestIsOverParty," another person chimed in.
#TaylorToldTheTruth is trending on Twitter
It's certainly great that the truth is finally out there about the situation. However, we hope that people have learned that their words carry weight and sending a person massive amounts of hate can be detrimental no matter what their celebrity status. Hopefully Swift is able to find some peace about the situation if she hasn't already.