Kardashian Fans Can't Get Enough of Kim's Kiss Cam Fail With Kanye West
With Kim Kardashian and Kanye West constantly being in the spotlight, you'd think they'd know just what to do on the kiss cam.
Kardashian has been the center of media attention for years thanks to her reality show, Keeping Up With the Kardashians. And West, whether rapping or making public appearances, never seems to miss an opportunity to upstage anyone around him. 
Unfortunately for them, all their practice being watched didn't help them one bit at the NBA All-Star Game — or at least didn't help West — and what followed was an awkward exchange for the world to see. Now fans and media alike are roasting the couple mercilessly, and their attempt at a do-over just added more fuel to the fire.
Kanye West didn't kiss Kim Kardashian for the Jumbotron
West didn't quite understand the concept of the kiss cam. When the camera focused on the couple, Kardashian understood right away and began blowing kisses at the crowd then turned and puckered up for West to give her a kiss.
He left her hanging. West just sat there looking around and eventually smiled at the camera when he noticed it. Eventually, she took matters into her own hands and planted a kiss on his cheek.
The media took the moment and ran with it, sharing the video along with tweets and fan reactions. One tweet shared most often was: "lmao now why he ain't kiss her back" and got over 41K retweets and a barrage of comments.
Another Twitter user posted: "IM SORRY I CANT GET OVER THE KISS CAM Kim's face when he didn't turn his head the guy was literally clueless."
Cosmopolitan South Africa even joined in the fun with the tweet: "Gonna curl up in a ball on her behalf."
Kardashian did not curl up into a ball but instead handled herself well in the hilariously sweet moment. And it's no surprise that she did, really: After coming up on a decade with the unpredictable rapper, the small things likely don't phase her.
Some fans defended Kanye West missing Kim Kardashian's kiss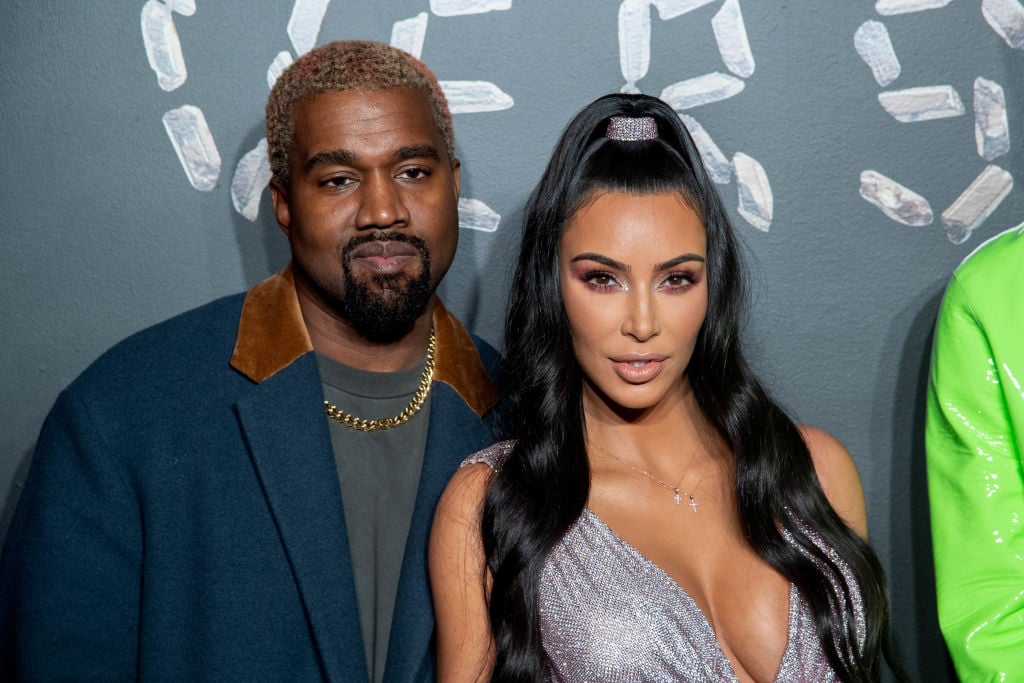 Not everyone was so quick to judge West's goof and did give him some credit. For one thing, they assumed he couldn't see her due to the giant sunglasses obscuring his view.
Sunglasses aside, fans took the end of the clip to heart, with one tweeting: "he clearly didn't notice she wanted a kiss cause when she kissed him he smiled hella big. awww that was cute at the end."
Others replied in agreement: "He smiled all big at her and I went, that's cute. You're so right on this. They're two weird people but they work as a couple."
The couple tried to redeem themselves… but failed
Just days after the incident, West and Kardashian tried to show the world that they could share a steamy kiss, but West goofed it again. In a video shared by Hollywood Unlocked, we see through glass elevator doors the couple sharing a kiss.
Unfortunately, after the kiss, West couldn't stick the landing. When the elevator doors open, he was grinning from ear to ear with what appears to be the same dark shades on his face and leaves Kardashian to pick up her shopping bags alone in the elevator. The doors begin to close on her without him even noticing.
"Kanye get the damn bags," one Instagram user wrote. "How you get embarrassed twice in one week whewwww," another commented.
One commenter summed up this whole week of gaffes the best saying: "Kanye a Trip."