Kardashian Fans Think They Look Like Vampires In 1 Photo From Kourtney Kardashian's Wedding
On May 22, Kourtney Kardashian and Travis Barker finally got married for the last time. They started their nuptial journey with a spur-of-the-moment Vegas wedding. That was followed by a small family ceremony, to make it legal. But for the big event, the happy couple welcomed family and friends to a lavish Italian ceremony.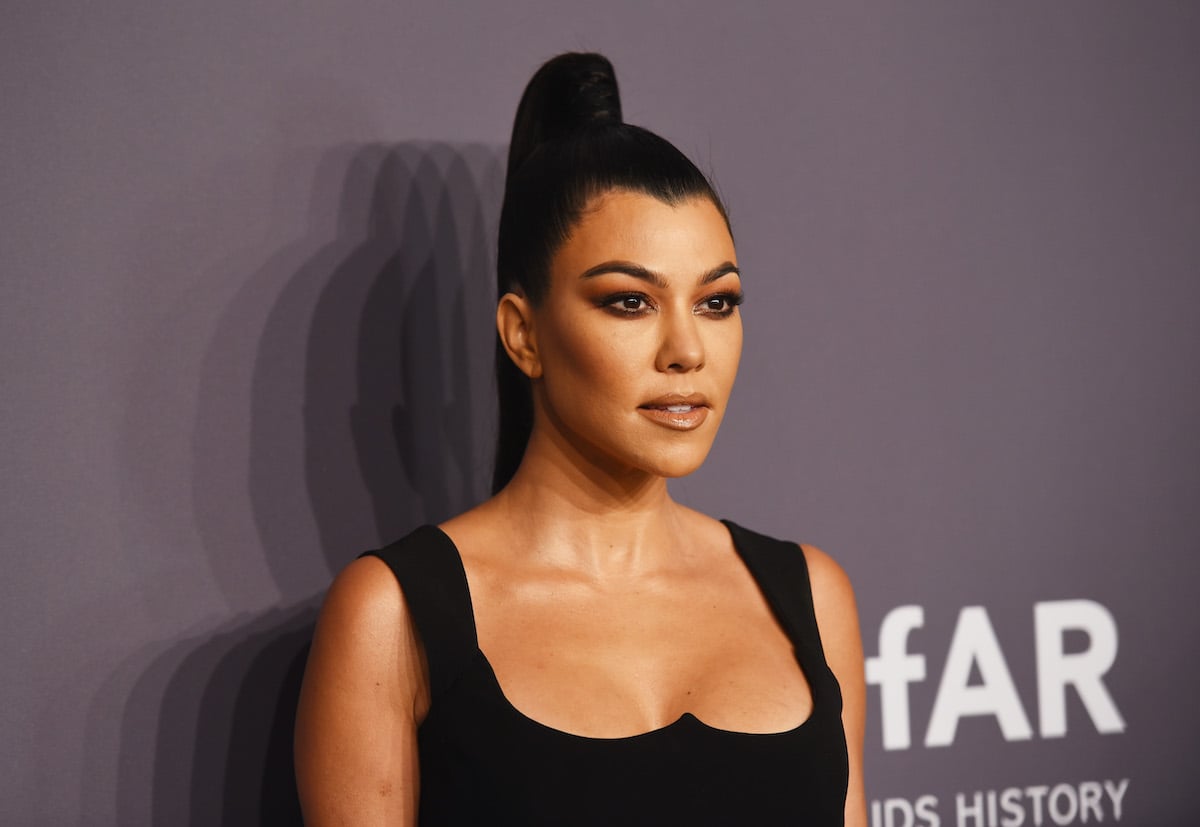 Now the pictures and videos from their special day are being shared far and wide, and fans of the Kardashians can't get enough. One picture, however, is bringing up a few questions.
Kourtney Kardashian and Travis Barker got married in style
Given the Kardashian approach to being seen, it's no surprise that their wedding was full of dramatic style. Cosmopolitan reports that the ceremony took place in an ancient fortress called Castello Brown in Portofino, Italy. The celebration was hosted by the Italian luxury fashion house Dolce & Gabbana.
Naturally, with the setting, the guests of honor, and Dolce & Gabbana involved, the entire weekend was full of sumptuous looks. There was a red carpet, glittering gold furnishings, a dramatic hand-embroidered cathedral length veil, and high-fashion styles everywhere. The bride was glowing, the groom was delighted, and the guests were charmed.
The entire Kardashian-Jenner family wore Dolce & Gabbana outfits, so the pictures from the wedding look a bit like a fashion show on the Italian Riviera. But one picture, in particular, has some fans wondering if they quite nailed the look they were going for. 
'Vampire style'
Khloé Kardashian posted several pictures from the wedding on Instagram. One of the pictures from the rehearsal dinner shows her, Kourtney, and Travis Barker's son Landon. The trio posed in coordinating ensembles, with lots of black satin, red roses, and hearts. Khloé topped her outfit with a gold crown, and the whole look was striking. 
But when a fan posted the picture on Reddit, a few of the responses pointed out a problem with it. Like many Kardashian photos on social media, the picture seemed to have been tinkered with to make them look more dramatic. "Khloé looks amazing," one fan enthused. "But when did they turn into the Cullens from Twilight??"
"Poor Landon he's pale as white from all that brightening and lightening of the photos lol," another agreed. Despite the somewhat undead look, many fans still approved. "They look like vampires in the first pic and I kinda love it," a commenter said. "Vampire style," another said succinctly. 
Fans are loving the looks
Whether or not the stars look like vampires, fans can't seem to get enough of the famous family's wedding style, and this picture was no exception. "My jaw just dropped for like five secs," one person said. "This is the Kourtney we have been wanting to see!!!"
"It's like a Gothic prom," chimed in another fan. "Love all the looks here."
"Honestly obsessed with everyone's look here," a commenter summed up. Grazia points out that the whole family lived up to the expectations for the event, each of them wearing Dolce and Gabbana looks.
Kylie and Kendall Jenner wore matching floral dresses in subtly different styles, and Kris Jenner wore a number of caftans over the weekend. Kim Kardashian "understood the gothic aesthetic assignment" in her long black lace dress. 
Kardashian and Barker's wedding is the sort of event that few couples could even dream of. But for these newlyweds, too much was not enough. Their wedding day was filled with over-the-top luxury and style. Whether the stars look like vampires or not, fans are loving it all.
RELATED: Travis Barker Says He and Kourtney Kardashian Aren't Buying a House Together Just Yet