Kardashian Fans Want Kim and Her Sisters to Stay Away From TikTok
We already know that Kim Kardashian has a massive online presence, and she is definitely no stranger to the public eye. Kim Kardashian has mastered the art of growing her following with over 166 million followers on Instagram alone to say nothing of her high Twitter ranking and her steps into YouTube. 
Her fame has earned her a handful of titles from reality TV socialite, to worldwide business mogul, to mommy; it's this latest role that has her taking on new platforms of social media though.
Kim Kardashian recently posted her first-ever TikTok video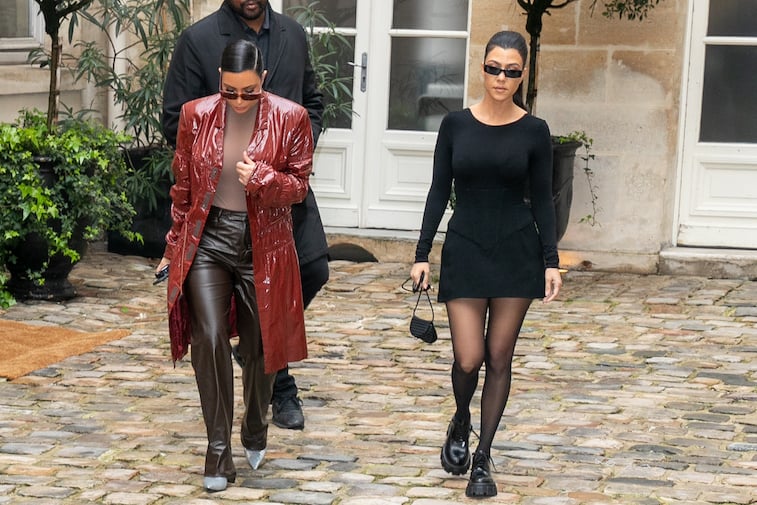 RELATED: Kim Kardashian West Says Two of Her Children Don't Have Any Patience
Kim Kardashian West and her 6-year-old daughter North recently posted a mother-daughter dance session on Instagram. The duo shared a TikTok video starring the two of them dancing around and laughing to Bomba Estéreo's "To My Love." It's adorable, lighthearted, and Kardashian tells ET that there may be more cuteness to come. We can only hope.
"North has a private TikTok account, so we do lots of TikToks together, and she puts them in drafts," Kardashian revealed to E! Online. "[North is] not allowed to post them, but we have a lot of TikToks."
TikTok is being overrun by celebrity contributions
RELATED: NBA Players Are Actually Pretty Good at TikTok
While the Kardashian family has taken quickly to TikTok, they are definitely not the only ones. Mariah Carey, Justin Bieber and J-Lo are all on the TikTok bandwagon, and that's just to name a few. It seems like every star has been entertaining themselves and their fans by contributing videos to the popular App in the last few months. 
Even pretty private celebs like Reese Witherspoon have gotten in line and stepped up with their TikTok accounts, with the help of their knowledgeable children of course.
The Kardashians, and their kids, have all tried their hands at some TikTok fun lately. However, fans aren't super supportive. In fact, when it comes to the Kardashian clan, people are calling for Kim and her sisters to just stay off TikTok completely.
Some fans want TikTok to be for regular people and not for the already famous
Many TikTok users are annoyed by the quarantine related influx of celebrities using the app. In fact, several Reddit users complained that Kardashian should go to YouTube with her promo videos instead of to TikTok, not only because they'd like to lower the celebrity usage of the platform, but also because they just can't get onboard with the idea of Kardashian using it for her branding.
Reddit user, thewestfamily,  recently pointed out that Kardashian just "uploaded her IG TV video to her channel" but laments that they "would love for her to move to YouTube." 
For reasons they can't describe, users would rather these celebrities go to YouTube with their promotional materials, citing that when they promote themselves on TikTok it is annoying. 
CahonaMamma,  another user on Reddit confirmed they felt the same regarding Kardashian's use of Tiktok. Apparently, they aren't alone in feeling that the celebrity should head to YouTube instead. 
Kim and North Kardashian aren't the only Kardashians on TikTok
RELATED: Mason Disick Tried to Get 'Instagram Famous' But Kourtney Kardashian May Have Shut Him Down
In fact, Kourtney Kardashian is no stranger to the platform and has over a million TokTok followers. Much of that TikTok fame is a direct result of her son's contributions to the platform though.  10-year-old Mason Disick, the son of Kourtney Kardashian and Scott Disick  has been making a name for himself on TikTok recently, especially after his parents deleted his forbidden Instagram account.
Other Kardashians have tried their hand at making the iconic videos too including Kylie and Kris Jenner, who have been recreating some scenes from their more infamous Keeping up with the Kardashian episodes.
The verdict is still out on whether any of the Kardashians will stick with TikTok or if they will transition their social media efforts into more mainstream systems like YouTube.
RELATED: Fans Slam Kim Kardashian West For Mother's Day Photo She Shared of Kris Jenner