Here Are the Middle Names of Every Kardashian/Jenner and Their Kids
When it comes to the Kardashian/Jenner family, not much about them is unknown. The famous family has been sharing nearly every detail of their lives with the public for well over a decade. Their hit reality show, Keeping Up with the Kardashians is currently in its 18th season and family has amassed hundreds of millions of followers. But, fans aren't just obsessed with the KarJenners, they're obsessed with their kids as well.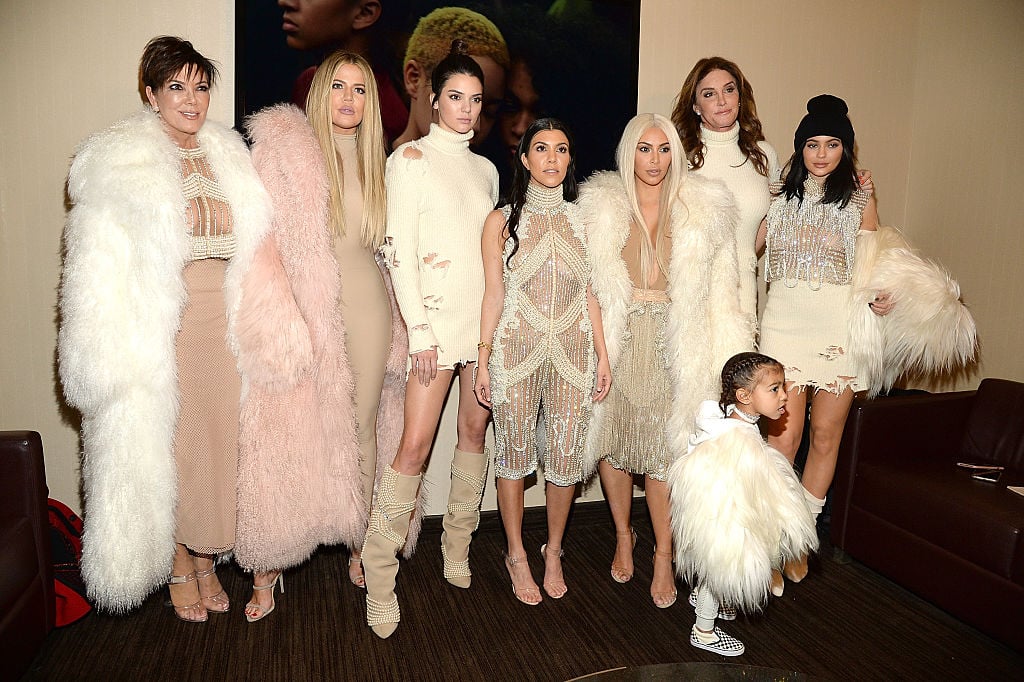 Most KarJenner fans know as much about the kids as they do about the adults in the family. But, one thing that isn't commonly known are the middle names for every family member. We've rounded up the names for every Kardashian/Jenner and their kids and some of the names (or lack thereof) might surprise you.
Kris Jenner and Caitlyn Jenner
You may know her as Kris Jenner, momager extraordinaire, but Kris is actually a nickname. The famous mother of six was actually born Kristen and her middle name is Mary. Kris has sported different last names over the years, but ultimately kept the last name of her most recent spouse, Caitlyn Jenner, whose middle name is pretty similar to Kris' and is Marie.
Kourtney Kardashian and kids
Kris' eldest child, Kourtney Kardashian, is next on our list. Being the eldest, it's no wonder that she shares her mother's middle name. Kourtney's middle name is also Mary. Of course, the Poosh owner has three kids of her own with Scott Disick. Their names are Mason Dash Disick, Penelope Scotland (perhaps a nod to her father) Disick, and Reign Aston Disick.
Kim Kardashian West
The most famous of the KarJenner clan is Kim Kardashian West. Fans will remember that Kim is actually a nickname for Kimberly. And while Kardashian West has legally changed her name so that her maiden name would be her middle name, she was born Kimberly Noel Kardashian. As for her kids, the two eldest (North West and Saint West) do not have middle names. However, the two younger kids do. Kardashian lent her own middle name to Chicago, making her Chicago Noel West and the baby is Psalm Ye West.
Khloé Kardashian
The Good American owner is up next. Khloé Alexandra Kardashian is her legal name. The 35-year-old also has one child with Tristan Thompson. But, like some of her older cousins, True Thompson doesn't have a middle name.
Rob Kardashian
Most people mistakenly believe that Rob Kardashian is a junior. However, that's not the case because he and his late father (Robert George Kardashian) have different middle names. The TV personality was actually born Robert Arthur Kardashian. Together with Blac Chyna, he has one daughter, Dream Renée Kardashian. Funnily enough, Dream also shares her mother's legal middle name.
Kendall Jenner
Currently, the highly-successful model is the only KarJenner without kids. But, this makes sense given that she's only 24 years old. Kendall Nicole Jenner may have children someday, but for now, she's got plenty of nieces and nephews to love on.
Kylie Jenner
Last but not least is the billionaire herself. Like her eldest sister, Kris gave the youngest KarJenner a piece of her name too. Kylie Kristen Jenner has Kris' first name as her middle name. However, like her sisters Kim and Khloé, she opted out of a middle name for her only child, Stormi Webster.
And there you have it, all the middle names of every KarJenner. While we're sure this list will continue to grow with time and with more kids being welcomed into the family, for now, it's exhaustive.