Which Kardashian/Jenner Sister Is The Least Popular?
Hate them or love them, we can't seem to escape the Kardashian/Jenner clan. They've somehow weaseled their way into fashion, the music industry (by way of famous rappers), sports (by way of dating NBA and NFL stars), makeup, skincare, and still they manage to maintain their ever-present status on E! Spanning 12 years and 16 seasons, with one too many awful spin-offs, Keeping Up With The Kardashians is like the Grey's Anatomy of reality TV. It's been on forever, with no end in sight.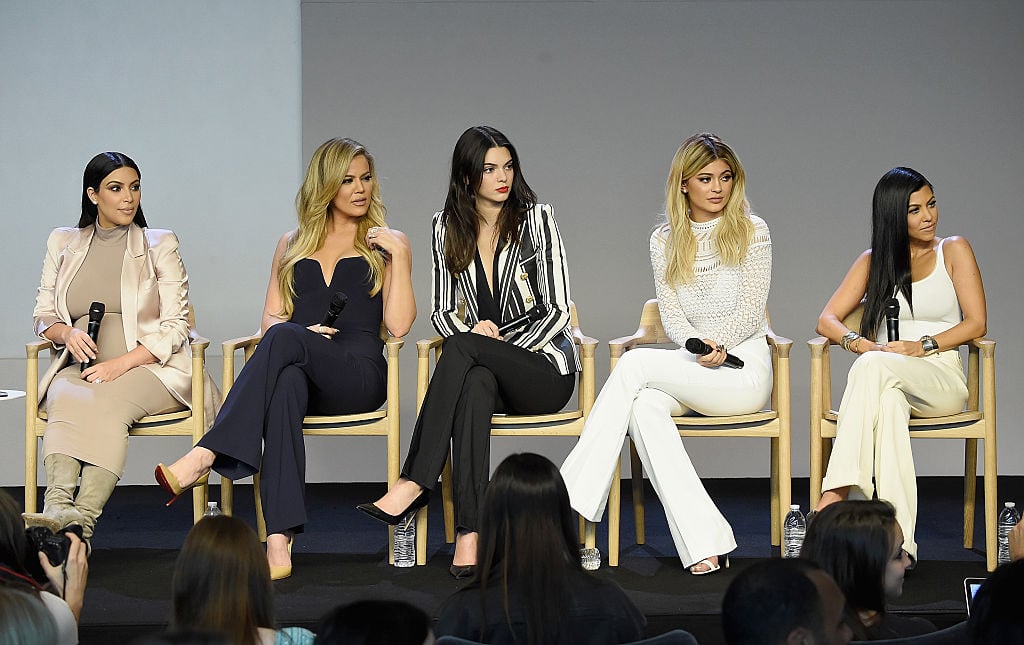 Popularity contest
Since people are still interested in keeping up with the Kardashians, let's take a look at who among the five sisters is the least popular. We've ranked them from most popular to least popular based on the amount of Instagram followers each woman as amassed.
We've left Rob out of the equation because he's currently still banned from Instagram after posting nude photos of his ex-girlfriend, Black Chyna back in 2017. Not that he would ever have gained as many followers as his sisters anyway.
Kim Kardashian West
No shocker that Kim Kardashian West still reigns queen of the sisters. After all, she's the one who started it all and has been in the news the longest. With a whopping 141.6 million followers on Instagram, the second oldest sister secures the top spot for popularity.
The KKW beauty owner also has the most notable spouse out of all her siblings and is married to rapper, Kanye West. The 38-year-old has recently taken up an interest in law and we're not mad at her for using her influence to explore things that actually matter. Sis has come a long way from weeping about an earring in the ocean.
Kylie Jenner
The youngest sister, Kylie Jenner, is next on our list. The Lip-Kit connoisseur comes in second on our popularity list at 137.9 million Instagram followers. At just 21 years old, Kylie is already a billionaire from her self-titled makeup line.
Many people claim that the reality star is just a self-made billionaire, but we'd ask them to kindly find a dictionary and look up the meaning of those words. While we can't deny that the youngest Jenner has solid marketing skills, she clearly leveraged her family's wealth and inheritance to secure and grow her own, and that does not a self-made billionaire make.
Kendall Jenner
Who doesn't like a surprise twist midway through the rankings? As Kendall Jenner is typically the least talked about and seemingly least dramatic sister of the Kardashian/Jenner clan, we honestly expected her to rank a little lower. But, the 23-year old boasts 112.3 mullion followers on Instagram and is currently in the midst of a fruitful modeling career.
Having been featured on the cover of Vogue magazine, worked with brands like Calvin Klein, and walked in prominent shows like the Victoria's Secret Fashion Show, she seems to stay pretty busy. We guess there's something to be said for minding your business and having nothing more than the occasional, yearly, scandal. See Fyre Festival and Pepsi commercial for reference.
Khloe Kardashian
Khloe Kardashian comes in as runner up for least popular sister at 94.8 million followers. Honestly, this ranking is an improvement from how she was compared to Kim and Kourtney in previous years. When the 34-year old isn't busy dragging 21-year-old girls for the inappropriate actions of her ex-boyfriend, she's doing beauty collabs with her younger sister, Kylie, and heading up the fashion company, Good American, which she co-founded.
Kourtney Kardashian
The oldest Kardashian gets the top spot for least popular of the sisters. Her latest project is a lifestyle guide called Poosh, or at least we think that's what it is. The 40-year-old has managed to amass 79.6 million followers on Instagram. While we admit that that's an astounding amount of people, in comparison to her sisters, it just falls short. Can't say we're overly surprised by her ranking. After all, Kim did call her "the least interesting to look at."