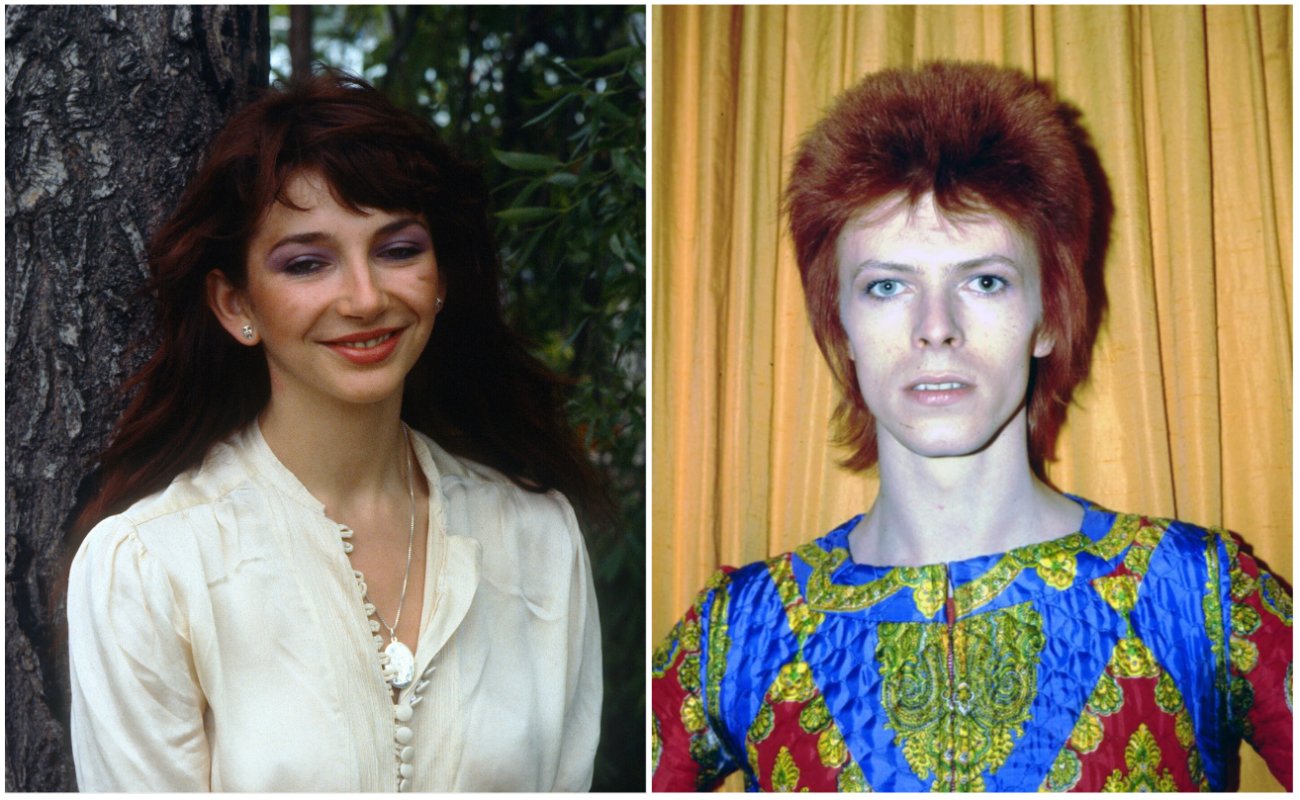 Kate Bush Cried When David Bowie Announced Ziggy Stardust's Retirement
Kate Bush was in the crowd during David Bowie's last performance as Ziggy Stardust in 1973. She cried with everyone else when she heard the singer's alter-ego was finished.
When Kate Bush was growing up, she listened religiously to the music of David Bowie and Elton John. Later, after becoming famous, she collaborated with Elton John twice. However, Bush, unfortunately, didn't get that chance with Bowie. Although, she did see Bowie perform as his alter-ego Ziggy Stardust.
Bush was in the crowd when Bowie announced Ziggy Stardust's retirement. She cried like everyone else in London's Hammersmith Oden that night. However, she was the only one in the crowd who found fame and got to meet her idol.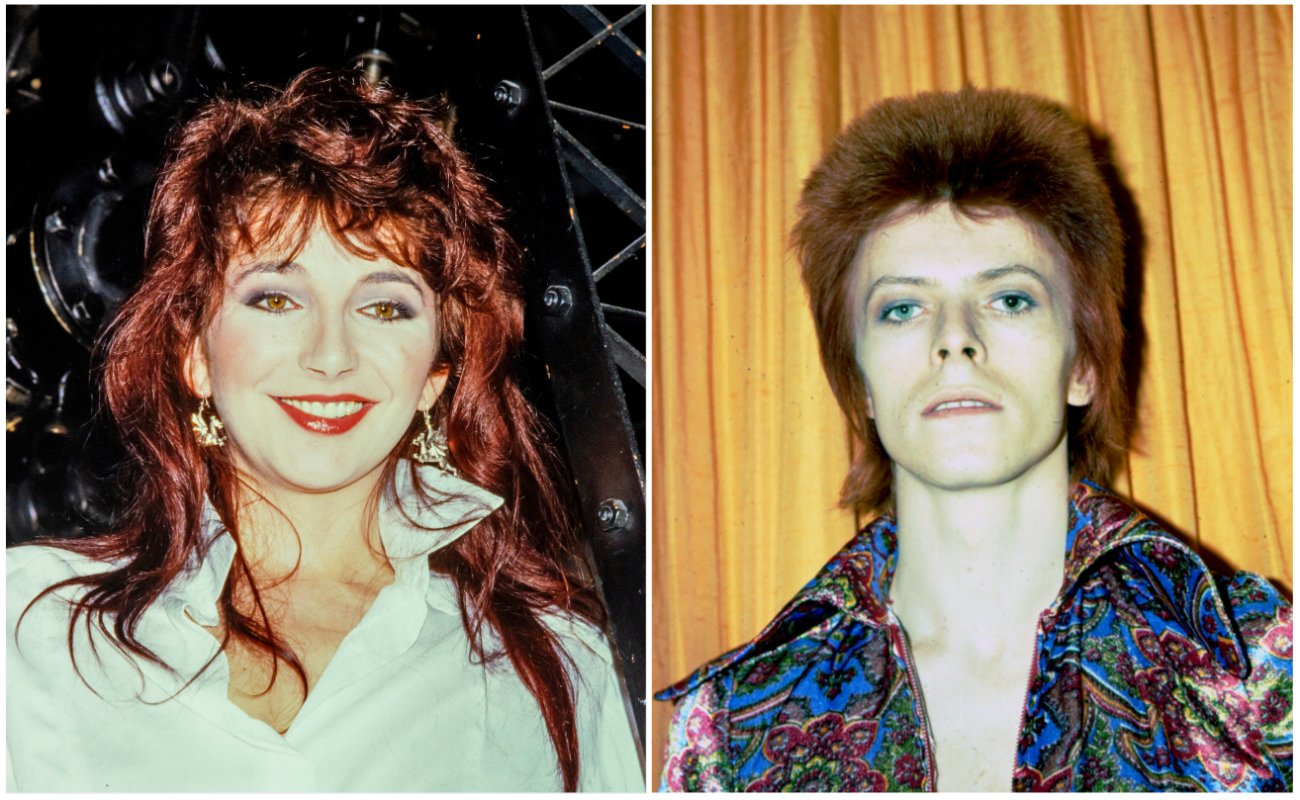 Kate Bush cried when David Bowie announced Ziggy Stardust's retirement
Bush wrote about the first time she heard Bowie in the forward of a 2007 special edition of Mojo Classic called "60 Years of David Bowie."
"I was sitting in my bath, submerged in bubbles, listening to Radio Luxembourg when I heard David Bowie for the first time," she wrote. "'There's a starman waiting in the sky.' I thought it was such an interesting song and that he had a really unusual voice. Soon I was to hear that track everywhere, and Bowie's music became a part of my life.
"Was it Bo-Wie, Bowie or B'wee? Everything about him was intriguing. When I saw him on 'Top Of The Pops' he was almost insect-like, his clothing was theatrical and bizarre; was that a dress? No one was sure, but my conclusion was that he was quite beautiful. His picture found itself on my bedroom wall next to the sacred space reserved solely for my greatest love – Elton John.
"A fantastic songwriter with a voice to match, Bowie had everything. He was just the right amount of weird, obviously intelligent and, of course, very sexy. Ziggy played guitar.
Bush explained that she was in the crowd at the Hammersmith Odeon the night Bowie announced Ziggy Stardust's retirement. She cried with her fellow audience members.
"I was there to see his last show as Ziggy Stardust with The Spiders From Mars. The atmosphere was just so charged that at the end, when he cried, we all cried with him."
Bush eventually met Bowie
After Pink Floyd's David Gilmour discovered Bush's talent, she began making a music career of her own. Then, years later, Bush met Bowie at Abbey Road Studios.
"I popped in to see a friend on another session….I was stopped in my tracks," Bush wrote. "Standing elegantly poised behind the console was David Bowie. He was lit from above and smoking a cigarette. He said, 'Hello Kate.' I froze on the spot and said, 'Er…Hello,' and then left the room, caught my breath outside the door and didn't dare to go back in again. We've met many times since then and I don't have to leave the room any more….or do I?
"He's made all the right moves, each album exploring a new sound, a new way of looking at things, experimental and brave. Starring in 'The Man Who Fell To Earth' made him a successful actor as well. His introduction to 'The Snowman' animation, although brief, made the film more poignant, as if the whole thing somehow belonged to him. I just loved his hilarious 'Extras' cameo, and the quirky Tesla in 'The Prestige.'
"He is the quintessential artist, always different and ever surprising, an inspiration for us all."
The 'Cloudbursting' singer shared a touching tribute to the 'Starman' singer after his death in 2016
Bush shared a touching tribute to Bowie following his death in 2016.
She told the Guardian, "David Bowie had everything. He was intelligent, imaginative, brave, charismatic, cool, sexy and truly inspirational both visually and musically. He created such staggeringly brilliant work, yes, but so much of it and it was so good. There are great people who make great work but who else has left a mark like his? No one like him.
"I'm struck by how the whole country has been flung into mourning and shock. Shock, because someone who had already transcended into immortality could actually die. He was ours. Wonderfully eccentric in a way that only an Englishman could be. Whatever journey his beautiful soul is now on, I hope he can somehow feel how much we all miss him."
Later, Bush told Fader that she thought Bowie's last album, Blackstar, was beautiful. "Very moving of course, but I think one of the best things he's ever done," she said.
Unfortunately, Bush didn't get to work with Bowie. If they had, it would have undoubtedly been something to hear. Bush inspires a new generation of artists and fans, just as Bowie did for her.