Kate Chastain From 'Below Deck' Finally Admits the Blanketfold Was No Rocket Ship (Exclusive)
Kate Chastain from 'Below Deck' finally admits she wasn't creating a rocket ship blanketfold on Dean Slover's bed.
After years of insisting a curious blanket fold on a guest's bed was a rocket ship, Kate Chastain from Below Deck finally comes clean.
During a special appearance in Columbus, Ohio, Chastain admitted that the blanket art was no rocket ship. A packed crowd heard the big news first as Captain Lee Rosbach joined Chastain at a Stars Marketing Group event hosted by Colin Macy-O'Toole from Below Deck Mediterranean. The conversation was light and Rosbach was in a jocular mood as he was the one who finally got Chastain to admit her true intention behind the blanket design.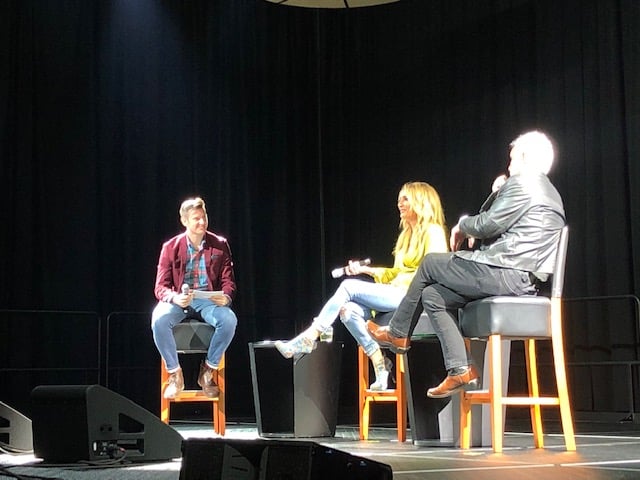 Even though most fans know Chastain was creating a phallic symbol to grace guest Dean Slover's bed, she continued to smile slyly and insist she was merely creating a rocket ship. But finally, indeed she admitted her intention and Rosbach seemed downright giddy that he finally busted her.
Busted!
The conversation flowed on stage as Chastain accidentally admitted the rocket ship blanket was sculpted into a phallic symbol. Oops. There was no way Rosbach was going to let that go. "A d**k blanket," Rosbach exclaims as the crowd loses their collective minds. "It was a rocket ship up until this point! It is now officially a d**k blanket! You are so busted."
Rosbach laughs like he just struck gold. "You are so busted," he remarks. Chastain, who is now laughing too says, "I am!" Rosbach continues to laugh, "You have officially admitted it was a d**k blanket."
Rosbach then turns to the audience and says, "You guys are the first to hear this! She has gone on numerous, numerous interviews and said it's a f**king rocket ship. You guys are here to hear this first, it's a d**k blanket." Chastain turns to Macy-O'Toole to ask what shape he thought she created. "It's definitely a rocket ship!" Macy-O'Toole exclaims.
This is why Slover got the 'rocket ship'
Slover started out on Chastain's bad side, but quickly became one of her favorite guests. When he first appeared on Below Deck, he kept needling Chastain to smile more, which made her feel uncomfortable. He pushed her so far that she took her aggression out on the blanket in his stateroom. "I have never used my blanket folding to get revenge prior to this, mostly because I've never had to," she told Bravo. "Walking into the master stateroom I was simply planning on doing the anchor as usual, but the next thing I knew I had made…something else."
Initially, it looked like the blanket fold could have gotten Chastain fired. Slover coyly mentioned it to Rosbach and didn't indicate whether or not he was angry. She squirmed the entire charter and the crew became furious with her because if Slover was angry it would negatively impact their tip.
Thankfully as the crew lined up for Slover's departure, he said he found the blanket fold to be hilarious. He left a generous tip and returned again. At the time, Rosbach blogged about how lucky Chastain was that Slover had a sense of humor.  "Were you worried? I think that was apparent and deserved, but when it's all said and done, now you want credit for a great tip that you had no clue was coming? Wow," he wrote.