Kate Chastain From 'Below Deck' Names Luann de Lesseps From 'RHONY' and Stassi Schroeder as the 'Worst' Bravolebrities She's Met
Kate Chastain from Below Deck easily named two of the "worst" Bravolebrities she's ever met.
"I was on Watch What Happens Live with Luann [de Lesseps]," Chastain dished during an Instagram Live. "And we were 60 seconds, 30 seconds until going live. And Andy [Cohen] being the great host that he is said, 'Oh Luann, right when she had her engagement party on the yacht. He goes, 'Oh Luann you just got the yacht! Kate works on yachts!'"
"And she goes to me, 'Well, I guess you're below deck and I'm above deck,'" she recalled. "And then they were like, 'And we're live!' First of all it was a 130 foot yacht and it was borrowed from a friend for a night."
Stassi Schroeder thought Kate Chastain was having too much fun
"Also, Stassi [Schroeder]," Chastain said about the former Vanderpump Rules cast member. "I went to an event for the Watch What Crappens guys at some comedy club in West Hollywood like two years ago."
"And I was there with a good friend of mine, who actually had done a lot of standup over the last 10 years at that club. She basically had her college graduation there, like this is her living room. And she also works in the reality TV business," she continued. "But behind the camera so Stassi didn't know that. And my friend and I were having a great time and she's like, 'Oh this is the server, he's worked here for 40 years.'" She recalls meeting people at the club and having a great time.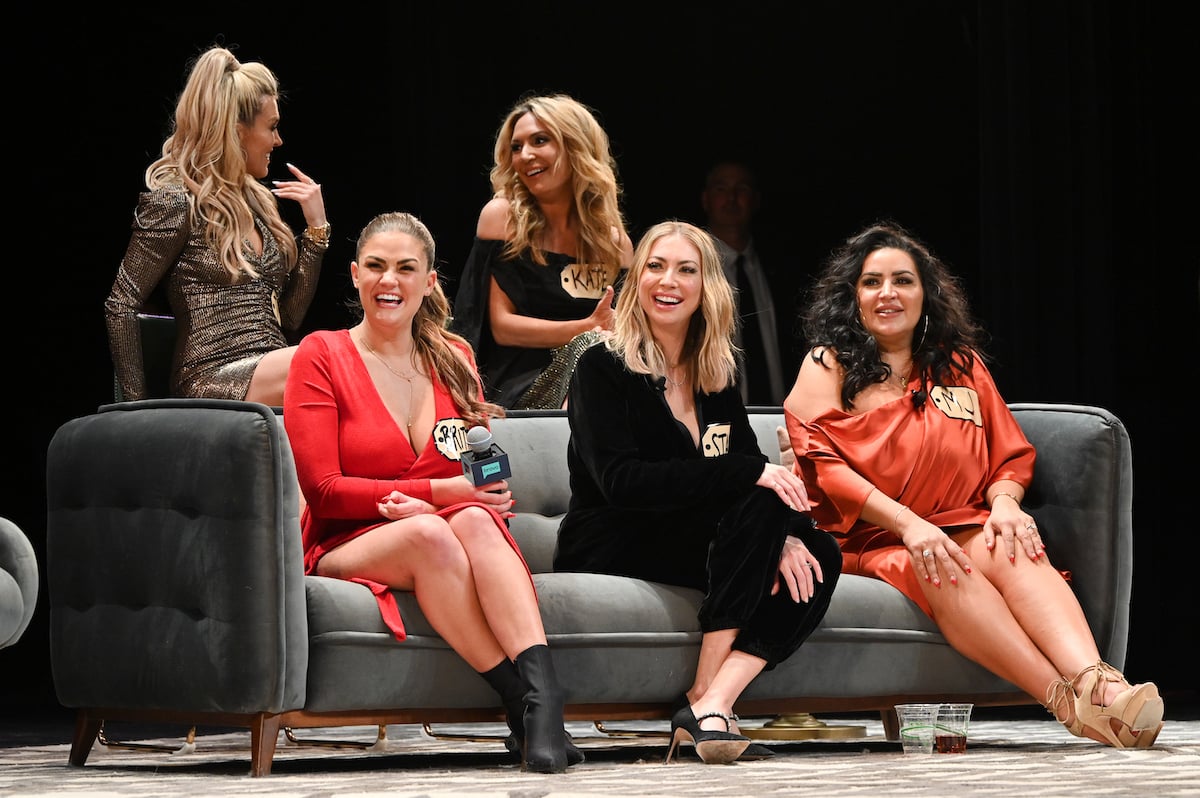 RELATED: 'Vanderpump Rules' Could Be an Entirely Different Show as More Cast Members Settle Down and Announce Pregnancies
But then someone next to her taps her on the shoulder with a message from Schroeder. "The girl goes, 'Stassi just texted me and said your friend and you are being too loud,'" Chastain recalled. "Like a basic stranger tapped me on the shoulder and was like, 'I just got a text that Stassi would like you guys to stop having so much fun.' The irony of it is, the friend I was with, this was like her living room. And she kinda has a high ranking role."
Chastain also dished about Dorinda Medley's exit from 'RHONY'
It's no secret that Chastain is a huge RHONY stan, despite not being a huge de Lesseps fan. So when it came to Dorinda Medley's announcement that she was no longer on the show, Chastain admits she was shocked.
"She made it nice," Chastain admitted. "But now it's time. I think she seemed a little tired last season. She seemed a little stressed. Tired means stressed."
RELATED: 'RHONY': Could More Cast Members Be Cut Following Dorinda Medley's Exit?
"But she is iconic … I was shocked," Chastain said about Medley's announcement. "I was completely shocked." Medley shared she was leaving the series before the season wrapped. Rumors hinted that Medley was fired for being a "mean drunk" this season, but also suggesting that Tinsley Mortimer use a turkey baster for artificial insemination, according to Page Six.
Chastain also weighed in on Elyse Slaine
"She's brought so much," Chastain said about Medley's time on the series. "She's so strong from the gate and the Berkshires was like an extra Housewife. That's my favorite 'friend of.' The Berkshires. Blue Stone Manor."
RELATED: 'RHONY' Friend Says He Didn't Know Ramona Singer Came To Leah McSweeney's Party (Exclusive)
Chastain also addressed the newest RHONY "friend" this season, Elyse Slaine. "I went through a rollercoaster of feelings about Elyse," she remarked. "First I was like, 'What the hell is she doing here?' Then I was like, 'Oh I actually like her!' And then I was like, 'Oh, never mind!'"