Kate Chastain From 'Below Deck' Shared That She Once Did Laundry for Six Straight Months
Sometimes the interior team gives chief stew Kate Chastain from Below Deck a hard time about doing the "grunt work." Being relegated to the laundry room all day can't be fun, but Chastain says it just comes with the territory.
She shared in an Instagram post that she once was a lower rank and was stuck doing laundry for nearly six months at a time. "I wasn't always a Chief Stew…..for 6 straight months in 2008 I was on laundry duty #BelowDeck. It's not punishment, it's earning your rank," she wrote in a 2015 post along with a throwback photo.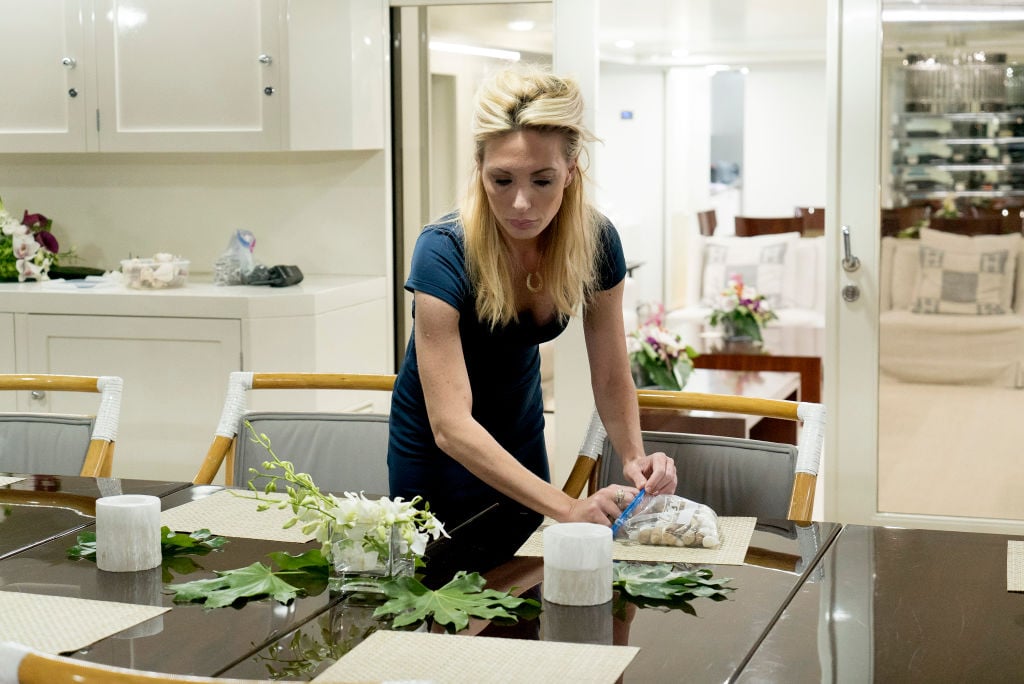 In a recent episode, Chastain went down memory lane when she spied the first boat she ever worked on. "That was my first boat and I have wanted to see that boat for 10 years," Chastain remarked on Another Below Deck podcast. "I had never seen it. And the fact that I saw it on this freak-ass small dock in Thailand, at the end of the season, it was literally a full circle. I guess it was a half-circle around the globe."
Rank is important
Chastain recently dished about rank and hierarchy on the Mouthing Off with Olivia Caridi podcast."In real jobs, I would never be, like, so rank-obsessed," she shared. "But it took me a while when I started working on yachts in real life to understand why rank was important. I kinda thought that anybody who had a higher rank in life and used it was such a jerk."
"It's why the military has rank, it's similar for yachting," Chastain continued. "Because we're out in the ocean, and it's for safety, it's for order. And once that clicked in my head, why organization, in general, is so important, it really helped me in my real life."
She also reviewed the hierarchy. "Captain is the highest rank, and then there's a first mate. And we have those on the boat on the show, but they're not on camera. Then chief stew is kind of up there. And the chef is actually pretty high up on the ranking but not really because they don't have anybody below them. They're in their own solar system."
She still loves laundry too
Even though she's the chief stew, she revealed why she still loves doing laundry. "I love the laundry room," Chastain shared in the Below Deck After Show.  "Let me tell you all the reasons I love the laundry room." 
"First of all, you're away from the guests and the crew," she said. "It's like your own private clubhouse. You get to play music. On a yacht, everywhere else, no music. You're in your own zone. You're in your own clubhouse."
But also everyone leaves you alone in the laundry room. "Because they want nothing to do with it," she admitted, "It's very gratifying. You are like, take it out of the dryer, fold it. That's done!" Captain Lee Rosbach, who sat next to Chastain summed it up. "The laundry room everybody leaves you alone. It's alone time," he said.