Kate Chastain From 'Below Deck' Shares the Story Behind Her Tattoo
Below Deck fans glimpsed a delicate tattoo running down chief stew Kate Chastain's spine. Chastain rocked a gorgeous sleeveless dress with an open back during an evening on the town and the ink was on full display.
As Chastain chatted with chef Kevin Dobson outside the club, cameras captured the tattoo running the top of her spine. Fans didn't recall seeing the tattoo from previous seasons and wondered when she got the new ink. "@Kate_Chastain when did you get your back tattoo? It's so pretty! #BelowDeck," a fan inquired.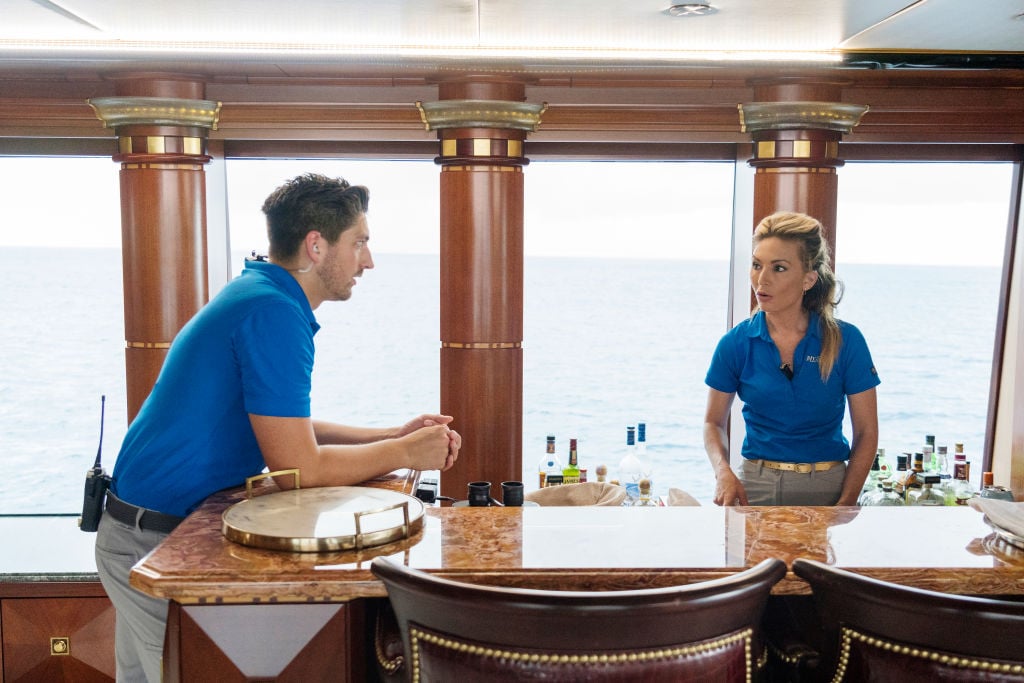 The tattoo appears to be symbols or characters. Chastain responded that she got the tattoo last season in Tahiti. "In Thailand with @josiahcarter_ after the end of last #BelowDeck season !," she first responded. Then added, "I meant Tahiti duh." When you travel as much as Chastain, mashing up your countries is probably a pretty easy thing to do.
They got inked before they left for the season
Second stew Josiah Carter added that getting the tattoo was pretty painful. "God that was a painful afternoon," Carter shared. "note to self, never go to a tattoo shop and say do what you want @Kate_Chastain."
Not only was it painful, but they also did it right before they flew home. "Also never get a massive tattoo before a 17 hour flight," Chastain advised. She also shared a photo of Carter getting his ink. While Chastain had her's placed down her back, Carter went for the thigh. "I think you were passed out in pain at this point," she wrote.
Chastain and Carter posed for a picture with their artists, once the pain was over and the duo could show off their ink. "I think I was never been in so much pain in my life. But all worth it (I think) they both look so good, not that my face says that though," he wrote. Bosun Ross Inia shared that the tattoo took so long (or Carter spent too long licking his wounds) Carter almost missed his flight. "True," Carter added.
Carter has shown his ink on Instagram
Carter told Showbiz Cheat Sheet he and Chastain got their tattoos together when the season ended. He has also proudly shown his body art in a number of Instagram photos. "Attempting to get that summer body!!! Anyone spot what I got in Tahiti after filming? #tikiman gotta work all@those chicken nuggets off," he wrote in May. However, he first went public with the ink while donning the infamous gold Speedo. "Casual day at the beach…. hope you liked this weeks episode?  @bravotv #belowdeck #entertainment #bravo#bravotv and for the record the guys were lovely," he wrote but didn't mention the tattoo.
Carter often remarked during his season about the tight bond he had with Chastain. "Fortunate enough to work with this delightful lady on below deck. Happy birthday Kate, so many laughs!" he shared last January. He also commented that he, Chastain and stew Laura Betancourt were the perfect trio. "Dream interior team. It's the finale tomorrow who's ready??"
Fans seemed to be very invested in Carter and Chastain's friendship. However, the two drifted apart after filming stopped. When they reunited during the Below Deck 100th episode celebration, they said the break in their communication was more of a scheduling issue.