Kate Gosselin Returns to TV with Dating Show 'Kate Plus Date'
Kate Gosselin is back on the dating scene in her new TLC show Kate Plus Date. Will Gosselin find love?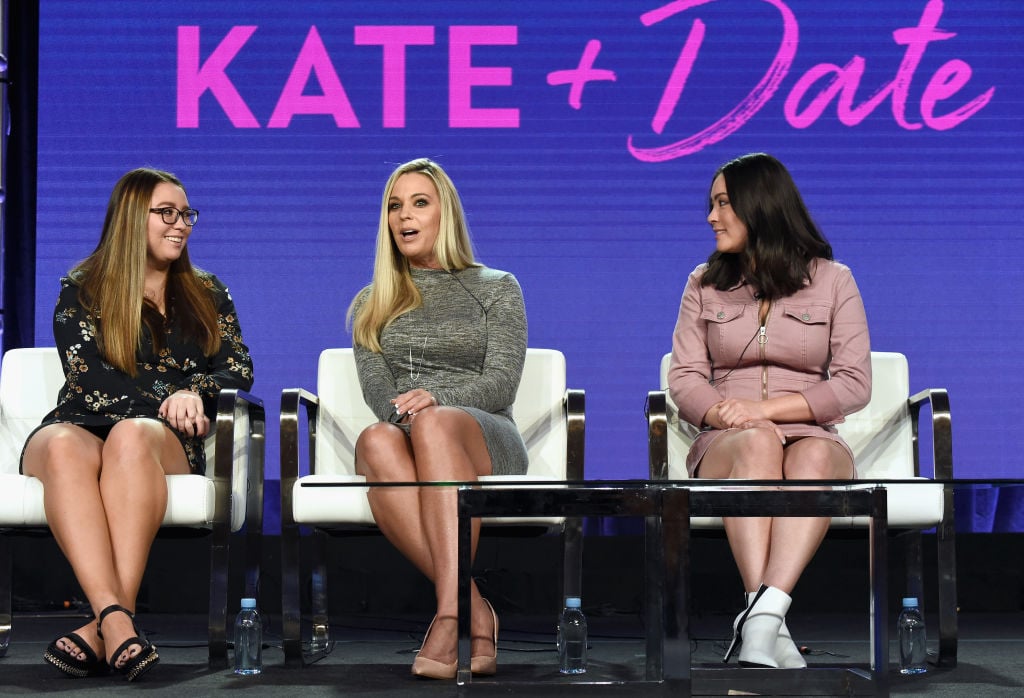 After a break from reality TV, Kate Gosselin is back with a new series — and this time it's all about her dating life. In a twist on her past shows, Jon & Kate Plus 8 and Kate Plus 8, the new Gosselin-centric show will be called Kate Plus Date. Genius.
Gosselin is joining the dating scene
In true reality star fashion, Gosselin will be finding the man of her dreams on a show that involves the mom of eight getting set up on dates by a matchmaker. Will Gosselin find love? You'll have to tune in when the show airs in June on TLC to find out.
Gosselin and her then-husband Jon Gosselin first nabbed attention for their 2007 show that followed their busy lives as parents to twins Mady and Cara and sextuplets Alexis, Hannah, Aaden, Collin, Leah, and Joel. Jon & Kate Plus 8 and Kate Plus 8 followed the family for 10 years, with the final episode airing in 2017. During that time, the couple got divorced.
Gosselin is "ready to find love"
Given that long run on TV, it's not surprising that Gosselin is happy to be returning to reality TV with Kate Plus Date. She and her daughters Mady and Cara were on hand at the TCA panel this week to discuss the new TLC show.
The President and General Manager of TLC, Howard Lee, introduced Gosselin, telling the audience: "Almost 10 years after her divorce and with diapers, bottles, and sleepless nights a thing of the past, Kate Gosselin is ready to find love or, at least, like."
Lee added: "With the help of professional matchmakers and her college-bound daughters Mady and Cara, Kate dives back into the dating pool.  She puts it all out there, the good, the bad, and the super awkward."
Mady and Cara weigh in on mom entering the dating game
Gosselin's teenage daughter Mady explained how it's time for their mom to be in a relationship, explaining: "We've been nudging her to date for years. We're all, all eight of us, are so glad that she finally is."
She added: "She deserves to be happy. Everyone deserves to be happy." Their mom explained how the twins will be a part of the show, "weighing in and helping me out" with dating.
What kind of a man is Gosselin looking for?
Looking for love after taking a beat to raise her family won't be the easiest, Gosselin admitted, especially when it comes to giving her matchmakers some qualities she'd like in a guy.
Gosselin noted that there was some "awkwardness, uncomfortable, terrified reactions," with "hit or miss" dates. She wanted to "stick close to home in terms of looking for people" as well.
She supports a Mady and Cara spin-off
Gosselin also discussed the potential of Mady and Cara getting a spin-off show that would follow their college adventure, and explained, "I feel like, more than anything, it has enriched their lives," for them to be on TV. She added: "It has made them world-wise and taught them a lot about people's intentions I think more so than other kids their age."
Gosselin called herself a "very protective parent," but touched on her teen daughters and whether they should chronicle their college experience in their own show. She explained: "As far as Mady and Cara, particularly — and all the kids — I think that they're such good girls that I don't have to keep after them. They're self-driven. They have goals and dreams, and they're just good kids."
She noted that a show featuring Mady and Cara is  "absolutely up to them."