Kate Middleton: 4 Times She Handled Meltdowns With Prince George and Princess Charlotte Like a Pro
Kate Middleton is an expert at handling meltdowns. Royal children or not, tantrums happen. Prince George and Princess Charlotte are no different. Ahead, check out 4 times the Duchess of Cambridge handled tantrums like a pro.
Children can be unpredictable. And, yes, that goes for royal children too. Young royals have meltdowns just the same as non-royals. When young members of the British royal family have a tantrum there might be thousands, or even millions, of people to witness it. Not to mention video footage and photographs of the entire thing. 
Since Catherine, Duchess of Cambridge and Prince William, Duke of Cambridge became parents in 2013, the world has wanted to see more of their growing family. The public's seen glimpses of their children being silly and cute but they've also seen them on days when they were not in the mood for anything. 
Kate Middleton and Prince William have three children
In 2013, Catherine, Duchess of Cambridge and Prince William, Duke of Cambridge welcomed their first child, Prince George of Cambridge, followed by a daughter, Princess Charlotte of Cambridge, in 2015. They became a family of five in 2018 when Prince Louis of Cambridge came along.
Seeing as the public hasn't seen much of Louis, we are focusing on Charlotte and George. We're guessing we'll see some meltdowns (and adorable moments too) from Louis as he gets older and makes more public appearances. 
2016: Prince George didn't look happy during a royal visit
During a royal engagement to The Royal International Air Tattoo on July 8, 2016, William and Catherine took George along with them. Just two weeks shy of his third birthday, George didn't appear to love every moment of the outing. At one point, he started crying which prompted Catherine to pick him up in her arms.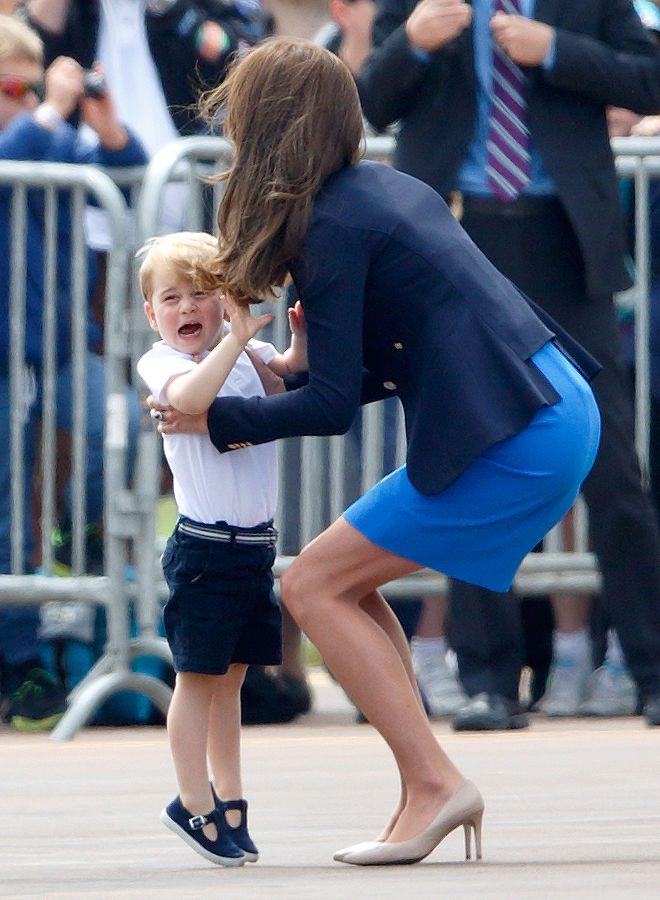 2017: Princess Charlotte had a meltdown at the end of a royal tour
At the end of a three-day royal tour of Germany, the Cambridge family prepared to board a plane. They all walked hand-in-hand but Charlotte didn't look too happy about it.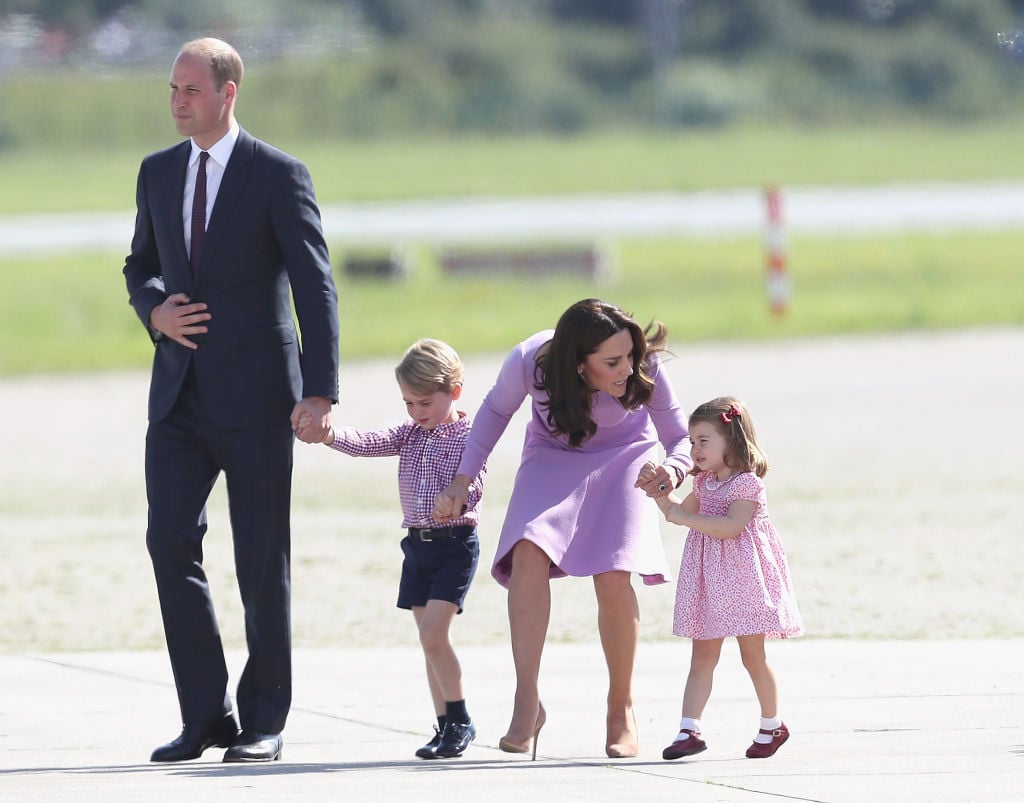 Captured by cameras, Charlotte had a meltdown that involved her crying and sitting down on the ground. Crouched down at eye-level with her daughter, Catherine spoke to Charlotte for a moment before picking her up.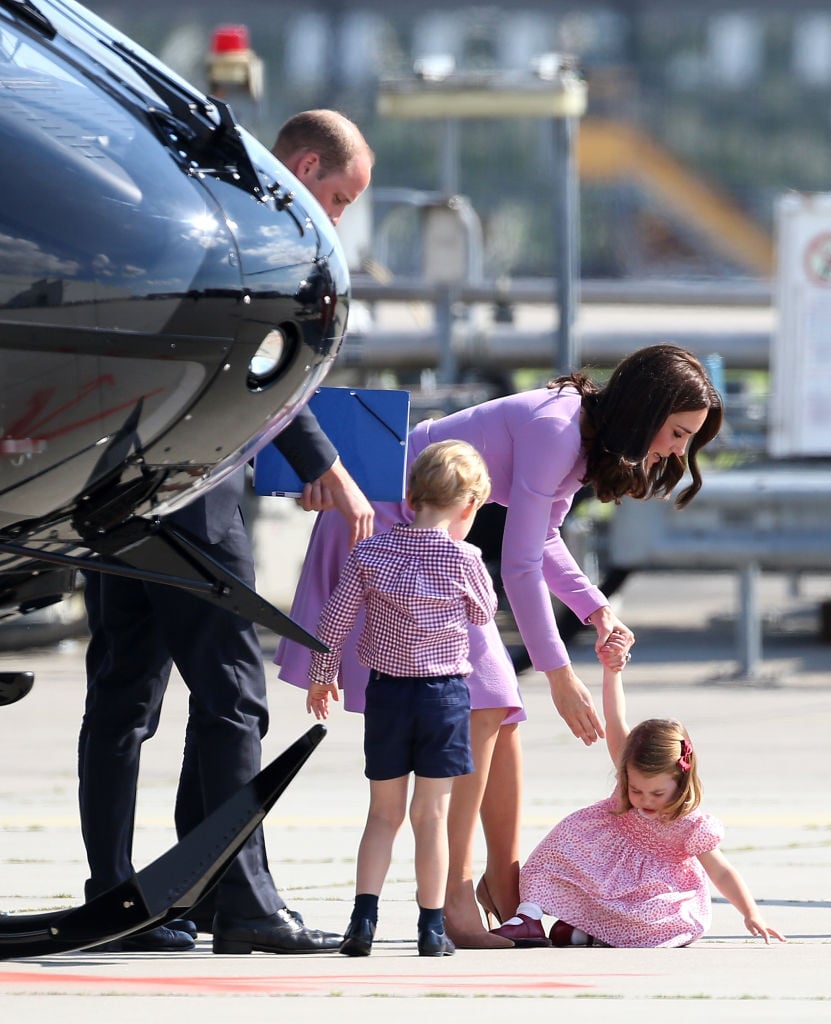 Charlotte had a few lingering tears meeting the crew.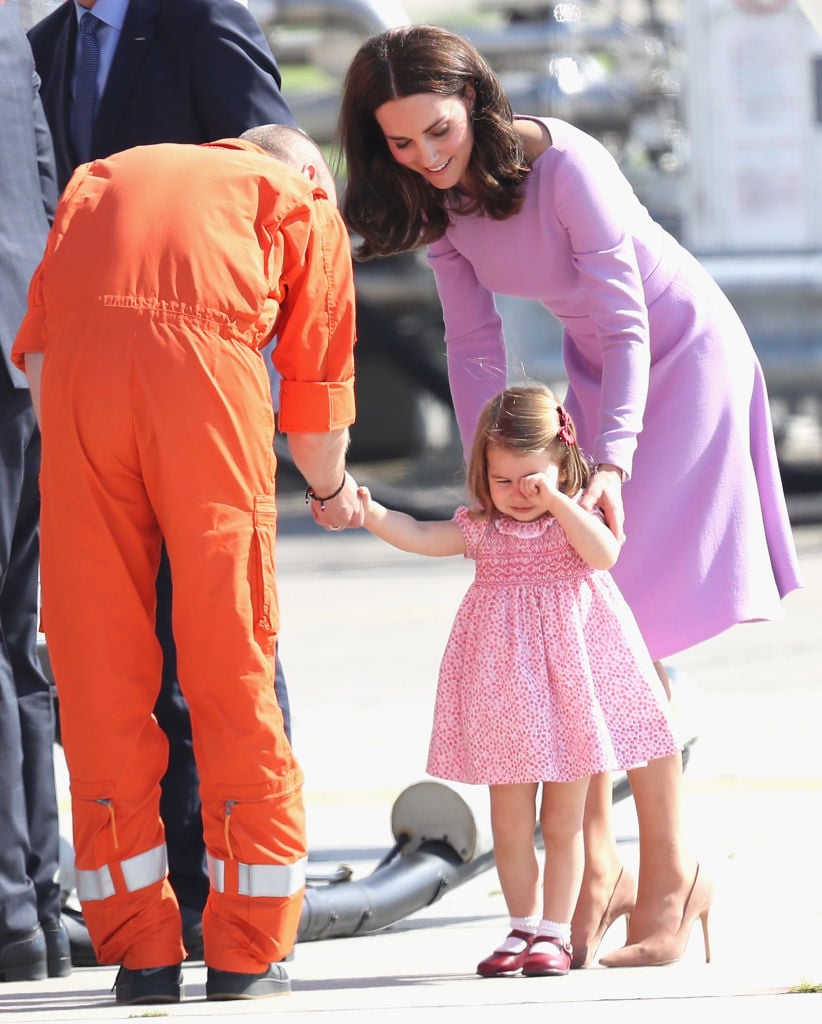 2018: Kate Middleton consoled Prince George at a polo match
Witnessing a game of polo, one of the royal family's favorite sports, on June 10, 2018, Catherine sat on the grass alongside George and Charlotte as they played with toys during the match. At one point, something bothered George and he got some consoling from his mom. 
It appears a disgruntled George told his mom what made him upset while she listened intently.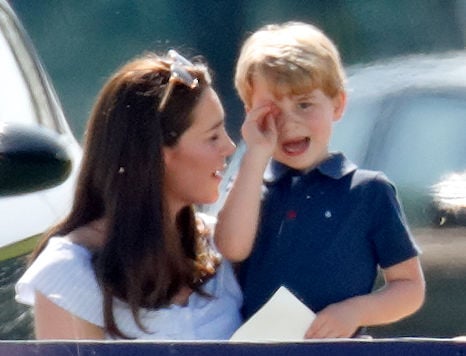 Even in a bad mood George looked adorable ruffling his hair while Catherine focused on him.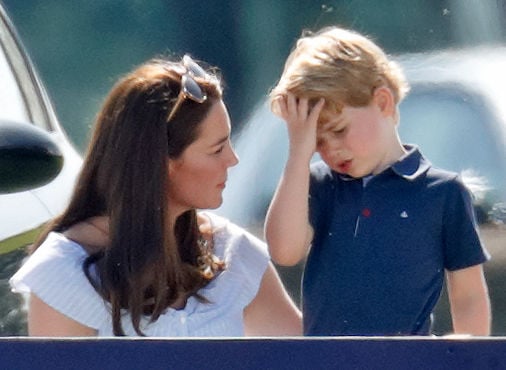 At one point, Catherine touched George's cheek. Aw!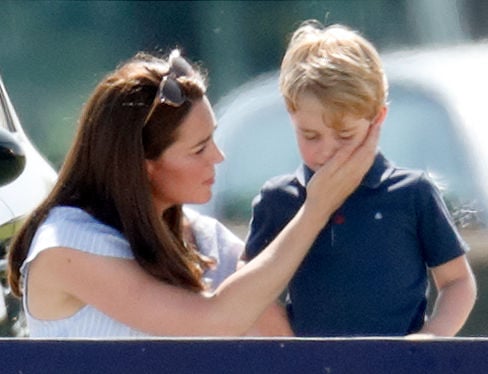 Whatever Catherine and George talked about worked because the young royal spent the rest of the Maserati Royal Charity Polo Trophy playing with toys. 
2018: Princess Charlotte didn't enjoy Trooping the Colour
At Trooping the Colour in 2018, when the royal family stood on the balcony of Buckingham Palace, something — maybe the noise of the planes overheard or the crowds of people — made Charlotte upset.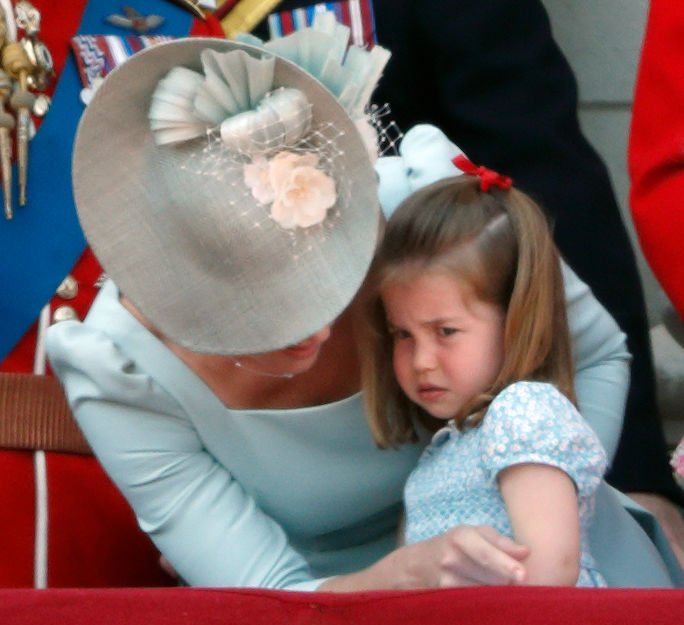 She can be seen in tears as Catherine — again doing her signature crouch-down-to-their-level move — consoles her. 
Whatever the Duchess of Cambridge said to her daughter worked because other photographs from Trooping the Colour show her smiling and clapping alongside George and Savannah Phillips.