Kate Middleton and Meghan Markle Follow Strict Rules When It Comes to Appearances With Queen Elizabeth
Kate Middleton and Meghan Markle have to follow a variety of rules whenever they appear alongside Queen Elizabeth in public. This includes curtsying the first time they see her that day, standing when Her Majesty stands, and always allowing her to stand out in the crowd. Here's a look at the rules Meghan, Duchess of Sussex, and Kate, Duchess of Cambridge, must follow when they appear with Queen Elizabeth.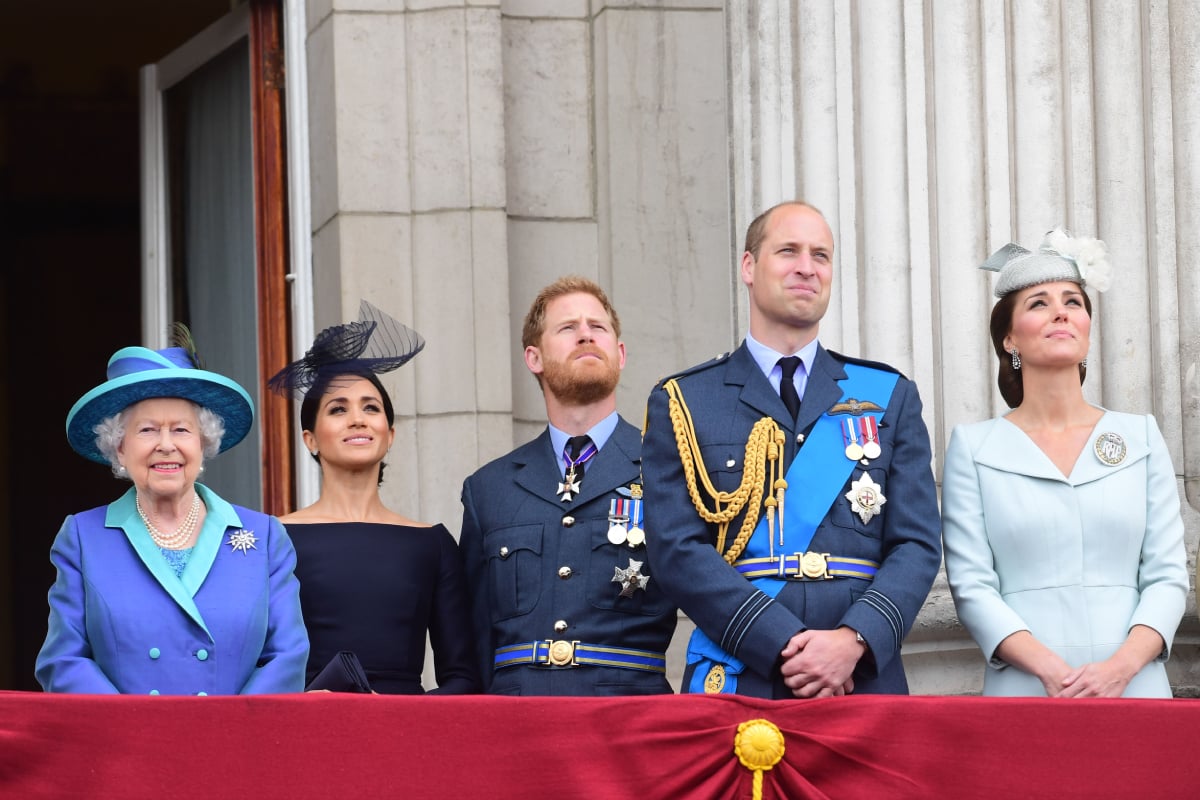 Inside Queen Elizabeth's colorful wardrobe
After 68 years on the throne, Queen Elizabeth has gained a reputation for wearing bright outfits whenever she steps out in public. Although Her Majesty might love all the colors she wears, there is another reason she tends to favor striking outfits for royal engagements.
In a 2017 interview for the documentary The Queen at 90, Sophie Helen Rhys-Jones, explained exactly why Queen Elizabeth is often spotted in colorful dresses at public events. According to Express, Her Majesty chooses these outfits so that people in the crowd can always see her, no matter where they are standing.
"She needs to stand out for people to be able to say, 'I saw the queen,'" Sophie, Countess of Wessex, explained. "Don't forget that when she turns up somewhere, the crowds are two, three, four, 10, 15 deep, and someone wants to be able to say they saw a bit of the queen's hat as she went past."
This explains a lot about why Queen Elizabeth chooses her colorful attire. It also provides some insight into what other members of the royal family wear when they appear alongside Her Majesty — including Meghan and Kate.
Meghan Markle and Kate Middleton always refrain from doing this 1 thing when appearing alongside Queen Elizabeth
William Hanson, an expert in royal etiquette, recently noted that Meghan and Kate hardly ever wear bright colors during engagements with Queen Elizabeth. Turns out, the pair does this so that they never outshine her or detract attention away from the ruling monarch.
Hanson pointed out that during Queen Elizabeth's Diamond Jubilee River Pageant in 2012, Kate wore a red outfit that matched with the "furnishings of the royal barge."
Queen Elizabeth, on the other hand, "wore white, so she stood out."
Meghan also showed respect for Her Majesty by donning neutral colors at royal engagements. Just like Kate, Meghan did not want to outshine Queen Elizabeth, especially in public.
"The Duchess of Sussex [showed] great consideration by wearing more neutral colours and tones when on duty with Her Majesty as it allows the queen to take centre stage and top billing, as is only right," Hanson added.
Meghan, of course, no longer has to worry about what she wears in public with Queen Elizabeth. The Duchess of Sussex is no longer an active member of the royal family and is now living in Los Angeles with her husband, Prince Harry, and son, Archie Harrison.
Neutral outfits are not the only rules Kate Middleton and Meghan Markle must follow
Along with the outfit color choices, some sort of hat used to be a requirement. Although Queen Elizabeth seems to have eased up on this rule when it comes to Meghan and Kate. The Duchess of Cambridge is famous for her blowout, while Meghan often wears a low bun.
If Kate does wear a hat to an appearance with the queen, she switches to a tiara after 6 p.m. For the royal family, tiaras are similar to a wedding ring — meaning only married royals are allowed to wear them.
"It signals the crowning of love and the loss of innocence to marriage. The family tiara was worn by the bride and from that moment onwards it was the groom's jewelry she was expected to wear. It was a subliminal message that she had moved from her own family to another," Geoffrey Munn, author of Tiaras – A History of Splendour told Forbes.
Neutral nails, wearing pantyhose, and keeping your coat on in public are also rules that Meghan and Kate follow when it comes to appearing alongside Queen Elizabeth.